It was no secret that Jason Botterill planned on altering the complexion of the Buffalo Sabres roster this summer, but even the most optimistic fan couldn't have predicted just how successful he'd be in doing so. After a 2017-18 campaign that the organization would like to forget, there was a wide range of speculation regarding just how "far away" the team was from becoming a playoff contender. The answer remains to be seen, but Botterill's moves have resulted in a new wave of enthusiasm from the blue-and-gold faithful.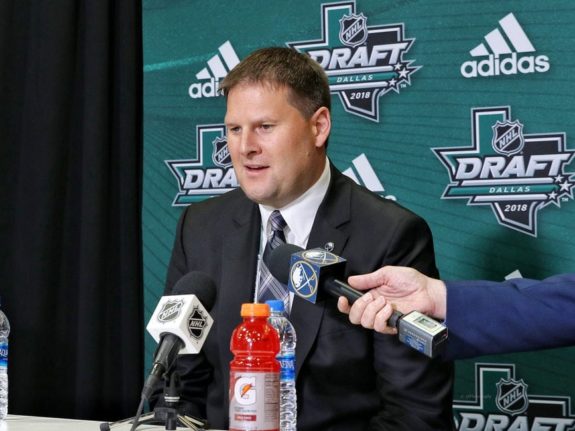 Similar to their situation on defense, the Sabres have a bit of a logjam at forward, particularly in the bottom-six. With a mix of veteran acquisitions and homegrown talent on the roster, it will be interesting to see who steps up during training camp to prove that they deserve a permanent role on the team.
Related – Sabres Defense: What It'll Look Like for 2018-19
Roster Locks: Returning Sabres
Barring another transaction prior to the start of the season, there are currently 10 forwards under contract who are all but guaranteed a spot in the opening night lineup. Four of these players are brand new to the organization, coming over via trade during the offseason, a tribute to Botterill's desire to bring an influx of new voices and personalities into a Sabres locker room that had reportedly grown toxic. Despite the core overhaul that has taken place in Western New York, there are several returning forwards who will look to make an impact on the Sabres' new-look roster.
Topping the list of "locks" is de facto captain, Jack Eichel. Though he hasn't officially been awarded the captaincy yet, it's only a matter of time. Along with several others, the 21-year-old arrived in Buffalo last week to begin skating with his teammates prior to the start of training camp.
"It says you want to be here, right?" Eichel said. "It says you want to be around the locker room, be around the young guys that are getting ready for the prospects camp.
Entering his fourth season in the NHL, the former second-overall pick is ready to lead a group of players, many of whom have never played together and will require a strong leadership core in order to quickly build chemistry both on and off the ice.
Joining Eichel in the top-six is his partner in crime, Sam Reinhart. Though he is still a restricted free agent, it is expected that the Sabres will come to terms with the 22-year-old right winger prior to the start of training camp. The question still remains however, will Buffalo look to lock him up long-term, or seek out a bridge deal? After posting 34 points in 35 games to finish last season, many feel that Reinhart has made a strong case for a long-term contract.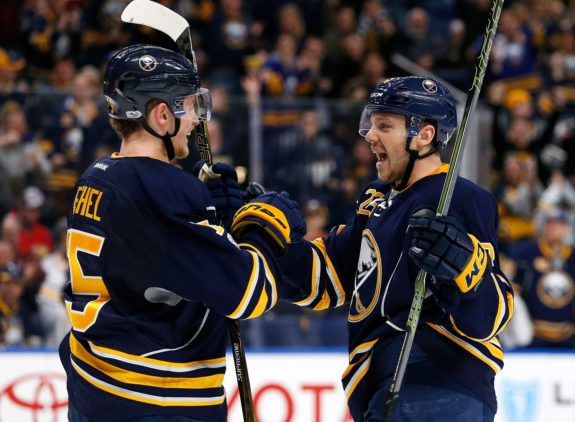 Speaking of homegrown talent, 19-year-old Casey Mittelstadt is the current front-runner to take over the vacancy at center that was left behind by Ryan O'Reilly who was dealt to the St. Louis Blues this summer. Following his collegiate campaign at the University of Minnesota, the Eden Prairie native spent six games in Buffalo to close out the year, registering five points. Not bad for a kid who was mercilessly bashed on social media after failing to complete a single chin-up at the 2017 NHL Draft Combine.
Rounding out the list of returning youngsters is Evan Rodrigues. After taking a flier on the Boston University product following the 2014-15 season, the Sabres must be pleased with how well he has developed. Last year he produced 25 points in 48 games, proving that he can be an offensive catalyst in the top-nine. For now, he's certainly earned a permanent role with the big club.
Along with returning members of the Sabres' young core, there are a handful of elder statesmen from last season who will rejoin the team in 2018-19. The most notable returning veteran is Kyle Okposo, a player who would like to put a dreary 2017-18 season in the rearview. Despite finishing strong with 25 points in 36 games to close out the season, the 30-year-old got off to a very rough start with a pedestrian 19 points in his first 40 contests after coming back from a very serious concussion that left him hospitalized a year ago.
With a cap hit of $6 million per year through 2022-23, Okposo has expressed his desire to regain the offensive prowess that earned him such a hefty contract.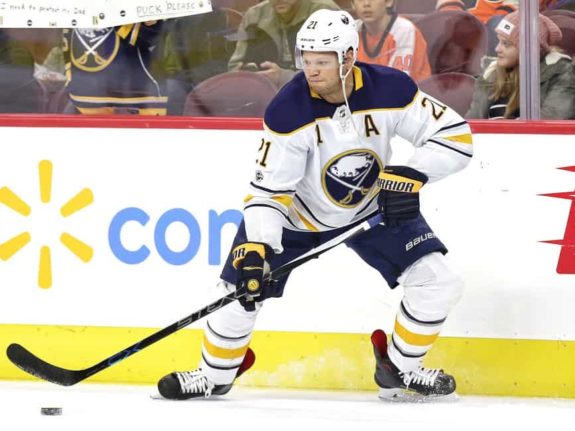 "I'm not going to be happy just riding off into the sunset, I had a few good years and whatever, I want to get back to being an elite player," he said. "I want to help this team win and I think I'm capable of that."
Another player who plans on putting together another solid campaign before "riding off into the sunset" is Jason Pominville. At 35 years of age, he is currently the oldest player in the organization. Though he may no longer be one of the Sabres' best 12 forwards, with a cap hit of $5.6 million, he'll likely spend the year as a regular in the bottom-six before becoming an unrestricted free agent next summer.
Roster Locks: The Newcomers
As previously stated, Botterill worked the phones early and often this summer in search of offensive reinforcements for his team who finished dead-last in the NHL with 199 goals-for in 2017-18. For the most part, fans were thrilled with the value he acquired in comparison to the assets he parted with.
Just days before the start of free agency, it was announced that the Sabres had acquired Conor Sheary in a trade with the Pittsburgh Penguins in exchange for a fourth-round pick (defenseman Matt Hunwick also came to Buffalo as part of the deal). A mid-round selection is a small price for a 26-year-old who produced 58 points in 61 games in 2016-17. The team also improved their overall depth at the left wing position, by far the weakest link on the roster at the time.
It remains to be seen whether Sheary lines up beside Eichel or Mittelstadt in the top-six, but one way or another he'll fill a position of need with scoring reinforcement on the wing.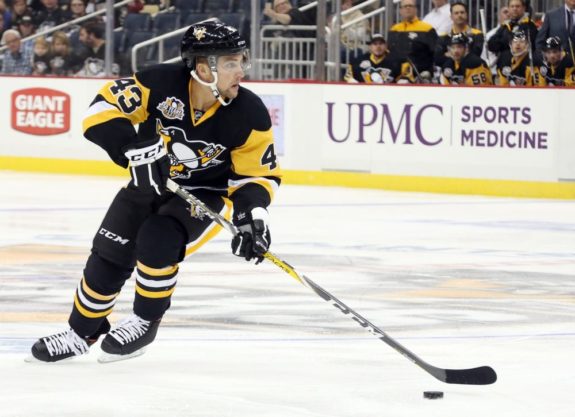 Next came what many fans across the league consider the blockbuster trade of the summer. After months of debate regarding whether or not his leadership (or lack thereof), was contributing to the cultural divide in Buffalo, the organization mercifully put an end to the exhausting topic by trading Ryan O'Reilly to the St. Louis Blues in exchange for multiple assets including two draft picks, Tage Thompson, Vladimir Sobotka and Patrik Berglund.
At the end of last season, O'Reilly expressed how the Sabres' struggles had caused him to lose his "love of the game", a statement that sat poorly with the fan base. Regardless, his production as a consistent offensive threat paired with his elite ability in the faceoff dot will be missed. Botterill made it clear that changes to the core would be taking place. He had to part with someone significant in order to light a fire under his young core. O'Reilly was simply the odd-man-out in that regard.
Sobotka and Berglund are essentially guaranteed roster spots but it remains unclear what their respective roles will be. Depending on whether or not Phil Housley feels that Mittelstadt is ready to assume the second-line center role, Berglund could find himself virtually anywhere in the bottom-nine. Lauded as a strong locker room presence during his time with the Blues, the 30-year-old will provide much-needed leadership regardless of where he lines up.
Sobotka is in a similar position. Both players are versatile, possessing the ability to play both center and wing. It will be interesting to see where they end up. Given Housley's penchant for juggling the forward combinations, odds are high that they'll both see time all over the lineup.
Just when fans began to speculate that the team wouldn't make another offseason splash, on August 2, the Sabres made what could be considered their most lopsided deal of the summer, acquiring Jeff Skinner from the Carolina Hurricanes in exchange for Cliff Pu, a second-round pick in 2019, and two picks in 2020 (a 3rd and 6th rounder).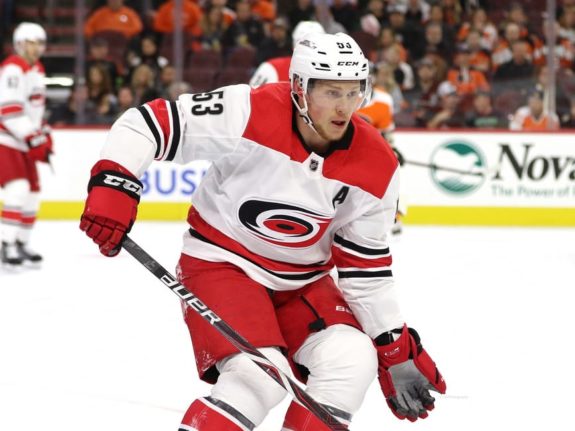 As one of the Hurricanes top offensive producers over the past three seasons, the price tag to pry Skinner out of Carolina was surprisingly low. The addition immediately turned the Sabres' top-six from an area of weakness to an area of strength. Heading into the offseason, Botterill had absolutely nothing to work with on the left side after dealing Evander Kane to the San Jose Sharks at the trade deadline. With the Sheary and Skinner deals, he managed to part with minimal assets in exchange for proven production.
Related: Jeff Skinner and the Sabres Whirlwind Offseason
Forwards on the Fringe
Here's where things get a little tricky. With two spots unaccounted for (three if you account for a healthy scratch), and up to 10 players who could conceivably compete for them, Botterill and Housley have some difficult decisions to make after training camp. Of those competing for jobs are three returning veterans in Zemgus Girgensons, Johan Larsson and the recently re-signed Scott Wilson.
As two players who have worn out their respective welcome among fans, it's a bit of a surprise to see both Girgensons and Larsson still with the organization heading into training camp. Neither player has lived up to the expectations placed on them and quite frankly, both of them could use a change of scenery.
More likely than not, at least one of them will be a roster regular. Given his offensive upside and overall speed, Girgensons has a slight edge, but Larsson's ability on the penalty-kill is something worth noting.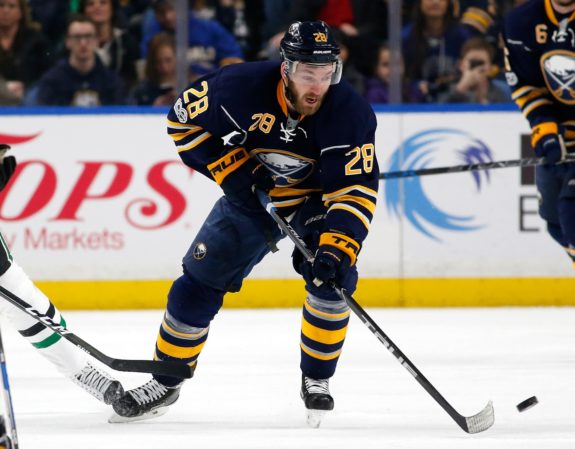 After coming over via trade during the season, Wilson was everything you could want out of a fourth line player. There is nothing he does exceptionally well, but Botterill brought him back for a reason. Given the current complexion of the roster, he could serve as the ideal 13th forward.
One newcomer who could make things interesting is Tage Thompson. Botterill spoke highly of him during a conference call with the media after the O'Reilly trade took place.
"One of the biggest things we like about him is his size, his reach, his ability to protect pucks," Botterill said. "But also, we really like his hockey sense. He has a little bit of a shooter's mentality and that's what we're looking for.
Though he is still just 20 years of age, Thompson did spend 41 games with the Blues last season, registering nine points. It would not be remotely surprising to see him start the year in a Sabres uniform. Boasting impressive size and an incredibly powerful release, the former first-round pick would be a breath of fresh air in the bottom-six.
Headed to Rochester
At this point, there are six more players in the organization who could reasonably vie for a roster spot, all of whom are likely to start the season in the AHL with the Rochester Americans.
As one of the pieces coming back in the aforementioned Kane trade, Danny O'Regan had an excellent AHL campaign last season with 40 points in 49 games. At 24 years old, his NHL window is closing fast, but given the influx of talent the Sabres experienced this offseason, he may have to wait a little longer for a chance at a permanent role in the big league.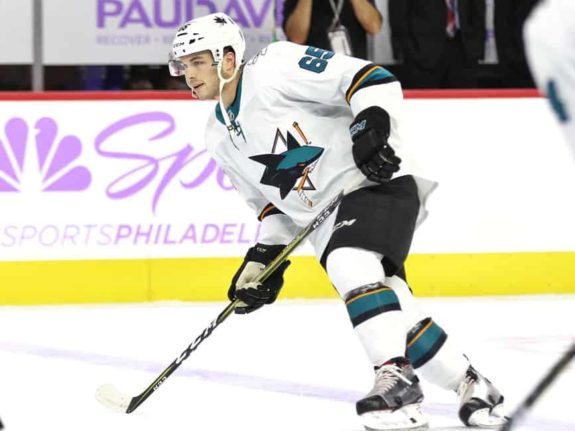 One player in a very similar situation is AHL All-Star, C.J. Smith. Though he is a year younger than O'Regan, he will also need to impress the Sabres brass this month. At the moment, he is probably very high on the list of call-ups, but a strong preseason could potentially vault him into a fourth line role in Buffalo to start the year.
Former sixth-round pick Sean Malone will be high on the reserve list as well. Though he does not boast the same offensive prowess as Smith and O'Regan, his physical style of play paired with his ability as a penalty-killer could be appealing to the coaching staff, especially if Larsson is sent packing before the start of the season.
Tim Murray era prospect darlings, Justin Bailey and Nick Baptiste are two more names who need to make this season count. Both players have spent a majority of the past three years in Rochester, appearing with the Sabres in spot duty as injuries piled up. During Murray's time as general manager, Bailey and Baptiste were seen as future core pieces within the organization.
Neither player has been particularly impressive at the AHL level, but both were retained by the team on one-year, two-way deals this summer. They'll need very strong training camps if either of them plan on taking one of the final roster spots. Of the two, Baptiste has the best chance to stick after appearing in 33 games with the big club during the second half of last season.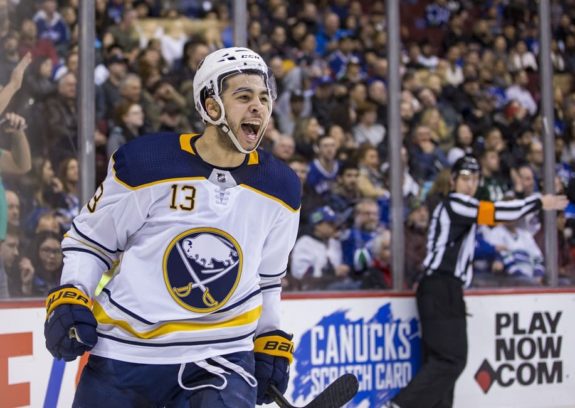 Rounding out the list is the most polarizing prospect in the Sabres' system, Alex Nylander. After being selected eighth overall in the 2016 draft, the 20-year-old Swede has failed to live up to his pedigree. After two sub-par seasons with the Amerks, fans in Buffalo have started uttering the "B" word. To refer to Nylander as a bust is premature at this point, but nothing he's done in the AHL indicates that he's ready to don the blue-and-gold. Another season in Rochester would suit him well.
Projecting the Sabres' Forward Lines
There's a lot to process here. At the moment there are still a few preclusive contracts on the books. For that reason, there may be one or two veterans on the opening night roster who may not be the most desirable options. Of course, Botterill could continue his tendency for bold personnel decisions by leaving big chunks of salary in the press box. If he intends to contend for the playoffs in 2018-19, he may not have a choice.
Nobody knows for sure who the Sabres have pencilled in, but it sure is fun to speculate. Aside from the last couple of fourth-line roles, questions remain regarding who will skate on Eichel's left side, who will be the second-line center, etc.
First Line: Sheary – Eichel – Reinhart
A majority of fans want to see Skinner on Eichel's left side, and for good reason. Thinking about what those two could accomplish together is certainly intriguing, but is it the best move in terms of scoring depth? Skinner has proven that he can produce at a high level without an elite center. Sheary, on the other hand, did his best work alongside Sidney Crosby in Pittsburgh. His 30-point campaign last season served as evidence that he needs a strong center in order to optimize his production.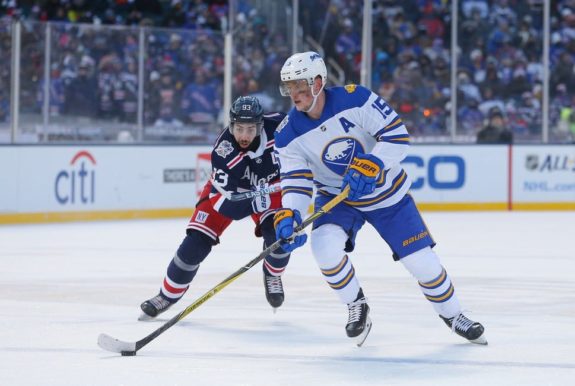 Last season, Reinhart busted the myth that he was only capable of producing points while riding shotgun with Eichel. Regardless, with the speed that Eichel and Sheary bring to the table, it would be best to keep Reinhart on the top line lieu of someone like Okposo who may not be able to keep up.
Second Line: Skinner – Mittelstadt – Okposo
Who better to aid Mittelstadt in his transition to the NHL than two proven veterans like Skinner and Okposo? It's important to understand that despite the well-earned hype surrounding the collegiate standout, there will be growing pains as he adjusts to the professional game. Having two steady, consistent forwards flanking him would be ideal for both his mental and physical development.
For Okposo, having a playmaker like Mittelstadt and a sniper like Skinner on his line could certainly help propel him back to the player he was during his time with the New York Islanders. If he cannot regain his form with those two as his linemates, then the Sabres are looking at an ugly albatross of a contract over the next five years.
Third Line: Rodrigues – Berglund – Thompson
Despite his heavy cap hit of $3.85 million over the next four years, Berglund has shown that he can still produce as a 20-goal scorer in the NHL. As far as veteran presences go, he is an excellent player to pair with Thompson until the youngster is ready to take on top-six duties (a development that could take place before the end of the season). For now, a familiar face from his time in St. Louis should aid his transition to a full-time role.
Rodrigues is the quintessential third line contributor on the left side and his mix of speed and playmaking ability should help catalyze his goal-scoring linemates. Heading into a contract year, he'll look to top the career bests in both goals and assists he posted last season.
Fourth Line: Sobotka – Girgensons – Pominville
Yes, there are players in the organization who are more worthy, but at the beginning of the year, look for Housely to lean toward his veteran depth pieces in lieu of younger options in Smith, Baptiste or O'Regan. All three will likely get their chance as injuries inevitably occur, but in all likelihood, they'll start the year in the AHL again.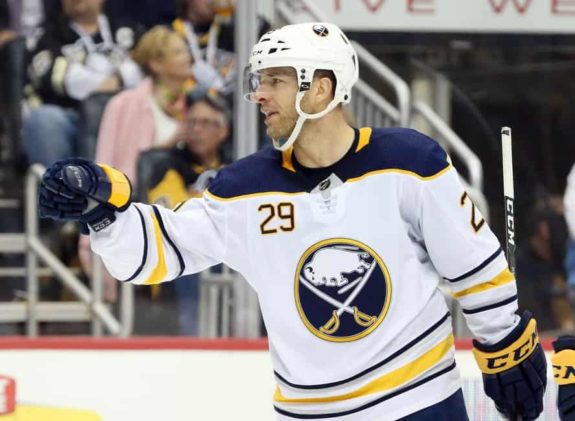 In a perfect world, Sobotka would transition to a center role, an area where he has excelled throughout his career, particularly in the faceoff dot with a win-rate of 56.1-percent.
In what will likely be his final season with the Sabres, Pominville will serve as a complimentary piece on the fourth line, unless of course he is dealt during the year. The same goes for Girgensons who must show a vast improvement from his paltry output over the past two seasons where he registered 31 points in 146 games.
A passionate supporter and lifelong fan of the Buffalo Sabres. Former Admin and Staff Writer at buffalohockeycentral.com.