It's been a rough season so far if you're a fan of the Buffalo Sabres.
Yeah, we all knew this wasn't going to be a good season from the start, but this kind of offensive ineptitude? At the rate they're going, they will set all kinds of franchise records for their inability to score.
And poor Ryan Miller. The guy has been playing his nards off and this is how he's rewarded? Can we get this guy some goals, PLEASE? Or, I don't know, maybe to a team where he can win more than one game every once in awhile?
So what's the week ahead look like for the Sabres? Let's get on with it.
Wednesday 10/23 vs Boston
I would assume this will get ugly for the Sabres because the Bruins are a very good team and the Sabres are a very not good team, but if the Sabres are going to get up to play any team, it'll be this one.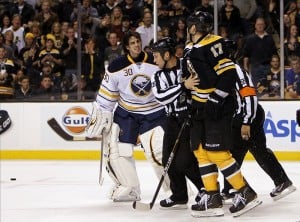 Every since Milan Lucic buried Miller a few years back, it seems like the Sabres are building their team to play the Bruins and the Bruins alone. On paper, the Bruins should annihilate the Sabres. They possess an experienced, talented, deep group of forwards that will pepper Miller with shots.
Defensively, they're big, strong, and experienced. Though, to be fair, if you have a pulse and a pair of skates, you stand a pretty good shot at shutting down the Sabres offense. Put a few Bruins jerseys on some pylons and the Sabres will struggle. THE SABRES ARE BAD AT SCORING GOALS, GUYS.
This likely won't get out of hand but should definitely result in two points for the Bruins. It'll just be interesting to see if anyone is dumb enough to engage John Scott after he crushed Scott Thornton's dome last year.
Friday 10/25 @ Florida
Hey, another struggling team! Maybe Buffalo can steal one!
I will say that compared to the Sabres, the Panthers are an absolute juggernaut when it comes to scoring with their 20 goals in 9 games. That's more than two per game, guys. That's big league stuff that the Sabres don't know how to deal with right now.
Then again, the Panthers have given up the most goals in the East (32) and the second most behind the absurd amount the Oilers have given up in their nine games (36). If anyone is going to let the Sabres look alive offensively, it's going to be this team.
Of course, having said that, the Sabres will lose 4-1 and the city of Buffalo will demand it ALL BE BURNED. ALL OF IT NOW.
Remind here, folks: the Sabres were bad before the season started and those who managed to check their expectations at the door should get a gold star right now for remaining somewhat patient. Then again, we're only ten games in so anything can change over the next 72.
Saturday 10/26 @ Tampa Bay
These two already met once this season (a 3-2 overtime win for the bad guys), so we have a little bit of an idea what to expect here.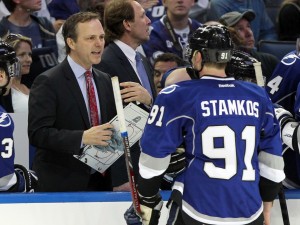 The Bolts are much better at the whole "keep the puck out of your net" thing, currently sitting fourth in the East in goals against (caveat: some teams have played more games). Ben Bishop has emerged as their guy and he's looked good. Through six starts, he's 5-1-0 with a 2.11 GAA and a .924 save percentage. He good.
The Sabres will be hoping to face Anders Lindback. He's 0-2-0 with a 3.80 GAA and an unreal .839 save percentage. I didn't think NHL goalies could exist with a save percentage like that. Root for a Lindback start.
What's likely happening here; Steven Stamkos and Marty St.Louis do their thing, the Sabres face the stellar Bishop, they squeak out two goals through luck and determination, and still lose because that's the Sabres this year. Enjoy it.
Ryan is a lead writer for The Hockey Writers as well as editor for Mile High Sticking and co-owner of The Farm Club. Follow him on Twitter to discuss all things puck, Bills football, or his hatred of all things Philly
A long-time (and long-suffering) Buffalo sports fan. Sometimes optimistic, always weary. I write other stuff for a lot of other people.