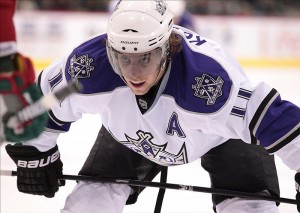 The world is wrong-side up. It needs to be turned upside-down in order to be right-side up — Billy Sunday
Through the first nine games of the season, there are a few upside-down stats among Los Angeles Kings players worth noting. Perennial draw stud Jarret Stoll is last among team centermen in faceoff percentage. Potential Norris Trophy candidate Drew Doughty has fewer points than Jake Muzzin. Career backup Ben Scrivens (.939) has a better save percentage than Jonathan Quick (.913).
By far the most interesting back-assward statistic this early season, however, is the following, and it needs to be both separated and italicized to drive the irony home:
Defensive defenseman Matt Greene has more goals (2) than two-time All Star center Anze Kopitar (0).
You heard correctly. While the big lug Greene has managed to find the back of the net twice, Kopitar has all of zero, zip, and zilch goals. Take 82 games, divide by nine and multiply by the number of times he's lit the lamp this year, and he's on pace for nothing. Rumor has it that he and Jonathan Quick have a bet as to whom will score a goal first this season — and the smart money is on Quick.
Of course, we kid because we care, but it begs the following question: why has Anze Kopitar's goal-scoring fallen off over the past couple of seasons?
Kopitar has never been a prolific goal-scorer
To be fair, Anze Kopitar has always been more of a playmaker than a scorer. After a solid 2006-07 rookie season in which he tallied 20 goals and 61 points, he averaged 31 goals and 75 points the next three years. In both 2010-11 and 2011-12, though, his goals dropped to 25 each year, even though his points stayed in the same range.
It was the lockout-shortened 2012-13 year, however, where the power outage really started to materialize. He started out well, with four goals in his first nine games. He notched two against the Coyotes during the third game of the year, then scored single goals in game seven (Columbus) and nine (Detroit). The team wasn't killing it, but the top line was, with Kopitar leading the way.
For the entire season, he recorded 42 points, extrapolating to 72 over an 82-game campaign. Mysteriously, goals fell by the wayside after Kopitar's hot start: he ended the year with just 10, the equivalent of 17 for a full season. That's Jozef Stumpel territory.
This season has started out slower than ever
Anze Kopitar ended the 2012-13 campaign on a 16-game regular season goal-less streak (although he did tally three during the playoffs), and has began this year with an 0 for 9 stretch. That's 25 games and 62 shots with nothing to show for it over parts of two seasons.
What's going on here?
The short answer is, frankly, that sometimes crap happens. Even Ovechkin and Crosby go through dry spells. It would stand to reason that Kopitar, who just doesn't have the same scoring ceiling by any means, would suffer an even longer one. And he most certainly has.
The longer answer has to do with Kopitar's relative selflessness. While his shot total is a pedestrian 120 over the past 56 games, Crosby has put 154 on net over the same time frame — in twelve less games. Ovechkin has a ridiculous 274 in his last 56 matches.
Shoot the puck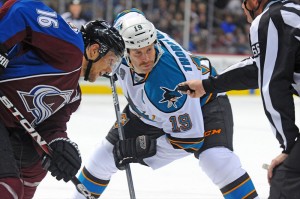 Kopitar is not quite down to Joe Thornton's level, who has just ten shots this season. However, with 22 in 9 games, he's well below the 230-260 full-season pace he reached when scoring 25+ goals earlier in his career.
Sure, Kopitar has significantly more weapons surrounding him than ever before — Jeff Carter, Mike Richards, Justin Williams, Drew Doughty, Slava Voynov, et al — no doubt serving to deflate his offensive numbers. And as stated earlier, he is first and foremost a playmaker, and was even when he was shooting the puck more frequently.
However, with killer moves and a wicked wrister, he should be a significant scoring threat every time he's out on the ice. The Kings' collective offense hasn't lit the league on fire yet this year, and the team could sure use him to put them on his back and carry them if they hope to achieve their lofty goals this season. He's done it before.
Expect frogs to fall from the sky if Matt Greene actually does outscore Anze Kopitar this year. And unless the Kings plan on being in on the Sam Reinhart sweeptstakes, they'd better not develop a taste for amphibian.
Walter McLaughlin is a Los Angeles Kings correspondent for The Hockey Writers. He is an avid sports fan, having followed the Kings since living in L.A. in the mid-1970's, as well as suffering through Seattle sports teams' general futility. He has a Bachelor's degree in Finance and has worked in community banking for over 25 years, specializing in SBA loans. He is married and has two daughters.