Brian Burke has always held that he prefers to do his deals well ahead of the NHL trade deadline. This season, he made no major deals, though he did find 2 trades of minor league players on deadline day. Otherwise, the Leafs essentially stood their ground.
The reaction in LeafsNation is decidedly mixed. The recent free-fall through the standings had some calling for goaltending help, others bought into the idea of a big-name forward such as Jeff Carter or Rick Nash. Still others rejected the idea of sending any of the young prospects or roster players to another team in return for a bad contract or some 'star' if the goal was simply to sneak into the playoffs this season. And some were curious if the GM could pull off another of his surprise trades, such as getting Lupul and Gardiner for Beauchemin. After the 2 deals that were done, some fans are happy the core wasn't weakened by a questionable trade, and others are unhappy the team wasn't strengthened with upgraded players.
Burke made a number of comments to a variety of outlets on deadline day. Among them, he commented to TSN that the asking prices for what he was seeking were simply too high. At a later press conference, Burke said:
"We were on the lookout for something that can make us better and add to the group, but it didn't materialize. I think some people would be disappointed in that, but I'm not. All the teams that we're chasing or are in the hunt with us took people out of their room and brought people in who they thought could do the job better. We elected not to do that."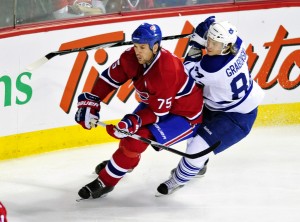 Burke also noted that he'd received numerous offers, involving quite a number of his players. Notably, he rejected an offer for James Reimer in advance of the deadline; Jake Gardiner was asked about but not discussed; and specifically, Mikhail Grabovski was not a player he was going to trade. In the end, it seems the general manager simply felt that any deal of significance would have involved players he was unwilling to part with, or require too many assets going the other way. Further, a number of the deals would have seen roster players moved in return for draft picks (albeit, rumoured to be first round picks). While those can be valuable assets, they would not have been any help in the current push to make the post-season.
With the number of insiders out there, and the use of Twitter and 10-hour-long deadline television coverage, we'd have to think that we do have the correct details of some, but certainly not all, of the potential deals that were out there. Given how few deals were made, and that some GMs echoed Burke's feeling that prices were quite high, Leaf fans should probably be content the temptation to make the 'big deal' didn't overtake Toronto's management team.
Granted, the 2 deals Toronto did were not of immediate impact, and one is definitely minor in nature. Sending Dale Mitchell to Anaheim in exchange for Mark Fraser is about giving Mitchell (who'd been mired with Reading in the ECHL) a chance to continue his career while acquiring a depth defenseman who could help during what may be a long Marlies playoff run. The other deal addresses an organizational depth issue, sending Keith Aulie, who had fallen perhaps as low as 8-10 on the Leafs defensive depth chart, to Tampa in return for big-body forward prospect Carter Ashton. If Ashton, a former first round pick and son of former NHLer Brent Ashton, should reach his potential, it will give the Leafs some serviceable size and skill in their top-9 to go along with players like Joe Colborne and Matt Frattin in a couple years.
Make no mistake, Brian Burke is aware of the seemingly contradictory and perhaps stubborn nature of his comments. The goal is still to make the playoffs this season. He does have confidence in the players he has acquired, and is building a team that will eventually be a perennial playoff participant. But, that takes time, and the Leafs, frankly, are in something of a no-man's land. The team is not, as yet, good enough to make the playoffs. It is certainly not, as yet, in a position to be a 'buyer'. Yet, neither is the team a 'seller', at least not in the sense of sending players from the NHL roster in return for draft picks or prospects that are 3 years from NHL debuts.  And with parity in the NHL, and so many teams close enough to snag a playoff position, it makes the pool of potential trading partners that much smaller.
Burke was clear that he has every intent on re-signing Mikhail Grabovski before July 1. He was also clear that he has faith in James Reimer as the number 1 goalie, and that players such as Jake Gardiner, Clarke MacArthur and Joe Colborne are guys he wants to build his team with. He's given everyone a vote of confidence. That said, look for the general manager to re-evaluate his roster, and dependent on how the Leafs finish 2011-12, look for the period leading up to draft day to be when Burke is the most active. That will include deciding which of his own free agents to bring back, and deciding which of his other players will best help the Maple Leafs find success.
A graphic designer and production artist by trade, Mark is a long-time hockey fan. He was a Maple Leafs contributor to TheHockeyWriters.com for over 2 years, and has written for other websites. You can follow him on Twitter @MarkAscione