Comic relief is the only way Penguins fans will be able to sleep following another signature collapse from their team. This year wasn't like others, however. A year ago, the Penguins were figured out and the Boston Bruins dominated them early on and then played defensive hockey at home and swept the series. The series against the Rangers, aside from games two through four, the Penguins seemed to lack a level of emotion that is a must have in the playoffs.
It's Bylsma's Fault
In the playoffs, a team needs to be ready to play, physically and emotionally. There is no arguing that the Penguins are a more talented team (on paper) than the Rangers are. But the Rangers were a much better team in the latter half of this series. They played as one unit and found ways to win games. They rallied around their teammate Martin St. Louis and his tragic loss and they haven't lost since the heartbreaking news. The Penguins had to match that level of emotion and Coach Dan Bylsma is the one who's responsible to do that. Bylsma needed to find a way to motivate his team and get them ready to match the desperation and emotion that the Rangers played with… he didn't do that and for that reason, he won't be returning to Pittsburgh next year.
And it's not because Bylsma's a bad coach. If that's your angle, you need to take another look. He'll be in the league for a long time.

— PensNationK (@PensNationK) May 14, 2014
I'll never say Bylsma is a bad coach, I've even made the claim he's the Best Coach in the NHL… in the regular season. He makes the right moves, puts the right players together and has a great strategic system that works and led the Pens to a Stanley Cup in 2009. But, he's lost the attention of his super stars and in doing so, lost the locker room. In 2009, he was new and the players hung on his every move. Crosby and Malkin were young and the leadership of Maxime Talbot & Ruslan Fedotenko created the perfect mixture for a Stanley Cup run.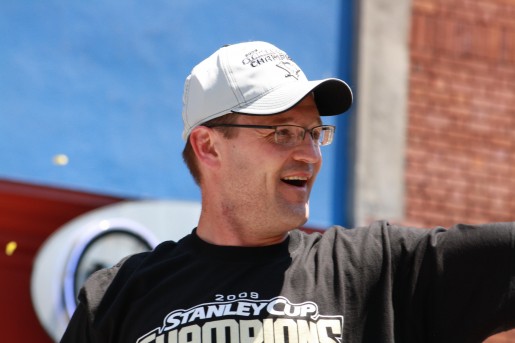 But in the years following, Bylsma had failed to hold the attention of his locker room. He hasn't been back to the Stanley Cup Finals since winning it in 2009, meaning he's never made it to the Finals after being the coach at training camp.
Pittsburgh has created very high expectations for their Hockey club… Sidney Crosby and Evgeni Malkin saved hockey in Pittsburgh, and a new arena and a Cup have made Pittsburgh among the Elite in the NHL. Crosby and Malkin are in their prime and Bylsma is lacking the necessary trait to motivate his superstars that will put the Pens back in the Stanley Cup Finals. Mario Lemiuex and Ray Shero are not going to continue settling for early round exits and collapses and something has got to give.
Keith Jones just said that he thinks Bylsma will NOT be back to coach the @penguins. Says he's not a good fit. Jonesy is smarter than me.

— Bucci Mane (@Buccigross) May 14, 2014
Crosby isn't going anywhere. Malkin isn't going anywhere. And after this season and playoff series', I don't think Marc-Andre Fleury is leaving town either. (He proved himself and made big saves to close out the Columbus series and played pretty great hockey vs. New York and kept his team in every game.)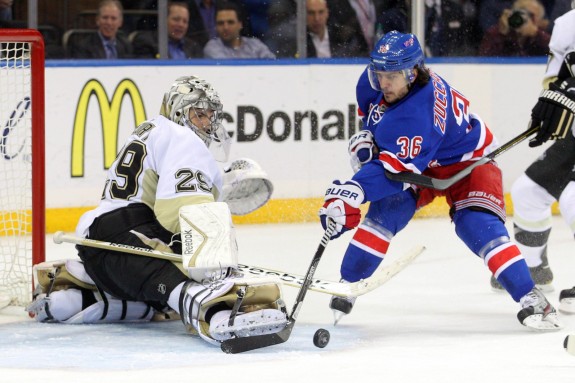 Bylsma is to blame. His players weren't emotionally charged and that's his fault. His superstars didn't produce and it's his job to put them in positions to succeed; he didn't do that well enough apparently. Success starts with the coach and Bylsma has had enough chances to prove himself, and he hasn't done so. He's gone.
The Penguins need a fresh face and they'll get one. They'll also be losing much more than just Bylsma, but he's first. Life isn't fair for NHL coaches, but he won't be a 'free agent' for long.
Give Credit Where It's Due…
Be sure to join in the conversation on Twitter using the hashtag #THW.