Henrik Lundqvist has acquired the nickname "King Lundqvist" and rightfully so. In his career, he's won more than 300 games and saved 92% of shots faced. But how many Stanley Cups has he hoisted? On a defensive team that doesn't score many goals, he has to carry the team. And he does: He has the best G.A.A in the NHL in Game 7's and has never lost a Game 7 at home. Whether or not it's fair to blame Lundqvist for the Rangers lack of playoff success recently is debatable. But Lundqvist can't score the goals, too.
His opponent in the Eastern Conference Semi-Final, Marc-Andre Fleury, has one thing Lundqvist does not; a Stanley Cup. But does that make him a better goalie?
The Blame Game
Lundqvist plays on a team that doesn't score many goals, so he's called upon to be perfect nearly every night. Fleury plays on a team that scores a lot of goals, so he just has to be able to lock down games at the end. These are two very different goalies on two very different teams… As THW's Prashanth Iyer stated, "Fleury is more of a Chris Osgood… who won't be asked to steal games but has the ability to step and win the game." He's the closer. But Lundqvist is more of a "Dominik Hasek, a brick wall, but not able to do it by himself."
Lundqvist is an outstanding goalie, his numbers prove that. But he's only be the winning goalie in five playoff series' in his career. Is that his fault?
Fleury is an outstanding, yet streaky goalie; his numbers will prove that. From 2007-2009, Fleury won seven series' and a Stanley Cup and stopped 92% of the shots he saw. From 2010-2013, he won zero playoff series and stopped just 88% of his shots faced, an absolutely terrifying statistic. That's the definition of inconsistent. So is he to blame for Pittsburgh's Stanley Cup Final drought?
No Cup, No King
There's no doubt that Henrik Lundqvist is a great net minder. But how can we call him the King if he has yet to win the greatest trophy in all of sports? LeBron James underwent the same scrutiny until winning his first Championship, why should Lundqvist not feel the same pressure? But that doesn't make Fleury any better. The argument could be made that Fleury has cost the Pens a few Stanley Cup chances in recent memory. Maybe the pressure is more on Fleury?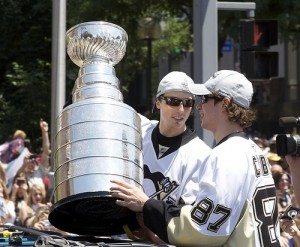 Lundqvist is great but he can't be the king until he wins a cup and to do that, he's got to beat one of two remaining Eastern goaltenders who've hoisted the cup before. And the Marc-Andre Fleury who will take the ice Friday night in Pittsburgh is not the goaltender who crumbled last year in four games to the New York Islanders,  and he's not the goaltender who stopped just 83% of shots faced against the Flyers two playoffs ago…
This series will a great one: Lundqvist and Fleury are two of the winningest (regular season) active goalies and both have proven themselves in big games. Fleury has the cup, but since his cup season has done very little in the playoffs. Lundqvist has the numbers and is the better goalie on paper, but he's still looking for his first Stanley Cup experience. Hockey is a team sport, but if your goalie isn't your best player every night, you'll have a tough time winning games.
It's not about what your stats look like on paper… It's about how you look in your goal crease with two minutes left of a game that you're winning. So sure, Lundqvist may be King of the Stat sheet, but until he hoist's a cup, Who's the Real King? Or better yet, who will be the greatest Goalie of this Generation: Lundqvist, or Fleury?
The crown is up for grabs. Fleury still has to prove himself; he's won just one playoff series since 2010. Lundqvist still is looking for a Cup. He can be the best, but it's all for nothing if he doesn't find a way to get to the Stanley Cup.
---
Upon further review and after the series performances, it is no longer a debate: Henrik Lundqvist is THE KING of Goaltending.
Be Sure to Join the Conversation on Twitter using the Hashtag #THW.