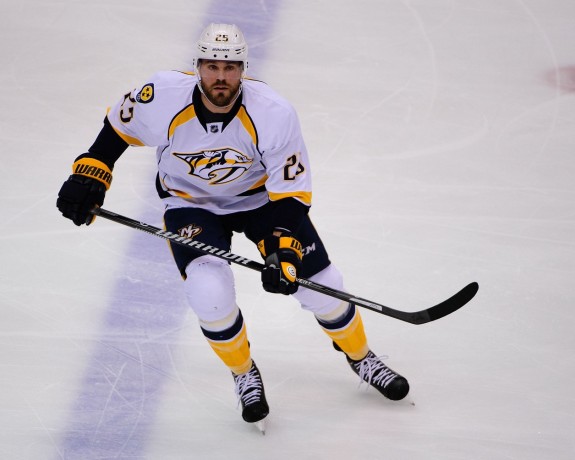 Nashville Predators general manager David Poile signed five players on the opening day of free agency last summer to help the team get back to their identity. One of whom was reigning Stanley Cup Champion Viktor Stalberg. The former Chicago Blackhawks left winger was looking for a big pay raise and Poile willingly opened his wallet (surprisingly) and agreed to a 4-year, $12 million contract. With a brand new contract, the expectations were high to perform at an elite level throughout the 2013-14 season.
However, things did not go as planned. Upper-body injuries plagued the Gothenberg, Sweden native last season, keeping him out of eight games.
In 70 games, Stalberg totaled just 18 points (8 goals, 10 assists) and a -14 rating, a considerable decrease in offensive production compared to his past two seasons in Chicago. He amassed 43 points in 79 games during the 2011-12 season and 23 points in 47 games of 2012-13. To do the easy math, his point production dropped to approximately half of what he was previously scoring.
The idea of signing Stalberg was to grant him the opportunity to become a top 6 forward in Nashville without having players like Marian Hossa, Patrick Kane, Patrick Sharp, and Jonathan Toews logging a majority of the ice time. Also, it gave the Predators a speedy weapon that should have worked under former head coach Barry Trotz's system. In Nashville, Stalberg was to be the man…supposedly. While Poile had that idea in his brain, Trotz had other ideas.
Whether it was because Stalberg was not buying into Trotz's system (different from previous head coach Joel Quenneville's) or Trotz not effectively using the talent in front of him, things were not working out for the 28-year-old in Music City. Often times, Stalberg could be seen on the offensively-challenged team's fourth line alongside Rich Clune and Paul Gaustad, which was a waste to his talents. Under Trotz, his average time on ice decreased from 14:07 in Chicago to 12:35 last season.
Now, Trotz is gone and Stalberg will be under a more offensive-minded coach in Peter Laviolette. With 2 years remaining on his contract, this upcoming season will determine his future in Nashville.
Colin Fitts is a Nashville Predators staff writer and is a credentialed media member of the Chicago Wolves. From Nashville, Tennessee, Colin majors in journalism and public relations at Columbia College Chicago. Follow him on Twitter, @FittsTHW. Email: 22fitts [at] gmail [dot] com.