Well we're just about 20% into the 2014-15 season and candidates for the Calder Trophy are beginning to show their faces. Some expected guys have fallen behind and will need to play well to regain that ground. Meanwhile there have been some surprises in who has shot up the stats boards and have impressed their team and fans through a fifth of the year. Today, let's breakdown the top 5 candidates who have the best shot at either maintaining their strong start or having a stronger rest of the year.
Honourable Mentions:
-Damon Severson – New Jersey Devils
The 2012 2nd round pick has 8 points though 22 games, a great pace for defenceman, but has 0 points in his last 11 as the Devils continue to slump. Hasn't been fantastic defensively, so his offensive output would be his power, without it he will have no chance.
-Andre Burakovsky – Washington Capitals
Has put up 3 goals and 9 assists in 20 games, tied for third among rookies in points with 12 and is getting some playing time with the Capitals top lines and even some power play time. Has slowed down a fair amount, with three points in his last 10 games, looks doubtful to keep up his pace for an entire season.
-Tanner Pearson – Los Angeles Kings
Best known for this time with That 70's Line, he is getting top line minutes and producing well with 9 goals through 22 games. He is also slowing down a lot however, with only two goals and one assist in his last 11 games. If his line doesn't heat up again quick, he may be demoted to second or third line time, which would likely destroy his chances.
-Johnny Gaudreau – Calgary Flames
Given the unfortunate nickname of "Johnny Hockey" has put unrealistic expectations of the fourth round pick. However, he has played very well through 22 game posting 3 goals and 12 assists, good for 2nd among rookies in points with 15. It seems unlikely however, for both he and the Calgary Flames to keep up their hot start over 82 games.
Top 5:
5: John Gibson – Anaheim Ducks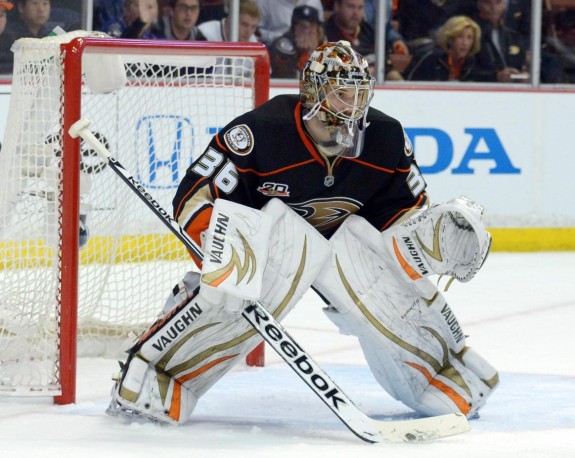 Before the season began, Gibson was one of the favourites to win the Calder Trophy, along with Jonathan Drouin. Gibson was handed the opening night game in his hometown of Pittsburgh against the mighty offensive Penguins. Unfortunately, their extremely potent lineup was too much for the Ducks, who were slow out of the gate, and Gibson was handed the loss in a 6-1 rout. Gibson allowed 6 goals on 39 shots and was demoted to the backup role behind Frederik Andersen. Through Anaheim's 17 games, they are first in the league, but Gibson has only played four games, sporting a 2.28 GAA and a .927 SV%. Those are great numbers, but Gibson will have to hit a hot streak to surpass Andersen and regain the starter position. If he can do that, he can still put up spectacular numbers with a great team and prove why he was a favourite for the Calder Trophy in September.
4: Aaron Ekblad – Florida Panthers
Aaron Ekblad was selected first overall in the 2014 NHL Entry Draft (Check out the Worst First Overall Picks in NHL History) and was put straight into the NHL in his first opportunity. There was no doubt Ekblad was very mature for his age but no one was sure how he would be able to handle the game style and speed as an 18 year old. However, through his first 19 career games, he has spectacular, like a seasoned veteran. He's put up two goals and nine assists so far, compiling seven points in his last eight games. He definitely had a great opportunity in Florida to get great ice time and even some power play time as well. There's no doubt in Aaron Ekblad can keep up this pace he will be a finalist, if not the winner, of the Calder Trophy come June of 2015. If it wasn't for the fact that most Calder Trophy winners are picked as forwards, for putting up points, instead of noticing a defenceman's solid all around game, he could easily be a favourite.
3: Jonathan Drouin – Tampa Bay Lightning
https://www.youtube.com/watch?v=Ie4mxfz4sFY
The Tampa Bay Lightning know something about great rookie season as showcased last year when they had both Ondrej Palat and Tyler Johnson as finalists for the Calder Trophy. It's very possible this year they will have Jonathan Drouin there. Jonathan Drouin was regarded as a favourite to win this year after being sent back to junior last year after being drafted 3rd overall. However, a hand injury sat him out for training camp and preseason, so he has only gotten into 16 games thus far. In those games he has a goal and eight assists, a pace that would give him 54 points over 82 games, just a little bit fewer than fellow ex-Moosehead and 2014 Calder Trophy winner, Nathan MacKinnon. Now that Drouin is back and healthy, there's no doubt he'll force the Lightning and Steve Yzerman's hand to give him more playing time among the team's top two lines. I believe, over the course of the season, he will continue to improve and rise his ranks in the Calder Trophy Race.
2: Jake Allen – St. Louis Blues
Jake Allen as finally put into the St. Louis Blues NHL roster after four long and gruelling years developing his game in the AHL. Maybe it was all worth it though, as Allen has done nothing but impress so far in his rookie season. Allen has been splitting time with Brian Elliot so far, with Elliott getting a few more starts, but it looks as is Allen may force the Blues to promote him to starter sooner than later. In five starts, Allen has posted a 6-2-1 record with a 2.12 GAA and a .920 SV%, numbers which by the way, are both be good for second and fourth, respectively, in the entire league. If Allen continues his play, I believe the Blues will have to give him more starts. With Elliott hurt now, he may be able to take hold of the spot and never let go. If he can push out over 50 starts and post numbers like he has, he will hard to turn down for the Calder Trophy. And it would be hard for his numbers to decline too much playing for the strangle defensive minded Blues, too.
1: Filip Forsberg – Nashville Predators
It's difficult to believe that the Washington Capitals gave up this budding superstar for a rental player in Martin Erat. I mean, the way things are headed, there's a possibility that cold go down as one of the worst trades in NHL history, and Filip Forsberg is making sure the Capitals regret every second of that decision. Through 21 games, Forsberg is leading rookies in all major categories. First in goals with 9, first in assist with 13, first in points with 22, and first in plus/minus at +20, which also leads the NHL. In points, he is tied for 12th in the league near some guys named Steven Stamkos, Tyler Sequin and Phil Kessel. He has blossomed in the Music City so far this year and the only question is, can he keep up his pace? There will be doubts, especially playing on the usually so defensive Predators. But, the way he's been playing you can't doubt the kid's abilities. In fact, he's getting hotter, with 14 points in his last 11 games. Look out NHL, there's a new budding superstar in town, and he may very well be holding the Calder Trophy at the ned of the year as proof.
One things for sure, the 2014-15 seasons is offering up some fantastic rookie seasons and it will only continue to get more interesting as the season wears on. Who will keep up their pace? Who will get hot and rise up the ranks? What do you think?
Who do you think will win the Calder Trophy? Let us know in the comments!
Contributor for the Toronto Maple Leafs and Prospects. Scout with the Oakville Blades of the OJHL. For questions, concerns, or comments, contact me at devinslawson123@hotmail.com or on twitter @SlawsonTHW.