Sure, Ville Pokka is no longer a member of the New York Islanders, but that doesn't mean that he can't be paying off for Garth Snow in the Isles in some way, shape, or form. While Pokka – part of a three-player deal that sent Nick Leddy to New York from Chicago – is currently playing with the Rockford IceHogs of the AHL and has registered five points (2G, 3A) in 13 games played, the prospect serves as an ideal example of what Snow's strategy has been as the Islanders' GM over the last several years.
Following a blueprint isn't always the easiest of tasks. Of course, it could be easy in some regards to draw up an outline of a specific end goal, but putting in the work to make the blueprint into real life is a completely different story. While Ville Pokka's future in the NHL could very well be a bright one down the line, Snow's management of his asset encapsulated the Islanders' rebuild in a perfect manner – one that has only recently begun to show what Snow and the Isles' front office have been working toward since the late-2000s.
Pokka Backstory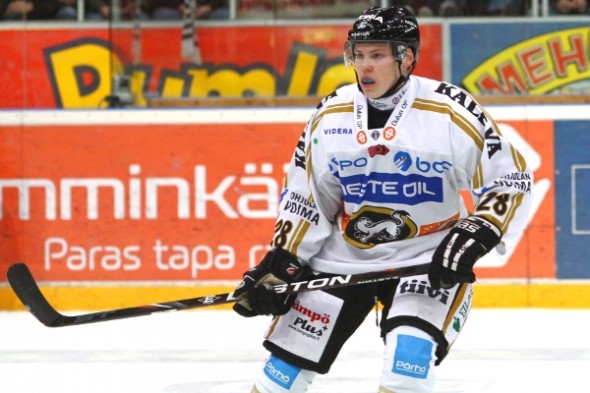 Drafted in the second round of the 2012 NHL Entry Draft with the Islanders' 34th overall selection, Pokka was a highly touted prospect that had a reputation for being a solid all-around defenseman. Playing in Finland's Liiga since the 2010-2011 hockey season, Pokka earned his stripes quite quickly in a league where a younger player – especially a defenseman – has to earn their ice-time.
While Pokka's first extended stay in the Liiga left better play to be desired (35 GP, 3A, -3) from the d-man, his next two years certainly put him on the map – both in Finland and North America. Increasing his point total from 12 (6G, 6A) in 2011-2012 to 27 (6G, 21A) in 2012-2013, Pokka quickly made a name for himself in a league where youngsters do not usually receive a boatload of ice-time in order to prove their worth.
Pokka certainly made efficient use of his time in the Liiga and his finish to the '13-'14 hockey season really put an exclamation point on his potential. Recording a whopping +32 and career-high assists totals, Pokka continued his regular season success in the playoffs with an 11 point (2G, 9A) showing in 16 contests for Kärpät.
Not only did Pokka build on his regular season success during his last campaign in Finland, he also proved that he was an asset on the international stage as well. Showing that he wasn't one to crumble under pressure, Pokka recorded another four points (1G, 3A) in seven games played at the WJC – a competition he has excelled in since making his first appearance at the tournament during the 2011-2012 hockey season.
Combine all of Pokka's aforementioned successes and it was safe to assume that the Islanders had chosen well in the early stages of the 2012 NHL Draft. With such a solid prospect in their pipeline, it was probably also safe for some to assume that the Finnish defenseman's rise through the Liiga ranks would only translate to a guaranteed spot on the Bridgeport Sound Tigers' roster for the '14-'15 AHL season. However, that's not what Garth Snow had in mind.
Snow's Savvy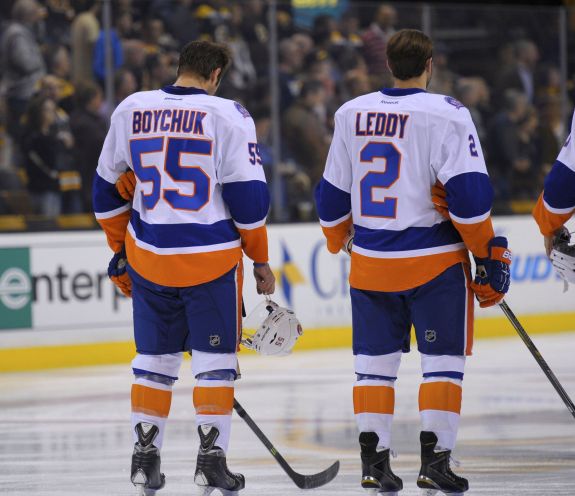 Coming into the 2014 offseason, Snow's job as the General Manager of the Islanders was quite clear. After failing to address some holes during the 2013 offseason, Snow was highly criticized by fans and analysts for not making the right moves that would bolster his team's chances of success in a stacked Metropolitan Division.
While Snow might not have done much to fill his team's holes during the 2013 offseason, the 2014 offseason was a completely different story. With the Boston Bruins and Chicago Blackhawks finding themselves in financial constraints and needing to sign some of their younger or better talents, Snow had an opportunity for the taking – one that would eventually yield two defensemen to add to New York's six-man rotation.
Acquiring Johnny Boychuk from the Bruins, Islanders nation was ecstatic when news broke of the defenseman being traded to the Islanders. One could only imagine how much that ecstasy was multiplied when it was announced just moments later that the Islanders were working a trade that would send Nick Leddy to New York from Chicago.
Despite the fact that the rumor mill can weave some wildly entertaining scenarios for fans come the trade deadline or the offseason, Leddy was indeed traded to the Islanders in a deal for Ville Pokka, TJ Brennan, and Anders Nilsson. Since the trade, Leddy has fit into the Isles' locker-room in easy fashion. Respected and liked by his teammates and Islanders fans, Leddy has scored nine points (4G, 5A) in 21 games this year, but he has been a far more valuable player in other regards.
Providing a Stanley Cup winning pedigree, Leddy's presence on the blueline has seemingly calmed down the rest of his teammates on the ice. While the Isles' puck-moving abilities two years ago were somewhat helped out by Mark Streit and Lubomir Visnovsky, Leddy – and Boychuk – have essentially reshaped the Islanders' defense. When either defenseman is on the ice, outlet passes seemingly transition so fluidly, and scoring chances are consistently being created from up top as the rearguards maneuver the puck in order to find an optimal pass or long-range blast.
However, what is more impressive about this phenomenon is how the Islanders got to this point in the development of their on-ice product – even if it required a fair amount of trials and tribulations.
An Arduous Rebuild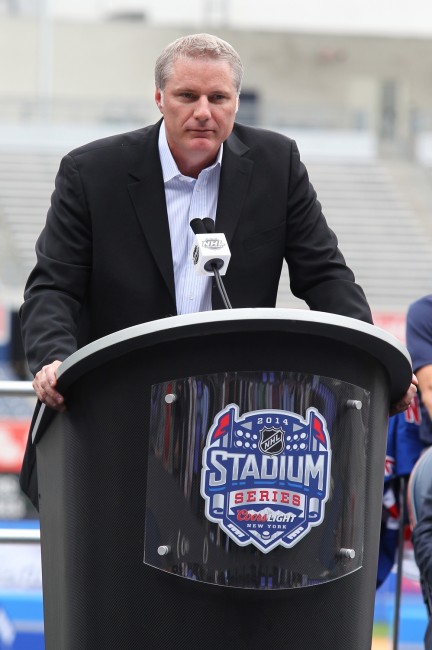 Taking over for Neil Smith as the GM of the New York Islanders, Garth Snow had quite a job on his hands when he took over as general manager of the Isles. While Snow had some players to work with at the NHL level, the reign of Mike Milbury left the Islanders with as barren a prospect pool as one could imagine an NHL team possibly having.
Tasked with restocking the Islanders' pipeline, Snow set to work by trying to build the Isles through the NHL Draft. Selecting players such as Travis Hamonic, Calvin de Haan, John Tavares, and a slew of other players, Snow diligently started to stockpile talent that was either close to being able to contribute at the NHL level or raw enough to warrant interest in developing at the lower levels.
Although there were prospects that certainly didn't pan out (Corey Trivino, Kirill Petrov/Kabanov) for Snow, there were certainly a good amount of promising youngsters that the GM collected throughout the years of selection. Aided by a 2012 draft that saw the Islanders and Snow draft all defensemen with their picks, the Isles' pipeline became filled to the brim with defensemen.
With the likes of Scott Mayfield, Andrey Pedan (recently traded), Griffin Reinhart, Ryan Pulock, Loic Leduc, Doyle Somerby, and countless other defensive prospects rounding out the Isles' system, Snow had successfully restocked New York's prospect pool with a good amount of talent that could one day make it to the NHL. Having restored reputability to the Isles' pipeline, Snow successfully accomplished one of the jobs that he had set out to do as GM of the Islanders, but the entertaining, and hard, part was yet to come.
Asset Management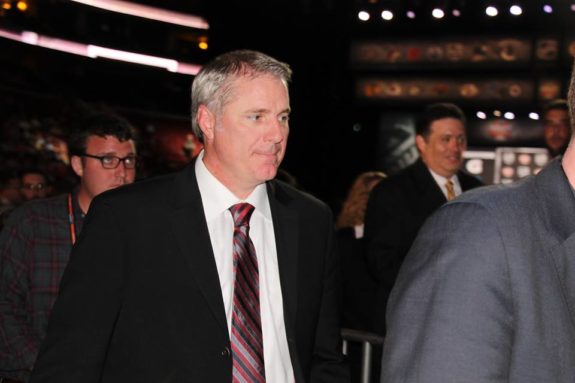 While building a prospect pool from scratch is no easy job, managing one correctly is arguably a harder one.
Over the years, Garth Snow – and the Isles' front office – has been criticized for their handling of certain prospects. By now Islanders fans are well aware of the initial mishandling of Josh Bailey, and are even more aware (since he has had some good point scoring streaks) of Nino Niederreiter's success with the Minnesota Wild since being traded from Long Island.
Sure, when one has a prospect system that is as stacked as the one that the Islanders have at this point in time, it's more than likely that some prospects will pan out while a good amount of others simply do not. Some might not be an optimal fit for the Isles' organization while others just might not have what it takes to be a consistent staple in an NHL lineup – and such are the pitfalls of having a loaded farm system.
Despite the fact that Snow's asset management – especially for the Thomas Vanek deal – has been questioned, he was able to show his savvy when trading Pokka at the end of the 2014 offseason.
Now, one might question why Pokka keeps being harped on in this article. One could ask themselves why Anders Nilsson or TJ Brennan aren't the ones that are paying dividends for Snow and the Islanders, but that simply wouldn't be doing much justice to Snow's managerial efforts.
Not only did Snow draft a defender that was already highly-touted for his potential when he selected Pokka in the 2012 NHL Draft, he patiently waited until his prospect flourished in Finland. By waiting for Pokka to develop, Snow was able to see how the prospect would potentially be able to transition to North American hockey, but more importantly, he let his product gradually gain steam and notoriety.
Having a great '13-'14 season with Kärpät, Pokka undoubtedly increased his stock and therefore his "tradability." Unlike Nilsson or Brennan – the other players included in the Leddy deal – Pokka's stock had reached its maximum potential. Of course, it could very fairly be surmised that Pokka could be a good NHL defender one day, but Snow's asset management in this scenario was beyond reproach.
With Pokka set to potentially start playing in North America, Snow capitalized on the interest in the defender and took advantage of the Blackhawks' financial situation. While Pokka's talent level and skill set is undeniable, Snow needed to address his team's needs, and he successfully accomplished that by prying Leddy away from Chicago in return for a defenseman that hadn't had any sample size of playing time in North America, a goalie that the Islanders weren't willing to give a one-way contract to, and a d-man – TJ Brennan – that never panned out at the NHL level.
Seeing Pokka's interest level peak after a great season overseas, Snow made the right move to improve his on-ice product immediately – a move which has paid off tremendously over the first fourth of the current season. Not only has the Leddy trade worked out for the Islanders on the ice, it has also undoubtedly helped in terms of a marketing perspective for New York's upcoming move to the Barclays Center.
Having Leddy generate buzz on the ice with his play has helped the Islanders get noticed to an extent. Adding Leddy and Boychuk to the fold, the Islanders have enjoyed a good amount of success and fluidity in their play thanks to the acquisition of the two aforementioned Stanley Cup winners. By adding two big names – something that New York hasn't been able to do in off-seasons past – that have been able to contribute and bolster the Isles' lineup, Snow has gotten more eyes on the Islanders' on-ice product just in time for the move to Brooklyn, and it's largely due to the fact that these two defenders have been a direct driving force for New York's success so far this season.
Managing For Long-Term Success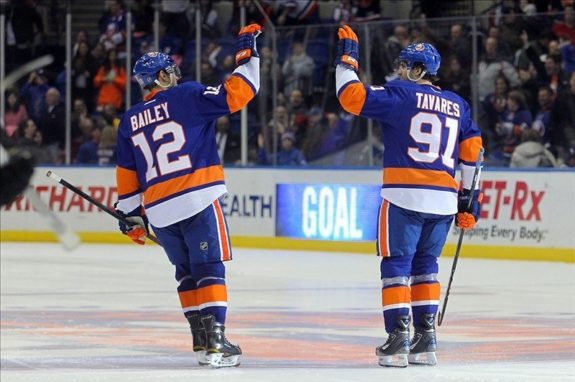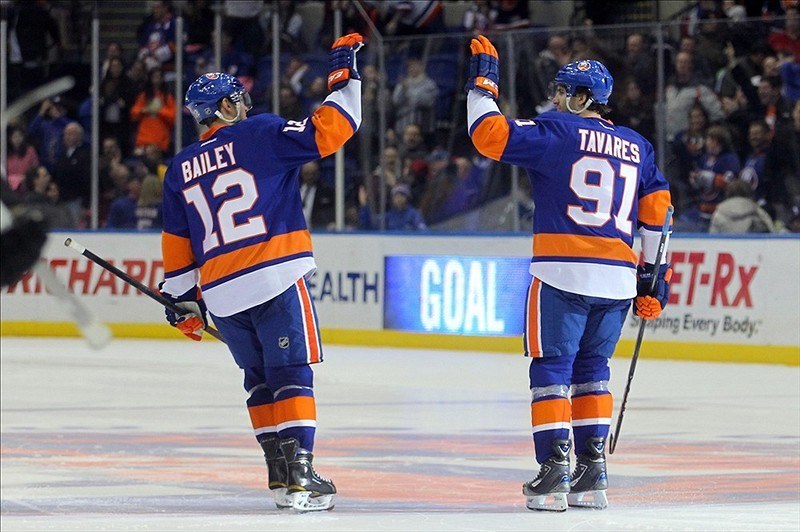 Nobody can say that Garth Snow has had a simple job when it comes to discussing his role as the general manager of the New York Islanders.
With a degree in Business Administration – but no actual GM experience before being hired – Snow has shown his capabilities while being financially handcuffed in a number of situations. Playing the waiver wire successfully on multiple situations, Snow has had to restructure the Islanders through whatever means necessary and/or available – and it has been a pain-staking process to say the least.
Over the last several years, Snow has gradually restocked the Islanders' pipeline, and it hasn't been for naught. The point of drafting all of these players with potential wasn't done in the hopes that all of these individuals would one day don an Islanders uniform and all become the next best home-grown talents.
Instead, replenishing the prospect system has afforded New York and Snow with multiple opportunities to maneuver – something that wasn't a possibility under Mike Milbury's free hand. Not only is Snow now able to give a youngster a shot at proving himself at the NHL level, he could just as easily permit himself to sit back and watch his prospects potentially reach their peak interest from other NHL teams as they develop either overseas or on the farm.
The purpose of this massive overhaul and rebuild wasn't meant to secure a winning season or two for the Islanders. It was meant to secure long-term sustained success. With the Islanders playing as a collective unit on the ice, the team is showing that no one man is beyond the team and its goals. Simply put, if you don't want to get with the program, you'll find yourself axed rather quickly – be it via trade, waiving, or burying on the depth chart.
Trading away Andrey Pedan yesterday, Snow demonstrated just the level of depth and talent in the Isles' defensive pipeline. Make no mistake, Pedan wasn't just another name in New York's system. Standing at 6'4″, Pedan was widely projected to be the next big bruiser on the Islanders' blueline, but Snow saw an opportunity to improve his team by getting the offensively talented Alexandre Mallet and a third-round pick in the 2016 NHL Draft in return.
Such is the blueprint for Garth Snow and the New York Islanders. Having a full prospect system not only allows the team to insert youngsters into the lineup at any given point, it allows the Islanders a certain amount of flexibility when maneuvering trades or even structuring potential deals for free agents. Even if one player leaves, there is always an opportunity to dip into the pipeline to either bring up a prospect to replace a departing player or to trade a player with potential in order to land someone that could substitute for a lost player.
Of course, such a process will always take time. It's not easy to rebuild something – especially when it needs to be rebuilt from scratch, but the course that Garth Snow and the Islanders have taken has essentially set New York up for continued and sustained success for the future.
In his third year with The Hockey Writers, Toli covers all things related to the New York Islanders. Focusing on the Islanders, the NHL Draft & draft-eligible prospect goalies, and hockey history, Toli can be contacted on Facebook by searching/messaging Toli Metter and on twitter by searching @ToliMetterTHW.