No More Road Excuse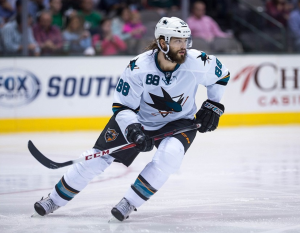 The San Jose Sharks are already nine points behind the first place Anaheim Ducks in the Pacific division. San Jose has simply not been playing up to their capabilities often enough this season. However, up until now they have had a built in excuse for their struggles.
San Jose played 16 of their first 21 games on the road, the most heavy road schedule to start a season in league history. That chunk of games concluded on Tuesday Nov. 18th. The Sharks have since played home games on Thursday the 20th and Saturday the 22nd, dropping a pair of shootout losses to the Florida Panthers and Arizona Coyotes. Team teal has since been off for three straight days heading into Wednesday's home tilt with the Calgary Flames, their first extended practice time and home rest of the season.
The time is now for this team to start showing us what we know they can still do, and that is dominate the regular season, particularly on home ice. San Jose has always been known as one of the loudest buildings in the league and before this season was said to be sold out every night. Thus far this year though they haven't been selling out the SAP Center. Through seven games, the Sharks are just 2-3-2 in their home arena. Built in has been the excuse of lots of road games and heavy travel coming back from those long trips. They don't have that crutch anymore. The extent of road weariness ended with that shootout loss to the Coyotes. The Sharks have been back in San Jose for over a week and have played just two games. If there ever were a time for this group to get going, this would be it. Certainly almost everyone on the roster can play better than their current output but there are a few players/areas in particular that need to really get it going.
Marleau & Burns
While I have recently defended Patrick Marleau, he is one of a handful of players that needs to turn it around and start putting the points away. Normally paired up with Logan Couture, Marleau's goals for percentage of 42.9 is significantly lower than Couture's 47.4. As stated in my Marleau defense, he is bound to get it going sooner rather later. However, with these home games coming up, it would be a bad time for a current slump to drag on. This team needs to start banking some points, so while Marleau hasn't been terrible by any stretch, he needs to start getting the results on the score-sheet.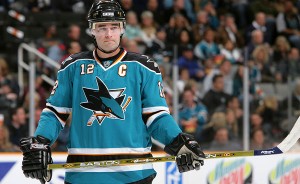 Another player who needs to find his game is Brent Burns. This season I've been heavily critical of Burns because he was such a tremendous success at forward. However, the criticism is really more so directed to the coaching staff and management for putting him back to a position that he has played very little of the past two years. Not only that, but mostly pairing him with a 19-year-old rookie hasn't helped. Burns is supposed to be San Jose's Dan Boyle replacement. Well, Dan Boyle was a combined plus-31 in his first five seasons as a Shark. Burns currently sits at a minus-7 this season and has looked brutal defending his own zone. A nearly six million dollar defenseman should never be among the bottom three players on his team in terms of goals against per 60 minutes of ice time. That is down right awful. Burns' goals for percentage is at a very disappointing 39.4%. Not far off from Marleau's but even lower, and unlike Marleau, much less of a sure thing he figures it out this season. That said, Burns did post a 54.8% goals for percentage on the Sharks blue-line back in 2011-12 . San Jose needs Burns to be that guy, and if he is still struggling come January, one would think they'd have to move him back up to forward.
Hertl & The Third Pair
Regardless of where Burns fits in as the season progresses, the Sharks need their depth defenders to step up. Mirco Mueller, Scott Hannan, Matt Irwin, Matt Tennyson, Taylor Fedun, or whoever, somebody needs to start playing like their job is on the line and start playing at a high level. If the coaching staff is going with Vlasic-Braun, Burns-Dillon as a top-four, the other aforementioned defenseman should be getting fewer minutes against lesser competition. Mueller has proven he has a lot of potential but if he is going to play limited minutes on the third pair, he really needs to start making better decisions with the puck. Hannan looks to be skating on fumes and Irwin hasn't put it together, so Tennyson and Fedun should get opportunities shortly. Somebody has to start playing well out of this group.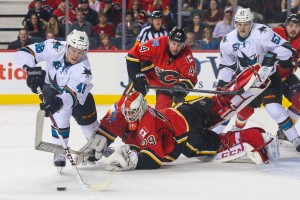 And finally, while he probably isn't 100%, Tomas Hertl is healthy enough to play and he needs to figure out a way to get his feet moving the way he did as a rookie. Ideally, for his benefit he will be put on a line with at least one fast linemate. Not playing with Burns certainly hasn't helped Hertl but that isn't the only reason for his struggles. He simply isn't playing at the same level as a year ago. Hertl putting the puck in the net on a more regular basis would be a huge boost.
Surely enough, hockey is a team game and almost everybody on the Sharks, sans maybe Vlasic, Braun, and Thornton, can find ways to be better. That said, the players/areas that have the most room for improvement are Marleau, Hertl, Burns, and the third defense pair. These guys are the primary problem areas right now. The talent is there and the better results should hopefully be right around the corner. However, if they don't come soon, it could be a case of too little too late even if they get it going in the second half.
Andrew has been credentialed to cover the Sharks since 2010 and the 49ers since 2012. He graduated with his BA in Broadcast Electronic Communication Arts in 2013 from San Francisco State University.