The next NHL Draft is never far away, and for Brooks Bandits defenseman Cale Makar, arguably the most important moment in his hockey career to date remains shrouded by an immense amount of intrigue.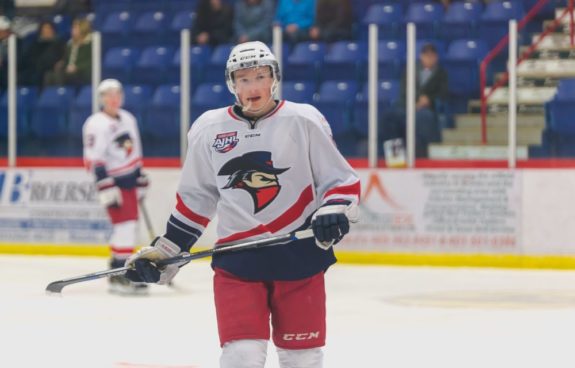 Currently playing in his second full season in the Alberta Junior Hockey League (AJHL), Makar's route to the NHL Draft has not been a typical one. While most Canadian-born players will opt to further develop their game in the Canadian Hockey League, Makar instead chose to pursue a scholarship at an American University.
Committing to the University of Massachusetts Amherst early in November of 2016, Makar indicated his desire to not only play hockey but arguably, more importantly, attain a solid education.
Makar's decisions are very similar to those of Tyson Jost, a former star with the Penticton Vees of the British Columbia Hockey League (BCHL). Jost, who now plays at the University of North Dakota, was drafted 10th overall by the Colorado Avalanche in 2016.
However, unlike Jost, Makar is not expected to be made a top draft pick in the 2017 NHL Draft. In fact, despite his excellent and consistent play, Makar is widely projected to be chosen late in, or outside of, the first round, an outlook which is highly confusing given his proven abilities on the ice.
Bandit Breaking Out
Despite finding success at each and every level of hockey in which he has played, Makar did not truly break out into a star player and a top NHL prospect until his arrival in the AJHL.
After joining the Bandits as an affiliate player late in the 2014-15 season and skating in three regular and 20 post-season games, Makar signed with Brooks for the 2015-16 campaign. As a 17-year-old rookie, Makar made an immediate impact, recording 55 points, 10 of which were goals, in just 54 games from the blue line. Further, he added 14 points in 13 playoff games to help lead the Bandits to an AJHL championship, while also being named rookie of the year.
IN-GAME VIDEO: Cale Makar scores a beauty to tie it in the first! #AJHL pic.twitter.com/2qdptUPOfp

— Brooks Bandits (@BrooksBandits) March 6, 2016
In addition to his sensational campaign with the Bandits, Makar skated in the RBC Cup, where he was not only the top scorer in the tournament but also its top defenseman and MVP. Lastly, Makar's whirlwind campaign featured an appearance in the World Junior A Challenge, where, not surprisingly, he was named to the tournament's All-Star team.
However, as if Makar's incredibly hectic yet successful season in 2015-16 was not enough to establish himself as a top prospect ahead of the 2017 NHL Draft, he quickly put aside any doubters early in the 2016-17 season.
Hidden Gem?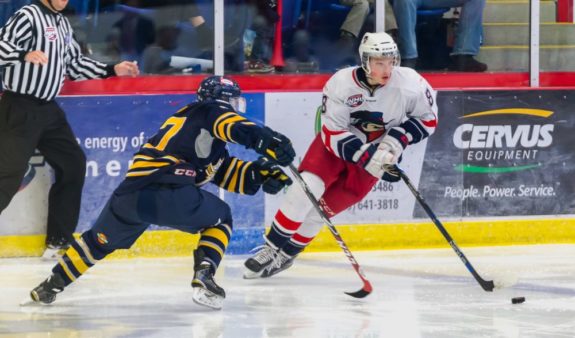 In his second season of play in the AJHL, Makar went right to work and quickly proved that his rookie campaign was no fluke. Through the first half of his season, Makar had already set a new career-high in goals, while he was also on pace to shatter his previous point total. Further, Makar skated in his second World Junior A Challenge, captaining Canada West to a quarter-final appearance while scoring a remarkable four goals and eight points in just four games.
Standing 5 foot 10 inches and weighing in at 180 pounds, Makar's best individual qualities as a defender are his skating abilities and his skill set with the puck.
A fleet-footed skater who can traverse the ice with ease, Makar combines his strong first step and explosive acceleration with sharp edges and ample agility. Once at full speed, Makar has no issue stopping and starting or darting in and out of traffic in order to generate offensive opportunities.
These capabilities also make Makar a sound defender, an aspect of his game which can be easily overlooked given his immense offensive outputs. Possessing a quick yet calculated stick, Makar has the ability to knock the puck off of opposing players' sticks in the defensive zone, while using his aforementioned skating abilities to pressure and corner even the fastest of players.
In addition to his terrific skating, Makar is also a gifted puck handler.
Able to move the puck with relative ease, whether it be a crisp, accurate pass or a quick move behind his own net, Makar's stickhandling skills further compliment his strong all-around game. In fact, despite his position, it has become a regular occurrence for Makar to dash from end to end, deking multiple players en route to a highlight-reel goal.
VIDEO: Check out Cale Makar's second goal and fifth point of his first game as Team Canada West captain! #AJHL pic.twitter.com/LkRcZEWRmp

— Brooks Bandits (@BrooksBandits) December 12, 2016
His puck skills combined with his skating makes Makar a true threat at both ends of the ice. What's more is that once Makar has broken out of his own zone, he also possesses the awareness and hockey sense to generate seemingly endless high-quality offensive opportunities.
Mix in a high compete-level and the willingness to play a physically involved brand of hockey, and Makar possesses all of the skills and abilities of a high-end NHL prospect.
IN-GAME VIDEO: What. A. Hit. What. A. Goal. Cale Makar makes it 2-0 Bandits early in the 2nd! #AJHL pic.twitter.com/5vZjF61VOm

— Brooks Bandits (@BrooksBandits) December 1, 2016
NHL Projection
Given his incredibly diverse skill set and track record of success to date, what does Makar's future in hockey hold?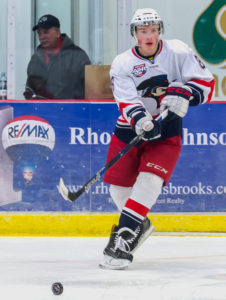 Well, despite his incredible talent, many have projected that Makar will not be selected until late in the first round of the 2017 NHL Draft, an outlook which would seemingly fail to reflect his abilities. As a late first round pick, the expectation is for him to play out his collegiate career and then spend time in the American Hockey League before seeing a possible shot at the NHL level.
In fact, in terms of individual rankings, TSN's Director of Scouting Craig Button did not name Makar in his top-31 or players to watch list. Additionally, Sportsnet has failed to rank Makar, while TSN's Hockey Insider Bob McKenzie, although impressed by Makar recently, did not name him in his pre-season ranking.
ICYMI, here's my story from Monday night on NHL draft shooting star Cale Makar: https://t.co/IjjOJd8MDO

— Bob McKenzie (@TSNBobMcKenzie) December 15, 2016
The major issue here, as outlined in McKenzie's article above, is the fact that Makar has not played higher than the Junior A level. Similar to the hesitancy surrounding Jost in the 2016 NHL Draft, many are not convinced by the success, regardless of the extent, of players playing Junior A hockey. As such, Makar's true value as a prospect will likely not be known until he has completed his first few seasons of play in the NCAA.
However, given his clear skills and the growing interest surrounding his development, Makar could very well become a solid, point producing defender at the NHL level. Of course, it is far too early to tell whether Makar will develop into a top-4 defender, or rather a complimentary depth defenseman.
Yet, what is abundantly clear is the fact that Makar has serious NHL potential, and is well deserving of the praise he is garnering as the 2017 Draft approaches.