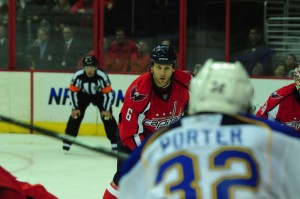 The Calgary Flames made a free agency splash prior to July 1 on Wednesday afternoon, announcing two player moves.
First, the Flames acquired pending unrestricted free agent Dennis Wideman from the Washington Capitals in return for pending UFA defenseman Jordan Henry and a fifth round choice in the 2013 NHL Entry Draft. The Flames subsequently signed Wideman to a five-year deal worth $5.25 million per year, reportedly with a full no-movement clause (according to local radio station Sportsnet 960 The Fan).
The Flames also announced that pending unrestricted free agent Blake Comeau, who was not given a qualifying offer on Monday, has been signed to a one-year deal worth $1.25 million next season.
When speaking to the media on Wednesday afternoon, Flames general manager Jay Feaster explained that Wideman was a player that the hockey club had targeted to strengthen their defensive group and their power-play.
"I think it was about Wednesday of last week, draft week, that I spoke with [Capitals GM] George McPhee and asked if we could have permission to talk with him early, and he said yes, and if you sign him it's a fifth round pick. We started the process of discussing things with Dennis' agent and at the point in time where our pick was rolling around in the fifth round, we still didn't have a deal done." – Jay Feaster
Feaster explained that the Flames were able to come to terms with Wideman following the draft and both the Capitals and Flames were willing to honour the deal for a fifth round pick, albeit in the deeper 2013 draft. He noted that because the Flames were still at the 50-contract limit, the Capitals agreed to take back an expiring UFA contract of the Flames' (Jordan Henry) to make the deal come to fruition.
The Wideman signing leaves the Flames with eight defenseman on one-way contracts (Wideman, Jay Bouwmeester, Mark Giordano, Chris Butler, Clay Wilson, Anton Babchuk, Brett Carson and Derek Smith) and the emerging T.J. Brodie all competing for roster spots next season, pending additional roster moves. Feaster noted that the club's amount of salary cap space, as well as the expectation of the cap rising for 2012-13, means that the Flames will not need to make additional moves to keep the team under the cap.
Feaster was also excited to re-sign Comeau, particular given the circumstances of the signing.
"We actually talked about a two-year deal with him, and to his credit, I like this, he said 'I'm better than what I showed [last year]. I'll take a one-year deal and I'll prove that the 24 [goals] wasn't a fluke.' Whether that happens or not, that's not the expectation here, but I just love it when a player puts that on himself."