The Tampa Bay Lightning entered the 2012 NHL Entry Draft with nine picks in hand. After the dust had settled from a busy weekend of selecting players and making deals, the Lightning came away with eight new prospects and a roster player.
1st Round, 10th Overall – Slater Koekkoek, D (Peterborough, OHL)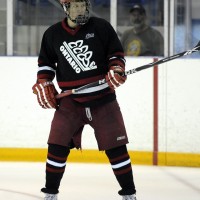 Much to the surprise of nobody, the Lightning used the tenth overall pick to select a defenseman. However, Slater Koekkoek may not have been the name many expected to hear.
"It was very quick," said Tampa Bay's director of amateur scouting Al Murray. "As soon as he was still there, it was easy to put his name down."
In terms of upside, Koekkoek has as much as anyone in this draft class. At 6-foot-2 and 183 pounds, he has good size and skates very well. When he fills out he could be a physical force on the back end in Tampa.
While injuries are always a concern, Koekkoek's torn labrum in his shoulder could prove to have been very beneficial to the Lightning. He appeared in only 26 games last season with Peterborough, recording five goals and 18 points with a minus-7 rating. Despite the injury, the Lightning were all too pleased he was available.
"He was absolutely the best player on our list. He's a terrific skater. He's going to be a point producer as well as a real solid defensive player," Murray added. "The only reason he might have fallen on some lists is because of his injury."
Koekkoek has a tremendous package of size, skill, and potential which could be a home-run in a few years…..Koekkoek is a great skater and does a good job of moving the puck and making good decisions. His skating ability allows him to lead rushes and his offensive zone play is very good. He's still in the progress of filling out his frame and improving his defensive zone play, but the skill-set that Koekkoek brings to the table cannot be overlooked as his ceiling could be as high as any of the defensemen in this draft. – The Scouting Report
1st Round, 19th Overall – Andrei Vasilevski, G (Tolpar Ufa, MHL)
"I was 100 percent sure I would be chosen in the first round," Andrei Vasilevski said regarding where he would be taken in the draft.
A bold statement to make considering how many in the hockey community feel about taking goalies in the first-round, but one you would expect from a talent like Vasilevski. He was arguably the best goaltender available in the draft, and one of two chosen in the first-round along with Boston's Malcolm Subban.
"My feelings are only positive," Vasilevski said. "I am very, very happy and I want to thank Tampa. It was not even my dreams to be the first goalie chosen."
Vasilevski, just 17-years old, has been watched closely following his tremendous performance at the 2010 World U-18 Championship at the age of 15. At the 2012 World Junior Championship, aside from a rocky third period in the semi-finals against Canada, he once again played extremely well on the international stage. He sported a 2.01 goals-against average and led the tournament with a .953 save percentage while helping the Russians to a silver medal.
As he showed during the tournament, he plays with a very calm demeanor in net. He is very athletic and isn't married to a certain style. While he can play with a very strong butterfly, he is also very comfortable playing a standup game. He also possesses an extremely quick glove hand. He is not very good handling the puck, but he does everything else you could want from a goaltender very well.
A year ago, the popular thought was the Lightning needed to address the goaltending position. The Lightning have done just that in trading for Anders Lindback, signing Riku Helenius and drafting Vasilevski. Now many will wonder when they might see Vasilevski play in North America.
"I still have two years in my deal with Ufa, but I cannot tell you for sure that I will be there for two years. I know [Tampa Bay] is a great organization with even greater players, and I know they have good goalies. I probably won't be boring for me once I get there," Vasilevski said. "The only thing I can tell you for sure is that I really want to play in the NHL."
There's always several players who drastically improve their stock at the World Juniors and Vasilevski is testament to that theory this year. While the big goaltender has been one of the top goaltenders in the MHL this season, he really put his name on the map with a tremendous goaltending performance at the World Juniors where he split time with Andrey Makarov. Vasilevski has great size and has a strong net presence. He has good angles and squares up well to shooters and does a good job of challenging them by coming out of the net. – The Scouting Report
2nd Round, 40th Overall – Dylan Blujus, D (Brampton, OHL)
Coming into the draft it was no secret the Lightning would be adding defense prospects. After snagging Koekkoek in the first-round, they selected another big defenseman with an intriguing skill set in Blujus.
At 6-foot-2 and 191 pounds, he has good size. His skating and puck moving skills made him a very attractive option for Tampa Bay general manager Steve Yzerman and company.
"Our guys really like his size," said Yzerman. "He's a right-shot defenseman and we have a real need for it. He's good on the power play, good skater, really good potential for a young guy if he fills out and he will fill out. We're very pleased to get him. He's got good hockey sense, good skills, He'll be a good power-play guy."
Blujus posted seven goals and 34 points with a plus-4 rating in 66 regular season games for Brampton. He followed that up with a goal and five points in eight playoff games. He will likely return to Brampton next season where he will continue to develop his overall game.
2nd Round, 53rd Overall – Brian Hart, RW (Exeter, High-NH)
While the Lightning have a good group of prospects on the wing, they don't have a lot of size. Hart, 6-foot-2 and 203 pounds, definitely adds size to the stable.
Hart piled up the points last season for Exeter. In just 29 games, he recorded 32 goals and 68 points. A strong skater with a very heavy shot, Hart certainly has the tools to develop into a top-six power forward type in the NHL.
"(Hart is) an excellent athlete who got several soccer scholarship offers from high-level programs. He's a very strong player and skater who turns it on when he gets an opening to with the puck and has an excellent wrist shot that he uses to real good effect,"  Gary Eggleston told the New England Hockey Journal.
Hart uses his big frame and strong stride to play an effect north-south style of game. He is not a very creative player with the puck on his stick. Instead, he puts himself in good position to receive passes and use his shot. He also is not afraid to drive the puck to the net and finish down low. Hart will be headed to Harvard University to further develop his game.
Like most high school prep players on the East Coast, Hart flew under the radar of a lot of draft viewers this season. The lack of attention does not hide the fact Hart is arguably the best player to play at New Hampshire-based Exeter Academy. In his two seasons at Exeter, Hart set the scoring record for the most points in two consecutive seasons with 129 points in 57 games. Hart has great size at six-foot-two, 215 pounds and uses it to his full advantage. Hart needs to improve the defensive side of his game in order to be a complete player. The Harvard-bound Hart compares his game to Thomas Vanek, which is a good comparison stylistically although he does have less offensive upside. – The Scouting Report
3rd round, 71st Overall – Tanner Richard, C (Guelph, OHL)
Along with defense, center was a position the Lightning were looking to add to in the draft. With their third-round selection they chose Swiss center Tanner Richard.
Richard fits into the jack of all trades category. He doesn't wow anyone with a particular skill, but he is above average at just about everything. What you will get from him is constant effort and a strong understanding of the game in all three zones.
Richard skated in 43 games for Guelph last season, scoring 13 goals and 48 points with a plus-4 rating. While Guelph was eliminated in round one of the playoffs, Richard managed to put up a goal and five points in six games. He also represented Switzerland in the 2012 World Junior Championship, registering two goals and four points in six games.
Richard dealt with injuries, including a concussion, in the second half of the season. Overall it was a solid first season in North America for Richard, who admits to having things to work on before trying his hand at the professional game.
"I think I have to work on my consistency. I'd come up and I'd have great games and then I'd have a bad game, maybe two or three in a row. My goal is to be the best player on the ice every time and be as good as I can and I got to be more consistent."
Richard's first season of junior hockey in North America was a success as the 18-year-old forward scored at a point-per-game clip despite playing on a team that struggled offensively at times. Richard is a slick offensive player who can create offensive chances with the puck on his stick. He does a good job of identifying passing lanes and finding the open man in the offensive zone and is one of the better set-up players in the OHL. Richard lacks a dynamic element and doesn't appear to project as much of a goal scorer but projects as a solid 3rd or 4th round pick. – The Scouting Report
4th Round, 101st Overall – Cedric Paquette, C (Blainville-Boisbriand, QMJHL)
While average in size at 6-feet and 198 pounds, Paquette plays a very intense brand of hockey. His rookie season in the QMJHL was marked with many a big hit and, somewhat surprisingly, lots of goals. His 31 goals in 63 games led the Armada.
More impressive than his success in the regular season were his post-season numbers. He took his game to another level, posting seven goals and 17 points in 11 games. He netted four game winning markers and helped his club push Rimouski to seven games in the second round.
He is an extremely competitive player on the ice and can sometimes lose control of his composure. It is that fire that makes him successful. He also has good awareness, especially in the offensive zone. He often finds open ice and uses a quick release to find the back of the net.
His skating, while not bad, could still use work. He could very well develop into a bottom-six, heart and soul type of player that every team needs to win in the NHL. He will return to the QMJHL next season and try to build on a very successful rookie campaign.
5th Round, 131st Overall – Trade to the Boston Bruins
Along with forward Michel Ouellet, the Lightning traded their fifth round selection to the Boston Bruins in exchange for the rights to winger Benoit Pouliot.
Pouliot, 25, was drafted fourth overall by the Minnesota Wild in the 2005 NHL Entry Draft. He has played 257 games in the NHL recording 53 goals and 104 points with a plus-27 rating.
He appeared in 74 games for the Bruins in the 2011-2012 NHL regular season, scoring 16 goals and 32 points with a plus-18 rating. In seven playoff games he added a goal and two points with a minus-1 rating.
At 6-foot-3 and 199 pounds, Pouliot provides the Lightning a big-bodied winger for added depth. He is a very good skater and is coming off a pair of solid NHL seasons. He is a player Steve Yzerman sees something in.
"He's a big guy who can skate, who has good hands and who is still relatively young," Yzerman said. "We think he can play among the top nine and really help us, and we still think he has potential to become better."
Pouliot is also familiar with Guy Boucher, having played for him in Hamilton of the AHL. Boucher believes Pouliot has "a lot of upside," and will likely give him quality minutes in Tampa, assuming he signs with the club.
"He averages about 15 to 16 goals per year, he's a big boy who can play on the power play, and he's not afraid to go in front of the net," said Boucher. "I think he falls into the category of a Sean Bergenheim or a Teddy Purcell. He reminds me of those guys a lot."
6th Round, 161st Overall – Jake Dotchin, D (Owen Sound, OHL)
With late round picks you are looking for value, and Dotchin is a definite value pick. He has all the skills the Lightning look for in defensemen. He has good size, is an improving skater and can distribute the puck effectively.
His rookie season in the OHL went very well. In 64 games for Owen Sound, Dotchin recorded three goals and 19 points with a minus-2 rating. Owen Sound decided to trade defensemen Matt Petgrave and former Tampa Bay draft pick Geoffrey Schemitsch, opening up more playing time for Dotchin.
At 6-foot-2 and 207 pounds, Dotchin has size Tampa scouts like. He doesn't let that size go to waste, as he does not hesitate to throw his weight around. He is prone to running around in his own end, but his defensive zone play was decent for a first-year player.
Dotchin seems to be very comfortable with the puck on his stick. He has no problems carrying the puck up the ice and makes crisp passes. He showed a great deal of poise working the point on the power play as well. He has good awareness in the offensive zone and makes smart decisions with the puck.
7th Round, 202nd Overall – Nikita Gusev, LW (CSKA, MHL)
Speaking of value picks, the Lightning swung for the fences with their last selection. There aren't many prospects in this draft class that possess the array of offensive skills Gusev has at his disposal.
The diminutive Russian had a few things working against in him in the draft. First, he is Russian. While I don't like the "Russian factor", the KHL is a legitimate league for Russians to be a part of. Second, he is small. Not many players will make the NHL at 5-foot-9, but skill certainly won't keep Gusev out.
A teammate of Tampa's 2011 second-round selection Nikita Kucherov, Gusev put up eye popping numbers in the MHL last season. Appearing in 34 games for CSKA, he posted 30 goals and 76 points. He found himself skating in 15 KHL contests as well, registering two goals and three points. He also captured a silver medal playing for Russia at the 2012 World Junior Championship, during which he recorded three goals and nine points.
The gifted Gusev is an effortles skater, often appearing to glide rather than skate. He is a wizard with the puck and can put a pass or shot wherever he pleases. His vision and creativity are off the charts and his hockey sense is exceptional. It is hard to believe he was passed over twice, and the Lightning are more than happy to take a flier on his immense talent.
Gusev is a draft overager who oozes offensive talent and really showcased himself at the World Juniors this past Christmas. After a torrid season in the Russian MHL, Gusev will see full-time KHL duty with CSKA in 2012-13. While size is a concern for Gusev, the diminutive winger has exceptional creativity and is always a threat to create a scoring chance when he's on the ice. Transfer concerns will be paramount when NHL teams are looking at Gusev, but he seems like a great opportunity for a team to roll the dice after the first couple rounds.– The Scouting Report
Every team is happy with their selections each year the draft takes place. With this group, the Lightning have taken high upside players who could reward them in the near future. No draft pick is ever a sure thing, but these picks are sure exciting for Tampa Bay.