In this case, no news was and is good news for the Flyers. That is when referring to the team's rumored runs at Rick Nash and Bobby Ryan, of course.
The Flyers escaped draft weekend in Pittsburgh without mortgaging their future for a couple of temptations. That is something the Flyers and their fans should be happy about. The Flyers did make a one-for-one deal swapping James van Riemsdyk for Toronto's young defenseman Luke Schenn, both disappointments in their respective cities. However, that was somewhat expected and not cause for outrage.
The Flyers NEEDED defense. They acquired Luke Schenn for that reason. That is their need and they hope Schenn can be the guy they think he can be for their blue line. The defense is a little better now and the team hopes to shore it up more depending on what happens with the Matt Carle negotiations.
The Flyers didn't NEED another forward or more offense. They scored 260 goals this season, good for 2nd in the NHL behind Pittsburgh. Why would the Flyers be so interested in Nash or Ryan? For Bobby Ryan, the positives would be pretty good. For Nash, many of us just don't see the sense in it. Here's a look at a couple of nightmare scenarios that could have unfolded.
Nightmare Scenario 1: Flyers overpay for Rick Nash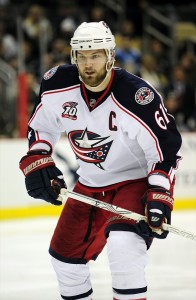 No knock on Rick Nash. Rick Nash is a very good hockey player and he has the big frame that GM Paul Holmgren and his predecessor Bob Clarke have always loved in players.
The problem is his $7.8 million dollar cap hit over the remaining six years of his contract is probably almost as bad of a contract as Scott Gomez's was for New York and now Montreal. The cap hit greatly overvalues what Rick Nash is. He scores an average of 60 points over a 9 year career. Granted, it is in Columbus. But who knows how it would work out elsewhere?
Even with the albatross contract, teams (including the Flyers) are still tempted to add Rick Nash to their team. He's a big forward with a lot of strength and teams with dynamic centers think they could probably bring Rick Nash back to his heyday with 40 goals and in the 80 point range. The Flyers have that dynamic center in superstar Claude Giroux.
However, it's a risk. The thing about this risk is that it's one the Flyers really don't need to take. They don't have problems scoring goals. If I were the New York Rangers, I might think about taking that risk because there's a big upside. There's no reason for the Flyers to. Scoring isn't their need. Defense is.
Sometimes one has to wonder if the Flyers just get involved in these talks when they hear a close rival is interested. It may just be strategy to cause a distraction or drive up the price on a rival. If it was legit interest, it's puzzling for sure.
It seems like the Flyers are legitimately out of the Nash talks now, and if so, good on them. Any Nash deal would probably come at a pretty steep price. Columbus GM Scott Howson has long overvalued Nash and it seems as though he won't budge unless someone overpays. The Flyers cannot afford to do that.
Nightmare Scenario 2: Flyers greatly overpay for Bobby Ryan
You always have to give something to get something, but the Flyers cannot overreact and mortgage too much of their franchise for a Ryan deal. A little different tune is being sung on Bobby Ryan, and rightfully so. Ryan is a young goal scorer with ties to the Philadelphia area. He grew up here. His heart is in the area and he's made it no secret that he would love to play for the Flyers one day, as he told Randy Miller from the Courier-Post newspaper out of South Jersey.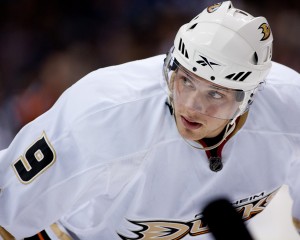 It would be such a great storyline that a lot of people got sucked into the "feel good" aspect of it. Bobby Ryan will give you much more bang for your buck than Nash will, but the price is probably even higher for Ryan. The Anaheim Ducks want any trade discussion to begin with Brayden Schenn and to this point that is not something Paul Holmgren and crew are willing to discuss. If the price comes down (it's a slight possibility later this year or into next season since Corey Perry and Ryan Getzlaf are due to be unrestricted), look for the Flyers to jump on it quick.
The bottom line is the Flyers should not overpay for something they really don't need. It would be a big regret down the line. Scoring was not the reason they lost this year. If the Flyers feel at the trade deadline or following this season that they need another forward, next year's free agent class looks good. Getzlaf and Perry's impending free agency may make Bobby Ryan available more so than now, and there are some good veteran names such as Jarome Iginla that may be out there too. The Flyers are better off implementing a "wait and see" strategy on Ryan's availability and price tag.
The Flyers are sure to be active on the free agent and trade market again. They always seem to have their name rumored for a big splash. Let's just hope they don't take a dive into the shallow end of the pool, to the point of no return.