Choosing fourth overall, the Calgary Flames will be looking to add another key player in this year's NHL Entry Draft.
2014 NHL Entry Draft
Barring a trade, General Manager Brad Treliving and President of Hockey Operations will likely chose a centre, Sam Reinhart, Sam Bennett or Leon Draisaitl.
With two picks in the second and third rounds, the Flames have an opportunity to add solid prospects to its system. In the next two drafts, the team will likely have added most of the depth required to again be competitive. What will be missing is top end talent. Perhaps some current or upcoming draftees will emerge as elite players but at some point, the Flames will need a Jonathan Quick in net, a Drew Doughty on defense and an Anze Kopitar up front to compete for the Stanley Cup.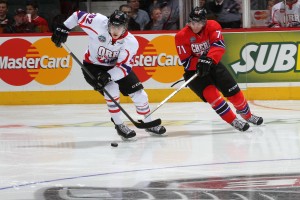 In the System
In its current system, the Flames have solid prospects at center (Sean Monahan, Marcus Granlund, Max Reinhart, Bill Arnold, Corban Knight, Mark Jankowski and likely a first round 2014 pick) and left wingers (Sven Baertschi, Johnny Gaudreau, Morgan Klimchuk and Kenny Agostino).
Calgary needs more depth at the other positions especially right wing (Emile Poirier and Tim Harrison) and defense (Tyler Wotherspoon, Patrick Sieloff, John Ramage, Ryan Culkin, Eric Roy, and Keegan Kanzig). The lack of top end talent especially on defense is a concern for the Flames.
The Flames may have two solid goaltending prospects in Joni Ortio (who excelled with the AHL farm team last season) and college draftee Jon Gillies — but one more excellent goaltender prospect would be a good idea.
Calgary has amassed some good prospects in all positions but it is too early to tell if any will emerge as elite players. And at some point, the Flames will need to develop a couple of top six forwards, a couple of top two defensemen and a true number one goaltender to be able to compete in the post season.
Trades?
Should Treliving trade current assets for future prospects? There may never be a higher ceiling for forward Jiri Hudler but it would take a big trade for the Flames to get a first round pick or excellent prospect in return. How much could Hudler be worth? What about Dennis Wideman? His contract makes him difficult to trade.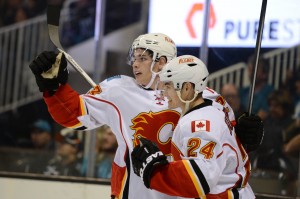 Calgary also doesn't want to play all kids without veteran presence on the ice. Coach Bob Hartley established a great environment last season that made the Flames competitive in every game despite being one of the worst teams in the league. To develop the young talent, the Flames need to surround the young players with some experience and that's where Hudler, Wideman and captain Mark Giordano come into play. Having Karri Ramo in net for the next couple of years will allow Ortio and Gillies to improve and gain valuable experience before facing the pressure of the NHL. Ortio played well in his first few games in Calgary, potentially a good sign.
The Flames want to continue to improve and add key pieces to their system while stressing patience. The past two Stanley Cup champions, Los Angeles and Chicago, took a few years to rebuild and form a solid nucleus. Calgary is beginning to develop good depth but must now focus on what pieces are needed, including elite talent. The Flames are rebuilding nicely but have a ways to go yet. This year's draft is but another step in the right direction.