Those squares on your calendar, just got a lot more circular. That's what happens when the NHL releases the 2014-15 schedule.  There won't be an Olympic break. There will be an All-Star Weekend, at Columbus. Outdoor games in Washington and San Francisco but no such contests for the New Jersey Devils. As free agency looms, Devils fans will undoubtedly try to figure out if Martin Brodeur plays his first game in Newark on October 18 or at some other point along the way.
Official press release on #NJDevils 2014-15 schedule: http://t.co/HYdfVTiK0L

— NJDevilsPR (@NJDevilsPR) June 22, 2014
Regardless of whom the Devils backup netminder is, New Jersey may need some sturdiness there, seeing as they somehow conspicuously have 18 back to back contests, even though the schedule need not be so compact with no Olympics this season.
The rest of the Devils schedule breaks down as such. New Jersey plays 30 games against Metropolitan Division opponents. They'll play the Pittsburgh Penguins and Washington Capitals five times apiece, while facing the Philadelphia Flyers, New York Rangers, New York Islanders, Carolina Hurricanes and Columbus Blue Jackets four times apiece. Additionally, New Jersey goes up against Atlantic Division foes 24 times, facing each squad three times apiece.  Plus, the Devils will play each Western Conference opponent a pair of times, once at home, once away.
https://www.youtube.com/watch?v=ytdsaFwyJ8s
I do have to concur with Devils beat writer Tom Gulitti, if you're going to have a division based playoff format, you ought to have more divisional matchups.  If the schedule is going to be that spread out, just have one league with all 30 teams and seed the top 16 teams from there.
The Devils' four games apiece vs. the Islanders and the Rangers are the fewest times they've played those teams in a non-lockout season.

— Tom Gulitti (@TomGulittiNHL) June 22, 2014
As mentioned above, the Devils open at home on October 18, playing host to the San Jose Sharks.  Their season opener is October 9 at Philadelphia.  That begins what is tied for a season high four-game road trip, which will later be matched in November with a four-game swing out to Western Canada.
Season starts with a trip through PHI, FLA, TB and WAS. Will you be @PruCenter for the home opener vs. SJ on Oct. 18? pic.twitter.com/HxILwtaz1j

— New Jersey Devils (@NJDevils) June 22, 2014
New Jersey plays its longest homestand of six games, from February 17 to February 27.  The Devils close out their home slate on April 7 against the Rangers and finish their overall schedule on April 11 at the Florida Panthers.  Only one Devils home game, Sunday March 8, against the Flyers (5:00PM) begins earlier than 7:00PM.
New Jersey first plays host to the Rangers on October 21 and initially travels to MSG on December 27. They play first at the Islanders on November 29 and host the short-time Long Islanders for the first time on January 9.
Also noteworthy, the Devils travel to face the Stanley Cup champion Los Angeles Kings on January 14 and play host to them at the Prudential Center on March 23.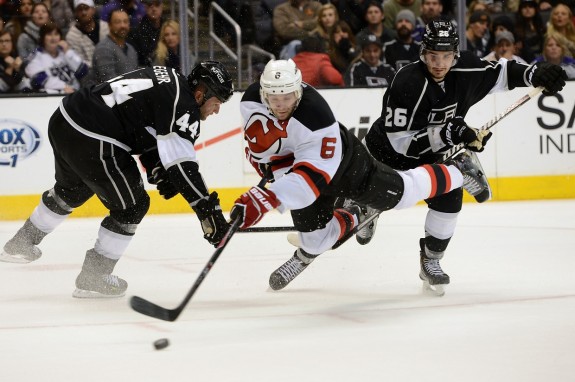 Which games are you most looking forward to in 2014-15?