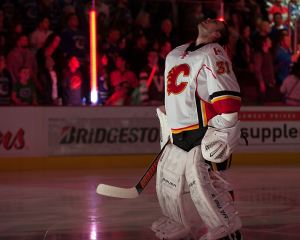 Hi. My name is Chris Kayaniotes… and I'm a Calgary Flames fan. Now this has not always been an easy admission. And the timing is not necessarily great either right now to come forward with my problem. Currently the Flames are causing their faithful to do a slow burn. The losing streak has engulfed its eighth game as if it were a monster python slowing taking in its prey – inch-by-inch – game-by-game.
Good Lord! Not an own goal!
The team's latest loss against the Vancouver Canucks has encapsulated the sheer fickleness of lady luck seen during these eight varying degrees of painful games. The Flames went down early by nonchalantly passing the puck back to the point while on the attack with the goalie pulled on a delayed penalty call. Manson Raymond, suddenly unable to perform the simple task of taking a pass on his backhand, watches (and I do mean watches, because he sure the heck didn't use his blazing speed to stop it) as the puck slid into the empty net. Kim Kardashian may have nearly broke the Internet with her greased up bumper but Flames fans actually made Twitter groan in agony with that play. Well the good news is, like bullying and acne, it does get better… slightly.
Decades long Flame Fan
I was baptized in the flames of Flame fandom from the cradle from the team's first strides on the ice of the Stampede Corral in Calgary in 1980. I have borne witness to everything. Obviously there were some incredible moments: the Stanley Cup final runs of 1986, 2004 and Cup victory of 1989. But there were also seasons where success was doled out in war-sized rations.
So what's going on with this year's team? Their start certainly surprised many. Most professional prognosticators thought the team would be mired in the bottom 5 of the league. But the team kept winning, and winning in character ways, namely by third period comebacks. It was absolutely addictive as a fan! Still observers thought the Flames were punching above their weight class and would eventually get hammered back to the mat where they belong.
Eight game losing streak
There is no doubt an eight-game losing streak IS a beating. But I do not think this team is down for the count. There is a fine line between winning and losing. Watching the team's play from last season, I was amazed by the end when I realized Calgary finished 27th out of 30 teams. I was convinced they were higher! They played such a competitive style and seemed to be in every game.
This year is really no different, save for one thing; early on the team was finding ways to pull out those one-goal victories rather than being on the wrong side of them. In the last eight games they have truly deserved a better fate in at least 6 of them. But as loses have mounted, the swagger has seeped out of the team. When TJ Brodie and Mark Giordano play keep away from the Canucks with 26 seconds remaining in the third just to ensure one point, goes to show you they are playing scared. A few weeks ago those two would have rushed the puck up. Forget that extra point, we want to win now!
In professional sports winning is all that matters. When it isn't happening, everyone gets pretty uptight. Fans have been quick to blame the return of players from extended injury such as Mason Raymond, Matt Stajan and Joe Colborne. The reasoning being, they screwed with the chemistry. But I would discount this. Early in the losing streak the Flames were definitely the better team but came away with no reward. I particularly think Colborne has been solid throughout the eight games. The goaltending has also been solid. Yes, there have been some defensive lapses but that can happen on a winning streak. Yet on a losing streak they get magnified and amplified.
Fragile team psyche
Now the team is fragile. Players are over-thinking, which has translated into over-passing. So many times a great chance for a shot on goal is put off in favour of making a nice pass. It reminds me of an artist who wants to add one more tree to an already beautiful landscape painting only to smudge the canvass. The Flames need to channel their inner Jackson Pollack and just throw the paint on the page. Here's where a guy like Brain McGrattan is truly an artist. In the games he's played he has shown more jump and desire than Curtis Glencross has for the games he has coasted in. Beside who needs brushes when your fists like to get dirty and that kind of "arts and craft" always sparks the team and the fans.
Leadership leads out of the darkness
Fellow Flame fans, do not worry. All the pieces are there. I believe Bob Hartley is the right man in charge. He is respected and well thought of by the players but most importantly he's positive. In a sea of negativity, you need a lighthouse: a beacon of hope. Lets all keep the flame(s) burning.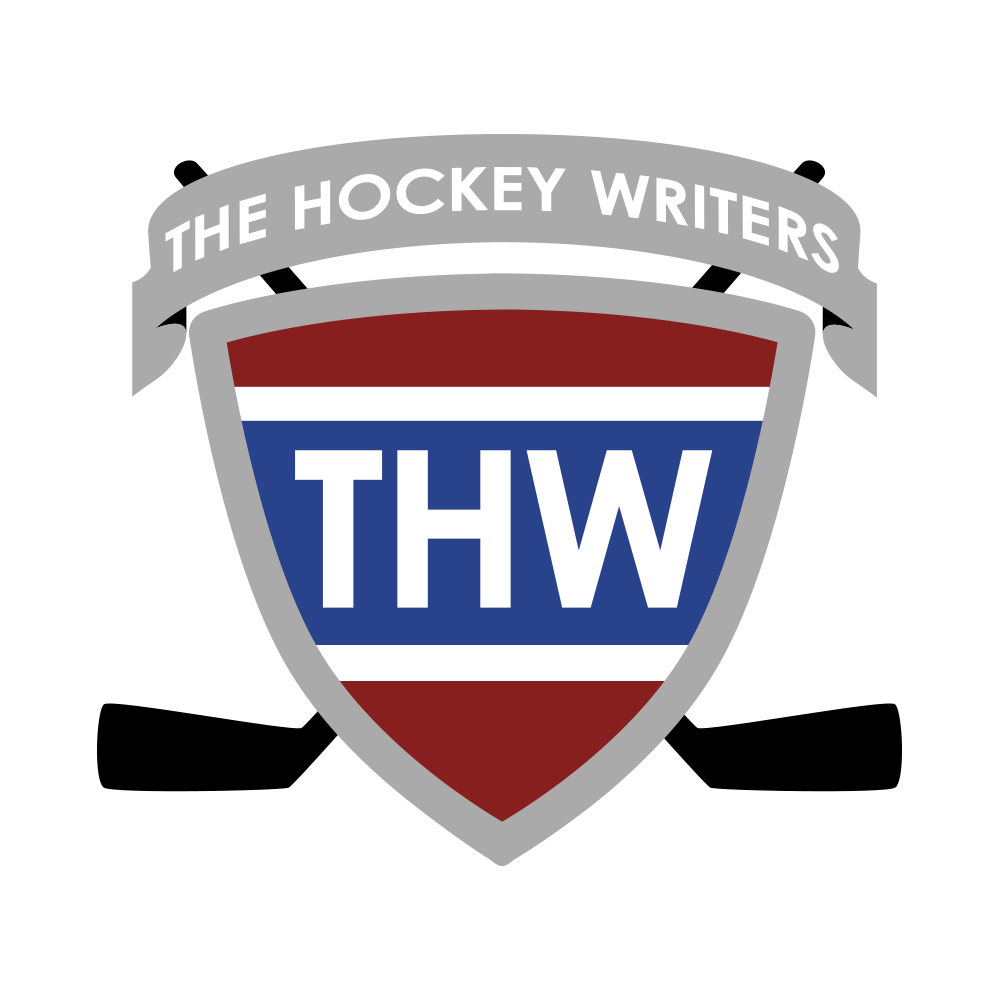 The Hockey Writers is:
1) A top-tier hockey media company delivering a top-notch, in-depth look at the NHL
2) A collective of some of the best hockey writers anywhere
3) A multimedia provider with daily podcasts and YouTube shows
4) Well-respected and widely-cited NHL prospect and draft resource