Ever since replacing Scott Gordon as head coach of the New York Islanders in November 2010, Jack Capuano's fate with the Isles has been somewhat of a question mark.
Guiding the Islanders to a 26-29-10 record after taking over for Gordon during the '10-'11 NHL season, Islanders fans were undoubtedly intrigued with the headway that the team had made under Capuano. Playing more relaxed and loose hockey, Capuano was able to extract the most from his team in his first 65 games as head coach of the Islanders – and he even continued a trend of slow progression in his following season as New York played to the tune of a 34-37-11 record in 2011-2012 despite experiencing several multiple-game losing streaks.
While Capuano made consistent progress with the Islanders in his first two seasons as the team's head coach, the Isles' ability to secure a playoff spot in the lockout-shortened '12-'13 NHL season set the bar relatively high going into the '13-'14 campaign. Losing players to injury at various points of the season and tasked with maintaining team chemistry following the Matt Moulson-Thomas Vanek deal, Capuano endured a ten-game losing streak and a long season that was filled with bumps, bruises, and a good amount of fan disapproval for the bench boss.
Despite not making the Stanley Cup Playoffs during the '13-'14 NHL season and regressing in some ways, the Islanders' front office – much to the chagrin of some Isles fans – decided to not to fire Capuano for New York's final season in the Nassau Coliseum, and it has certainly paid its dividends during the first portion of the current season.
Making Moves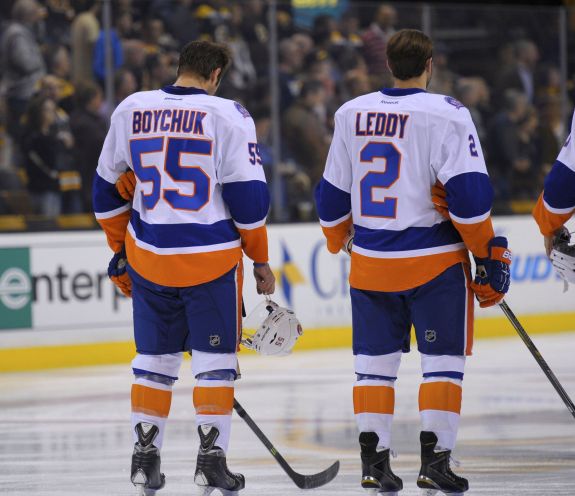 When looking at the on-ice products that the Islanders have fielded in past seasons and comparing it to the one that management has produced for the '14-'15 season, one could instantly see a noticeable difference in talent level.
With Garth Snow acquiring players such as Jaroslav Halak, Chad Johnson, Johnny Boychuk, Nick Leddy, Nikolai Kulemin, and Mikhail Grabovski during the 2014 offseason, Capuano was given an unprecedented amount of roster flexibility as the Islanders hadn't seen such a flurry of transactions since Charles Wang and Sanjay Kumar took over control of the franchise during the early 2000s.
Compared to previous seasons when the Islanders had a seemingly endless laundry list of roster problems ranging from goaltending logjams to missing top-four defensemen to an unstable top-six forward rotation, Capuano was entrusted with a roster that conveyed a clear-cut message to the coaching staff and the fan-base, one that read, "We are serious about competing."
Of course, adding a proven goaltender, a decent backup, two Stanley Cup winning defensemen, and a couple of versatile forwards will change the dynamic of most NHL teams, but it has been what Capuano has done with the product that he was given that is most impressive. Having a roster filled with several new players, it was anyone's guess as to how the Islanders would mesh when the '14-'15 season started. However, Capuano has sure made good on his head coaching duties with some new personalities in the Isles' locker-room, and those additions have definitely helped Capuano bring a more in-depth approach on a nightly basis.
No Longer Just A "Chip N Chase"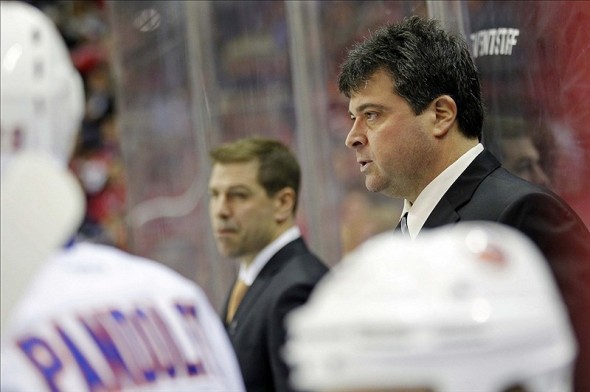 With greater roster flexibility, comes greater maneuverability.
Such a phrase probably sounds lame and obvious, but it's exactly what has guided the Islanders to such tremendous results through the first 33 games of the current season. As previously mentioned, making the additions that Garth Snow and the Islanders' front office made during the 2014 offseason, it should come as no surprise that New York has seen marked improvement, but how that progress has manifested on the ice attests to the job that Capuano has done behind the bench.
Over the last several years, the Islanders' goaltending situation left fans and analysts asking a number of questions when New York would be heading into regular season play. Some of these questions included, but were not limited to:
Would Evgeni Nabokov be able to perform at a formidable-enough caliber over the course of a full NHL season? What did the Islanders have in goaltending prospects Kevin Poulin and Anders Nilsson? Who would eventually take the reins to New York's goaltending duties as the unquestioned starting netminder?
Simply put, having Jaroslav Halak in the crease has answered a lot of the questions that Islanders fans normally would have had during the course of a given NHL season. Not only has Halak turned in some amazing performances for the Islanders, his consistency has allowed the Islanders to play with a greater amount of confidence as the team isn't necessarily worried about protecting their goalie in certain game-situations.
While having Halak has strengthened the Islanders in net, having proven Stanley Cup winners hasn't hurt their defense. Having the luxury of employing Leddy and Boychuk on a nightly basis in addition to Travis Hamonic and Lubomir Visnovsky, the Islanders have rounded out their defensive units quite nicely this season. Brian Strait has definitely had his fair share of struggles this season on the Isles' blueline, but the additions of Leddy and Boychuk have allowed Capuano to space out his defenders instead of taxing them.
Defensemen such as Thomas Hickey are no longer being taxed in situations where they might be overmatched by the opposition, and Hamonic and Visnovsky haven't been asked to log extra minutes than they are normally accustomed to playing. One can even see a distinct difference on the ice when the Islanders move the puck as the team now has several defensemen that could adequately make an outlet pass that springs transition play.
More importantly, Leddy and Boychuk have brought a winning pedigree to the Islanders, something that was described by former Islanders goaltender Chris Osgood as being "infectious," as he recently stated:
They got a good young team. They've added some good veterans like that year we got Yashin and had Peca, had Aucoin, and had some good pieces – guys that had achieved some nice careers before they got to Long Island, and then when we got to the team it seemed to gel with the younger guys and older guys kind of in the same way that they're doing now. They've brought in Leddy and Boychuk who have been really good on defense, and they're guys that have won the cup before, so that's huge, that adds to it as well… You automatically bring in guys that are respected – not only by their teammates, but by other people around the league – and they're good defensemen, they're both top-four defensemen, and they've added an element to the Islanders that they've haven't had before… You can never underestimate the value of guys that held the cup over their heads and knows what it takes to win, and that gets infectious and it goes around to the other guys on the team.
Being able to send out such defensemen on a nightly basis (granted that Leddy and Boychuk are healthy) has allowed Capuano to formulate defensive pairings that could match up with almost any opposition based on prior experience. While such defensive depth has allowed Capuano to fiddle with his defensive units, it has also lessened the two-way workload on the team's forwards – something that has further aided the Isles' play in transition.
Flourishing Forwards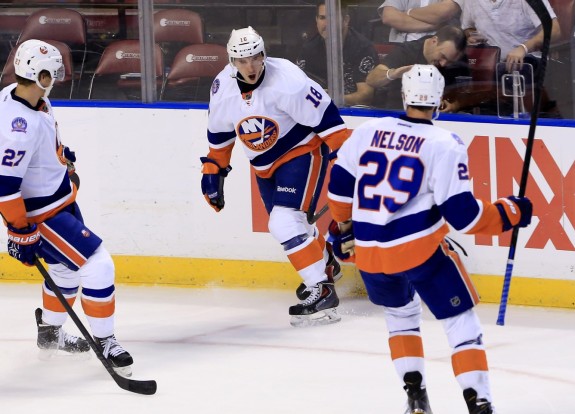 With a core of durable puck-moving defensemen, the Islanders' offense has evolved in ways that fans haven't seen over the last several years. In years past, New York would rely on its forwards to generate scoring chances on their opposition through a solid forecheck and a grind-it-out style of play behind the net.
The Islanders certainly haven't abandoned their hard-working style in order to generate scoring chances this season, but the chances that the team is generating seem to be more fluid, and it has helped show the type of system that Capuano could implement with a deep enough roster.
Having his defensemen focused on bringing the play up the ice, Capuano has tapped into his forwards in ways that he just wasn't able to in previous seasons. Even though the additions of Kulemin and Grabovski have certainly allowed Capuano to create a greater amount of line combinations and account for potential injuries to forwards, having his skaters concentrate on specific tasks has made the Islanders move up and down the ice like a different team.
Watching this current group of Islanders, one would be hard-pressed to find glaring holes in the ways that New York produces its offense. No longer are the Islanders relying on John Tavares and Kyle Okposo to generate a majority of the team's offense. As a matter of fact, New York's secondary scorers have been showing up on the scoresheet in such a consistent manner that the "drop-off" in production from the Islanders' captain has been relatively ignored by many fans.
What is even more interesting about the aforementioned situations is that it all leads back to Capuano's prowess and potential as the coach of the New York Islanders. Not only has Capuano shown that he is capable of working and integrating new components into his lineup, he has also displayed his growth as a coach in the NHL as he is changing up his lines with much more ease and taking timeouts to give his team breathers in necessary situations.
Although such changes might seem like rudimentary components of any formidable NHL coach, one must remember that Capuano has had to work with an incomplete product throughout the vast majority of his tenure as the Isles' head coach. Employing a hard-working style of play by creating traffic behind and in front of the opposition's net, Capuano was forced to utilize a dump and chase style of hockey in order to compete in the Metropolitan Division, but that is simply no longer the case.
With Leddy, Boychuk, Hamonic, Visnovsky, de Haan, and Hickey capable of initiating play by moving the puck up the ice, Capuano hasn't found himself in a bind that has prevented him from using his skaters in the way that they are meant to be used – which has ultimately allowed the coach to show where exactly his talents lie.
Sticking To The Product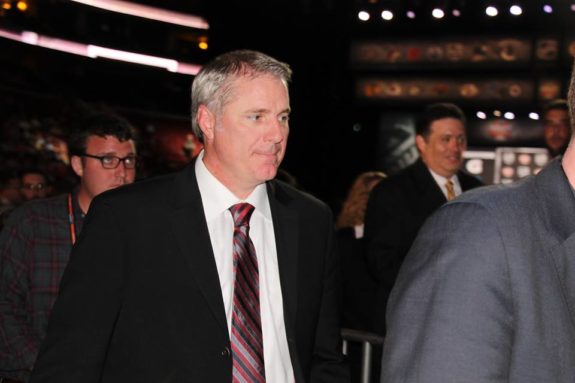 Rarely mincing words, Islanders fans have made their sentiments about Jack Capuano very well known over the last few years. Whether it be on social media, during games, or any other gatherings, Islanders fans have constantly wondered if Capuano would be the man to guide the Islanders out of the long rebuild that Garth Snow and Charles Wang embarked on during the mid-to-late 2000s.
Despite having his job in a seemingly constant state of flux, Capuano has been able to keep his job not because of any nepotism within the Islanders' organization, but because of his dedication to the younger players and the franchise.
Going through tough losing streaks – some which stretched to great lengths – Capuano never threw his players under the bus. Understanding the delicate nature of the developing product that he was tasked with molding, Capuano held his players responsible for mistakes. However, he did so in an in-house manner – away from the scrutinizing eye of the New York media – thus creating a trusting atmosphere in which his younger players could expect to thrive, but could also expect to be dealt with accordingly if they didn't fit the bill for team play.
Growing with a maturing group of players, one could even go as far as saying that Capuano and the Islanders have had a mutually beneficial relationship. Having gone through their ups and downs together, the Islanders and Capuano have experienced their lowest of lows and their highest of highs as a collective unit, and it has imbued the team with the ability to adapt – not just to one type of situation, but to a variety of obstacles that would break almost any other young and developing team.
Still The Man For The Job?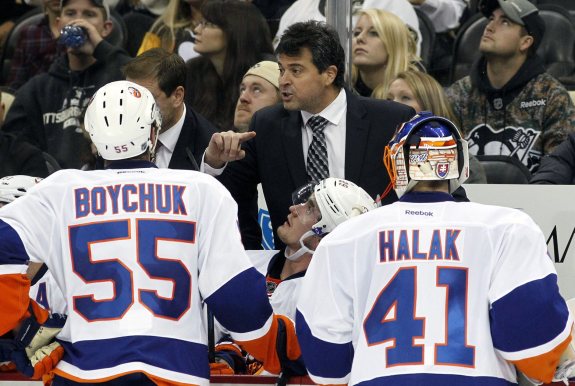 Perhaps this question will stick with Islanders fans and analysts unless the team progresses far enough into the Stanley Cup Playoffs or wins the Stanley Cup.
Even though the Islanders are off to a tremendous 23-10-0 start that has seen them consistently compete for the top spot in the Metropolitan Division, the jury might still be out on Capuano and if he is the right coach to take his team on a deep run in the postseason. The fourth year coach has definitely shown growth during his time on Long Island, but it will be up to Capuano and his coaching staff to keep New York motivated and playing the brand of hockey that has made them so successful so far this season.
With 49 games left on the regular season schedule, nobody knows how exactly the Islanders will finish off the '14-'15 NHL season, but one thing is definitely for certain at this point in time – and that is the fact that Jack Capuano has been at the center of New York's success this season. To deny or dismiss Capuano's work as a result of savvy signings or shrewd trades on behalf of the GM would not only be diminishing the work that the bench boss has done up until this point, it would represent a fundamental misunderstanding of the Islanders' goals since starting their rebuild, one that is based off of the tenets of patience, resilience, and hard work.
In his third year with The Hockey Writers, Toli covers all things related to the New York Islanders. Focusing on the Islanders, the NHL Draft & draft-eligible prospect goalies, and hockey history, Toli can be contacted on Facebook by searching/messaging Toli Metter and on twitter by searching @ToliMetterTHW.