The University of North Dakota enters the second half of the 2014-15 season with a ( 13-4-2, .763) record. That's the best first-half start for UND under 11th-year head coach Dave Hakstol.
Before we get too excited, there's still a lot of hockey left be played, and there are no trophies awarded for first-half records. UND has put themselves in good position and they won't need another patented second-half push to make the NCAA tourney. They just need to maintain their current trajectory.
Some of the naysayers will point to UND's schedule as a reason for their quick start. While it's true, UND's opponents have an unimpressive cumulative record of (63-87-11, .425). UND has played the 11th hardest schedule according to the KRACH Rankings. That's still better than 48 other teams in division I hockey.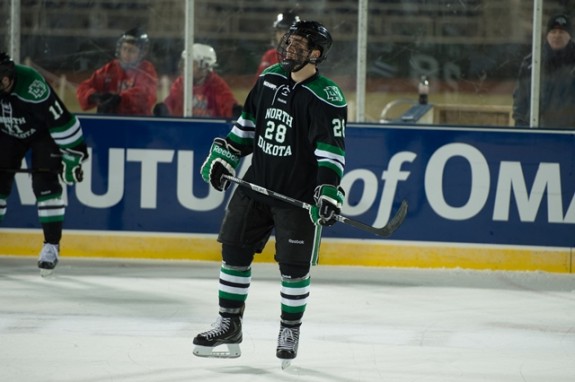 Conference wise, the National Collegiate Hockey Conference has faced a pretty tough schedule. According to the latest KRACH Ratings, NCHC teams have played seven of the 17 toughest schedules in the NCAA. No. 10/7 Minnesota Duluth has faced the toughest schedule while UNO (second), No. 6 Miami (fourth), SCSU (fifth) and No. 2 North Dakota (10th) all rank in the top 10. (Stats courtesy of the NCHC).
What a difference a year makes
For comparison sake, last season UND had a (9-7-2, .583) record entering the Christmas break. UND would need an impressive second half push just to make the NCAA tourney. In the end, UND would need a win from the Wisconsin Badgers in the Big Ten Conference tourney just to make the NCAA tournament.
What's even more remarkable with this year's start, UND has gone 9-0-1 on Saturday nights.  Last season, UND was 0-4-2 on Saturday night through the first 12 games of the season. Again, what a difference a year makes.
Injuries have plagued UND during the first half
The Christmas break couldn't have come at a better time for the UND hockey team. Injuries have plagued UND during the first half of the 2014-15 season.
Almost weekly, another UND hockey player has gone down with an injury. Just when one player gets healthy and returns to the lineup, another one goes down to injury. The Injury Ninja has been a constant visitor to the UND locker room.
Looking at the statistics, seven UND players have missed 21 games due to injury (Nick Schmaltz 4 games, Mark MacMillan 4 games, Paul LaDue 1 game, Brendan O'Donnell 2 games, Bryn Chyzyk 5 games, Colten St. Clair 3 game and Troy Stecher 2 games).
UND's latest player to fall victim to the injury bug was sophomore defenseman Troy Stecher. The sophomore defender suffered a lower-body injury during Saturday night's game against Lake Superior State. Best case scenario, Stecher will be unavailable to UND until midway through January.
Finally, you can bet that no one in the UND locker room is satisfied with the results so far. There are many goals yet to be accomplished. There's one thing for certain, UND won't have to dig themselves out of a hole due to a poor start. Despite injuries, UND is ready for the second half.
Eric is a 1996, 1999 graduate of the University of North Dakota. Eric covers the University of North Dakota Hockey and Division I college hockey. Eric is the Contributing Editor for Inside Hockey.