As December winds down and we near the end of 2014, the Detroit Red Wings find themselves one point out of first place in the Atlantic Division. If you asked any Red Wings fan if they would be happy being within a point of first place in the division, the majority of them would say yes.
However, the way the Red Wings have gotten to that position hasn't been smoothest. They have lost their past six games, four of which went to a shootout. That's a possible four points the Red Wings could have had if they were able to come away victorious in the shootout.
Detroit has one more game before the Christmas/holiday break, but the Red Wings no doubt have some wishes for the holiday season they would like to receive for the rest of the season.
Here is the Red Wings' Christmas wish list.
1. More Goals
Goals have been hard to come by during the six-game losing streak. In all, the Red Wings have scored just six goals in six games and two goals in the past nine periods, including two five-minute overtimes.
It's not due to lack of shooting either. Other than the Red Wings' 2-1 loss to the New York Islanders on Friday, Detroit has at least 28 shots in each of its six losses.
However, the amazing thing is they could have even more. I know I've said this in the past, but there are a number of occasions when any given player opts to make one extra pass when they should be shooting the puck.
It's not necessarily a high-percentage shot, but a shot on net is better than no shot at all. There could be a rebound, there could be a deflection or the opposing goalie could allow in a weak goal. Especially against an inexperienced goalie like Colorado's Calvin Pickard, who the Red Wings faced on Sunday, they should have peppered him with shots every chance they got.
This Corsi chart from Hockeystats.ca shows the Red Wings had 71 shot attempts, with 35 of those actually counting as shots on goal.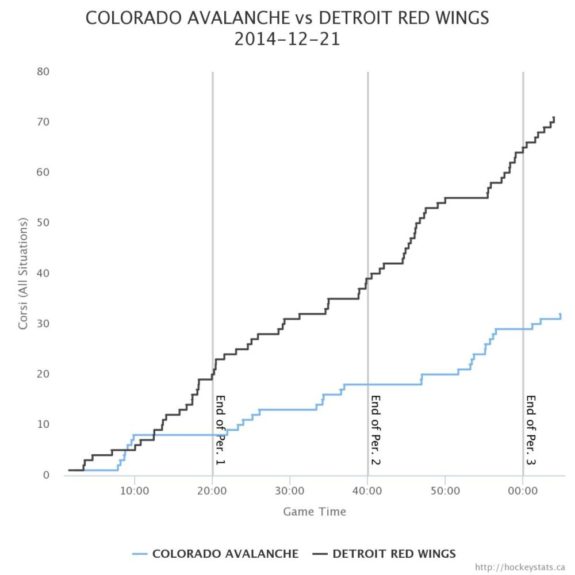 2. More Shootout Wins
Shootouts have given the Red Wings problems for the past three seasons. They are 1-6 this year, and 8-20 the past three seasons. The problem is simple: The shooters can't score, and Jimmy Howard can't make saves.
However, with Howard out for the game against the Avalanche, Mrazek got a shot to cure the Red Wings' shootouts woes. He did after all get the only shootout win for the team this season. But Mrazek was not able to notch that extra point for the Red Wings.
As The Hockey Writers' own Prashanth Iyer wrote a few days ago, Howard tends to back up into his crease too much and gives too much space to shooters. Mrazek had the same problem against Colorado.
As you can see in Nathan MacKinnon's attempt, Mrazek basically is standing on the goal line when MacKinnon takes his shot. MacKinnon's attempt included a lot of deking and stuttering, which worked out well for him because Mrazek gave him all of that space.
If Mrazek comes out to the top of the crease and challenges him, MacKinnon will not have any room to do any deking, and he'lll be susceptible to poke checks.
On the shooters' side, it's obvious the players are lacking confidence. They are going into the shootouts psyching themselves out and already admitting defeat. Against Colorado, they were able to score twice. In any other game, it might be enough to win, but against the Avalanche, it was not.
As long as they continue to work on them in practice, they'll break through one of these games and get some momentum to win multiple shootouts.
3. Stephen Weiss' Return
Just when Stephen Weiss was starting to show promise for the Red Wings, he finds himself back on the injured reserve list. In 11 games this season, Weiss has four goals and six assists.
Despite being a natural center, Weiss has been used mostly on the wing due to the plethora of centers the Red Wings have. He's found success in this role, usually on a line with Riley Sheahan and Johan Franzen.
While Weiss may not be the Red Wings' most impactful player, the stats show his presence in the lineup makes a world of difference.
With Weiss in lineup, #redwings average 3.36 goals per game (37 in 11). W/O Weiss, they average 2.54 GPG (56 in 22).

— Bob Duff (@asktheduffer) December 22, 2014
#redwings are 8-1-2 this season with Stephen Weiss in the lineup and 9-7-6 without him. The straw that stirs the drink? — Bob Duff (@asktheduffer) December 22, 2014
These stats were tweeted during the game Sunday, so they will vary slightly, but the point is the Red Wings are better when Weiss is in the lineup. Even if Weiss doesn't contribute, just inserting him in the lineup instead of Joakim Andersson or Daniel Cleary is a step up.
Weiss logs up to 13:30 minutes of ice time per game, while Andersson averages about 11-12 and Cleary averages less than 10.
All things considered, the Red Wings are in a very good position as they approach the holiday break. However, they'll need to snap out of their scoring and shootout funk if they want to stay atop the Atlantic Division standings in 2015.
Subscribe to our Red Wings stories to get email updates every time a new story is published.
Tom Mitsos is a Detroit Red Wings and Grand Rapids Griffins staff writer for The Hockey Writers. You can follow him on Twitter @tom_mitsos.
Tom Mitsos is a writer from Michigan who covers the Red Wings and the Red Wings' AHL affiliate, the Grand Rapids Griffins, for The Hockey Writers.