Every team, no matter how good, can always improve from the right trade. The Calgary Flames have enough quality pieces for them to be considered a playoff-caliber team. But there are four players out there that could potentially take them from a playoff team to a contender.
Although it would be nice, the Flames aren't about to trade for all four of these players at the same time. As long as a salary cap exists, it won't happen. But just two or even one of the men listed below could go a long way in filling some major holes on the Flames roster, and making them that much better.
Thomas Vanek
It's no secret the Flames need help on the right wing, especially on the first line. For a few weeks, it appeared Michael Ferland was "the guy" to play alongside Johnny Gaudreau and Sean Monahan, but has since been bumped back down the lineup.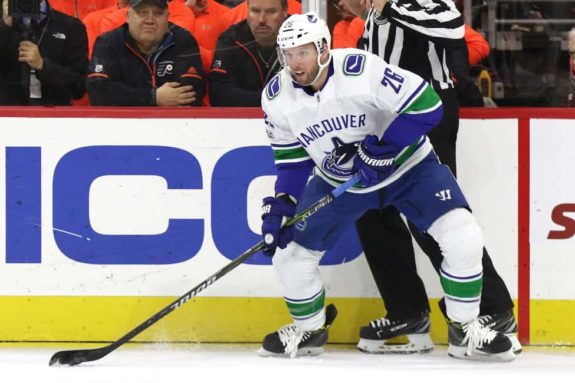 Although he wouldn't be a long-term addition, Thomas Vanek could make an immediate impact on the Flames roster. Not only could he potentially slot in on the first line with Gaudreau and Monahan, he's also a power play specialist, which is something the Flames are in dire need since the injury to Kris Versteeg.
With the Vancouver Canucks this season, the 33-year-old has tallied 28 points in 39 games as of Dec. 31, and has helped the Canucks power play become one of the best in the NHL. He's currently playing on a one-year contract worth $2 million, so he also comes at a bargain, and won't require an arm and a leg to acquire.
Vanek would provide the Flames a legitimate top line right wing option, and also allow them more time to address the position for the long-term, whether it's a player already in the system, or looking outside the organization.
Josh Bailey
Although he would come with a higher price tag, Josh Bailey could be a long-term answer for the top line right wing vacancy. He's currently in the midst of a massive breakout season with the New York Islanders, sitting with 49 points in 38 games as of Dec. 31.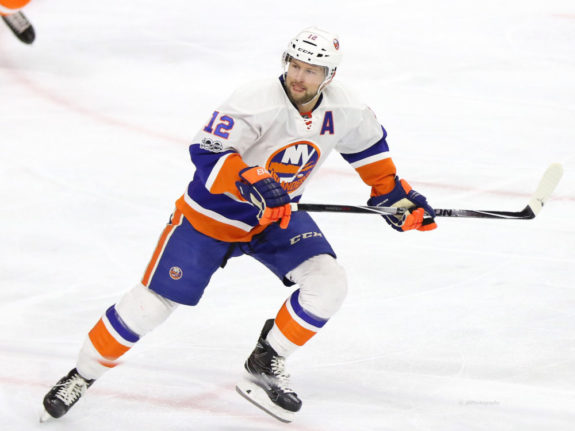 Bailey's currently in the final year of his contract paying him $4 million this season. If it weren't for his outstanding performance so far this season, he likely could've been acquired and re-signed for the same salary or less. But that won't be the case anymore.
Yes, the Flames would have to shed some salary cap dollars in order to make room for Bailey, which would be feasible given what he brings to the table. With the depth the Flames have at defense in the organization, it wouldn't be out of the question to move one of their top four defenseman to make room for a Bailey contract extension after the acquisition.
Much like Vanek, Bailey would bring an instant boost to the power play, as well as the production of Gaudreau and Monahan. So, although a more expensive acquisition, Bailey could be the final piece to providing the Flames with one of the most dynamic top lines in the NHL for several years. Money well spent.
Nail Yakupov
Once a number one overall pick of the Edmonton Oilers, Nail Yakupov hasn't quite turned into the perennial goal scorer everyone expected him to be. But that doesn't mean he can't be effective in a lesser role.
Yakupov is set to become a restricted free agent at the conclusion of the 2017-18 season, and could be acquired for as little as a single draft pick. He's currently making $875,000 with the Colorado Avalanche, and could be re-signed following the trade for less than $1.5 million.
In a third line role with the Avalanche this season, Yakupov's managed 12 points in 31 games as of Dec. 31. Given the right line mates, those numbers could easily increase in Calgary. Whether it be third or fourth line, or perhaps even a chance in the top six, finding the right spot could equal a jackpot for Yakupov and the Flames.
He would provide scoring depth in a bottom-six role for a reasonable price. Although unlikely, there's also always the chance he regains his form that earned him the first overall draft selection. Even if he finds just a small uptick in performance, it would be a big win for the Flames.
John Carlson
This is perhaps the most unlikely trade to happen of the bunch, but also makes sense in certain areas. A lot would need to happen in order for the Flames to be in a position to acquire John Carlson, including shipping out a current top four defenseman.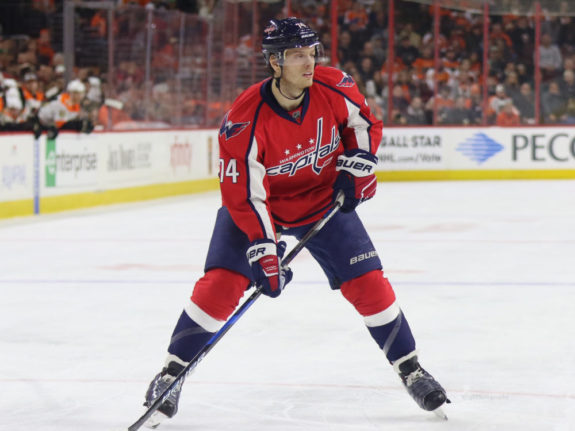 The Flames first power play unit has seen its fair share of different looks throughout the season, as far as defensemen go. Mark Giordano, TJ Brodie, and Dougie Hamilton have all had a go on the top unit, and although they all found reasonable success at some points, none of them seemed to be a legitimate power play quarterback.
Carlson is one of the elite offensive defensemen in the NHL, tallying 31 points in 40 games this season as of Dec. 31, which includes being a power play specialist. Not only would he be an instant upgrade offensively, he would be equal to, or better defensively than multiple members of the current Flames defensive corps.
Again, a lot would have to happen in order to be able to pry him from the Washington Capitals, as well as offer him a slight raise from the current $4 million he's earning now.
It's too early to truthfully say the Travis Hamonic acquisition was a failure, but it's certainly safe to say he hasn't lived up to the hype yet. If Hamonic's play were to continue as it is, the Flames may feel inclined to move him elsewhere, which makes the Carlson dream more of a reality.
Comments on these thoughts are always welcomed.
I've been writing for over three years and have work published by the Calgary Herald, National Lacrosse League, Hard Knocks Fighting and The Weal at SAIT. Although I've covered many different topics as a journalist, sports writing remains my main passion and strength.