New in the 2017-18 season, we will have an OHL column called the Sunday Seven. Once a week or thereabouts, we will go around the league and highlight seven stories of note and share analysis. This week, we celebrate the Sault Ste. Marie Greyhounds and their 23-game winning streak by devoting more than half this column to them.
Close Calls!
When we last visited with the Sault Ste. Marie Greyhounds, their winning streak reached 20 games. After the Christmas break, they embarked on a tough three games in three nights stretch with their sights set on the all-time OHL record for most consecutive wins.
Despite extremely close calls in their last two games, the winning streak is in tact. They have now won 23 games in a row. That is the third longest streak in OHL history and just two games away from tying the 1984 Kitchener Rangers for the longest winning streak.
Barrett Hayton scored with just 16 seconds left in regulation to lift the Greyhounds to an emotional 6-5 win over the Flint Firebirds on Friday night. That win extended the streak to 22 games.
Then in their third game in three nights, the Greyhounds needed a shootout but defeated the Guelph Storm 4-3 to get to 23 games. Noah Carroll assisted on all three Greyhounds' goals.
FINAL SO: @Storm_City (3) – @OHLHoundPower (4)
SSM – N. Carroll 3A
GUE – @isaacratcliffe 2G
VIDEO: https://t.co/x9rIQ8oUat pic.twitter.com/LQI57KBzZ2

— OntarioHockeyLeague (@OHLHockey) December 31, 2017
Looking ahead, the Greyhounds play their next two games on the road in Mississauga and in Oshawa. They needs wins in both to tie the record. If they do so, they will get a chance to make history Jan 7 in Guelph.
Want to point to a big reason the Greyhounds are winning? Look no further than goaltender Matthew Villalta. The Kings prospect is 23-2-1 with a 2.45 GAA and a .912 save percentage. The Greyhounds signed him as a free agent in 2016 after playing the season before with the Kingston AAA Midget Hockey Club.
It's moves like this that explain the success of the Greyhounds. How else did this team come together? Let's look at the greatness of their GM Kyle Raftis.
The Greatness of Kyle Raftis
General managers are often measured by their success in drafting and developing players. They get extra credit if they can find hidden gems later in the draft. If you take one look what Raftis has done since the 2015 draft, you'll see why he is one of the best GM's if not the best GM in the OHL. He was hired in August 2014 after Kyle Dubas left for the Toronto Maple Leafs.
Raftis is showing us that he has an amazing ability to find players later in the draft who not only have an impact, but also will have an impact at the next level. Look at the 2015 class.
Liam Hawel: Selected 22nd overall but was traded to Guelph as part of the Noah Carroll deal. Carroll assisted on all three goals Saturday to help extend the winning streak to 23.
Anthony Demeo: Selected 61st overall and has played in every game this season for the Greyhounds.
Morgan Frost: Selected 81st overall then selected by Philadelphia in first round.
Theo Calvas: Selected 281st overall (14th round) but was traded to Sarnia for a seventh-round pick. Pretty good asset management if you ask me.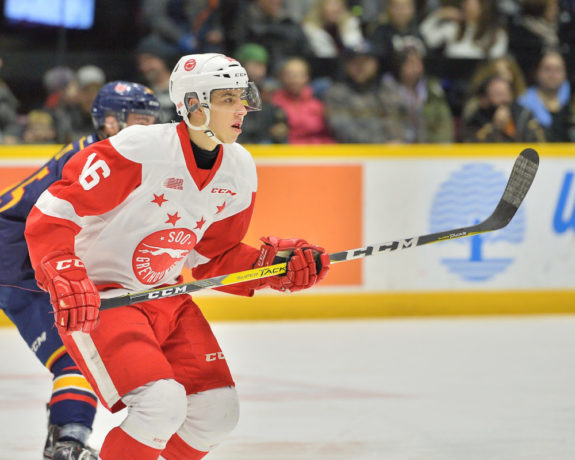 So in 2015, Raftis drafted Frost 79th overall. Your greatness comes from finding gems later. This is as good as it gets.
Raftis then grabbed Barrett Hayton 9th overall in the 2016 draft. He's a projected first-round NHL pick. The Greyhounds then picked Alex Gritz 50th overall but then was traded to the Erie Otters for a future 3rd rounder and a 10th rounder. Again, asset management skills are strong.
And 2017 is off to an incredible start too. The Greyhounds drafted Hayden Fowler, Joseph Carroll and Cole MacKay with later picks. Fowler could go in a trade if the Greyhounds decide to make a bigger deal. Even if this happens, they Greyhounds won't miss a beat thanks to Raftis and what he's built.
This is what makes Raftis so dynamic and great. He not only can nail his early picks. He can find under the radar players who eventually have a major impact. He has successfully carried on what Dubas started. If a trade opportunity comes up, he's demonstrated a knack for coming out on top. It's no wonder the Greyhounds are making history this season with their winning streak. We'll see him in the NHL soon enough.
Rasmus Sandin's Major Impact
Another way OHL teams can build winning squads is through the Import Draft. The Greyhounds used their first rounder in 2017 to grab Rasmus Sandin. Sandin attended the tryout camp of the USHL's Chicago Steel in 2016 before hearing his name called in the import draft.
Sandin made an immediate impact. He recorded seven points in his first eight games including his first OHL goal against Sudbury.
Now with Timmins with Team Canada at the World Juniors, Sandin has helped make sure the Greyhounds don't miss a beat. He scored twice and added an assist Friday night against Flint helping the Greyhounds win 6-5. He added an assist Saturday against Guelph.
I originally had Sandin outside my top-10 on the first media poll of the season that Brock Otten does. I had him 12th on my personal list. That will change for the next list. As of now, this is my current list of best NHL draft-eligible players from the OHL.
Andrei Svechnikov
Ryan McLeod
Evan Bouchard
Ryan Merkley
Barrett Hayton
Rasmus Sandin
This is a big statement from the Swedish defenseman. The biggest question for me was his skating. At least to this point, he's been more than adequate there and it will get better over time. He's worked his way into the late first round conversation. His recent play with Timmins gone sealed it for me.
One of the Best Teams Ever?
Now we must ask the inevitable question. Given the winning streak, could the Greyhounds become one of the greatest OHL teams of all-time? At least from the early results, we have to acknowledge it is possible, but of course it is way too early to come to any conclusions.
Consider this for a moment. The best OHL record of all time belongs to the 2004-05 London Knights. That was the season Corey Perry exploded for 130 points. They finished 59-7-2 in that incredible season and won their first ever Memorial Cup.
The Knights had a points percentage of .882 that season. The Greyhounds are at .891 with a 32-3-2 overall record. They are above the pace of that Knights team with over half the season gone. They sit just six points from clinching a playoff spot and we're just turning the calendar to January.
If the Greyhounds want in the best-ever conversation, they must win both the OHL and the Mastercard Memorial Cup. They are expected to add significant pieces to do so. Lots of rumors out there suggest they are in heavy on Taylor Raddysh. Imagine him playing with Frost and Katchouk on their top line.
We'll see how Raftis handles the deadline. Expect them to add impact players that could get them over the top. There is something really special going on in Sault Ste. Marie these days. Let's see what this team looks like after the trade deadline.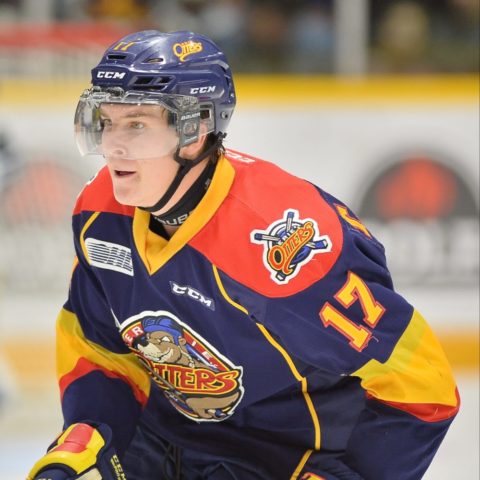 How Active Will the Otters Be?
I posed this question to GM Dave Brown in a recent conversation. Specifically, I asked him if his approach will change given their recent play. The Otters have lost 11 of their last 12 games going into their game Sunday night against Kingston.
Brown said that his approach will not change. In fact, Brown said he's been happy with their recent play. He cited close losses to London and Barrie and how they were in both games throughout. He also cited their play against a perceived favorite in Kitchener and how close that game was.
Brown reiterated he is maintaining his approach with draft and develop. Although the season hasn't gone the Otters way, he's not going to make trades just for the sake of making them.
In my mind, a market has been set. If there is one thing true about Brown, he will not trade to get the short end of the stick. If an offer comes to him that makes his team better, he will do it just like any GM would.
Many are asking if there is anything to report trades wise. The answer is no. There are rumors upon rumors upon even more rumors. Be careful what you hear. Things can change so quick on this kind of stuff. If there is something to report, I'll put it out there. If you don't see anything, then you know what the answer is.
Hamilton is Hot
Break out the Hamilton Bulldogs. Thanks to a convincing 7-4 win Saturday night over Kingston, they have won seven in a row. Normally this kind of streak would get a lot more attention, but the Greyhounds, you know?
Still, the Bulldogs have separated themselves in the Eastern Conference and are a legitimate threat to make the OHL Final. They've scored 40 goals during their winning streak.
Balanced scoring is the theme for the Bulldogs. Brandon Saigeon paces them with 21-20-41. Matthew Strome and Will Bitten each have 39 points. Newcomers Ryan Moore and Nicholas Caamano are each over a point per game in their time in Hamilton. Devils prospect Marian Studenic also has 30 points. Kaden Fulcher has 18 wins and three shutouts on the season helping sure up their goals against.
With opportunity in the East, the Bulldogs made their move early and are getting rewarded for it. I suspect they may have another move or two up their sleeve. As of now, they are the favorites from the East and could give anyone fits in the playoffs.
Their upcoming schedule looks relatively easy as well with three of their next four at home. While the Greyhounds get the attention and rightfully so, don't sleep on the Bulldogs.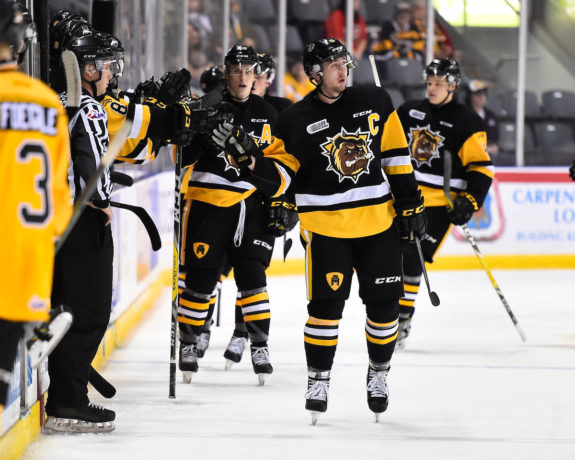 Thank You!!
Finally I just wanted to take a moment to say thank you to each and every one of you who take the time to read these pieces. None of this is possible without you. As we turn the calendar to 2018, we will continue to bring this column to you on a mostly weekly basis from now until the NHL Draft in Dallas.
If there's anything you ever want to see in this column, please feel free to email me or send me a tweet. Our heart here is to bring you the best of the OHL that doesn't always get the attention it deserves.
Here's to an exciting 2018 and beyond. Happy New Year to you and yours and I sincerely hope this is your best year yet.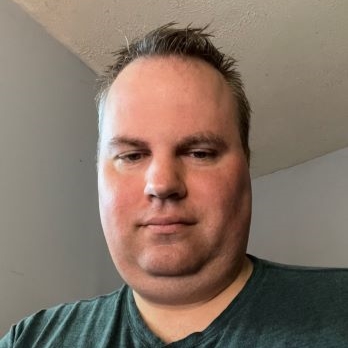 I am a fully credentialed writer who covers the Columbus Blue Jackets, Cleveland Monsters and Erie Otters as well as the Ontario Hockey League and NHL Draft. The 2022-23 season will mark nine seasons with the Hockey Writers. I am also the site's Credentials Manager. Please take note of the updated Twitter handle: @mark_scheig.