New in the 2017-18 season, we will have an OHL column called the Sunday Seven. Once a week or thereabouts, we will go around the league and highlight seven stories of note and share analysis. This week, we begin with a historic winning streak that shows no signs of stopping anytime soon.
20 Wins & Counting
At the midway point of the season for the Sault St. Marie Greyhounds, they have lost just five games, including only three in regulation. With a record of 29-3-2, the Greyhounds have opened up a commanding eight-point lead over Sarnia for the league's best record. It's amazing what a historic winning streak will do for your record.
After defeating Guelph 7-1 on Saturday night, the Greyhounds extended their franchise-best streak to 20. They now sit alone in fourth place in OHL history for longest winning streak.
The 1984 Kitchener Rangers hold the record for longest winning streak with 25. Next is 2012 London with 24 straight, then 2009 Barrie with 22 consecutive wins. The Greyhounds need five to tie and six to break the record. Taking a quick glance at their upcoming schedule, it is doable.
The league is on its Christmas break after Sunday's games end. The Greyhounds do not play again until Dec 28 when they play in Saginaw. They met earlier in the season in Sault St. Marie with the Greyhounds winning 6-3. This could be tricky coming off the break and the Spirit playing well of late.
After that, the Greyhounds host Flint and Guelph. They look easy on paper but those are the second and third of three straight games. One can never assume.
If they make it past those games, the Greyhounds have consecutive road games in Mississauga, in Oshawa and in Guelph. If they get the chance to break the record, it would happen in Guelph on Jan 7. The question is, will the Greyhounds have made a move or two by then to bolster an already great team? Imagine if they land Taylor Raddysh somewhere in this time.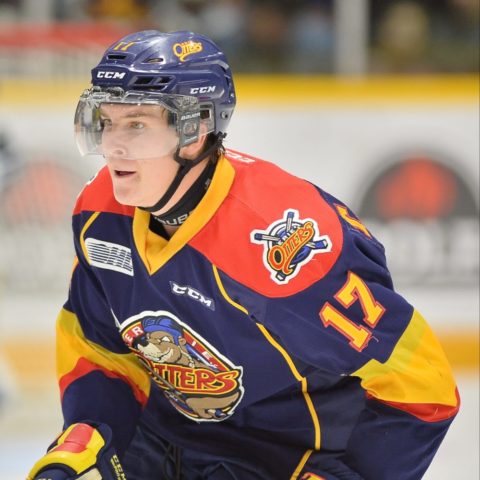 What's Working For Them?
The question on everyone's mind is what's working so well for the Greyhounds? In taking a look at the streak, everything is working for them.
In goal, Matthew Villalta leads the OHL in wins and goals-against average. He and Tyler Johnson have helped the Greyhounds allow the fewest goals in the league with just 89 in 34 games.
On defense, Mac Hollowell and Conor Timmins each produce over a point per game. Rookie Rasmus Sandin has burst onto the scene and given them a nice boost to their depth especially on their power play. Former Guelph defenseman Noah Carroll has fit in and helped make the Greyhounds one of the more formidable groups in the league.
Up front, Flyers prospect Morgan Frost has 55 points in just 33 games and is a force in all situations. Lightning prospect Boris Katchouk has 45 points in 30 games playing with Frost. Veterans Tim Gettinger and Jack Kopacka are both around a point per game.
This team is really good. They're deep everywhere and have many ways to beat you. They're also rumored as the favorite to land Taylor Raddysh. This team is all-in and hoping to make this their most memorable season yet. They have one goal: to win the 100th Mastercard Memorial Cup. They are the favorites in the OHL to do so.
Luchuk's Surreal Start in Barrie
Imagine having everything you're used to instantly change with almost no notice. That's exactly what happened to now Barrie Colts forward Aaron Luchuk.
VIDEO: He spent four-plus years as a Spitfire, was our captain, and scored one of the biggest goals in franchise history – the GWG in last year's Memorial Cup final. We talked to an emotional @ALuchuk91 before he left for Barrie this morning. pic.twitter.com/vzFTBkJe9n

— Windsor Spitfires (@SpitsHockey) December 14, 2017
Luchuk scored the game-winning goal in the Memorial Cup Final last season. He became the captain of the Windsor Spitfires. With Logan Brown, Gabriel Vilardi and others coming back, there was some talk they might try chasing another title. It was not meant to be.
Luchuk's whole world changed in the blink of an eye. I caught up with him after Barrie's 4-3 win in Erie on Friday night. He told me that nothing he was going through was normal.
"Nothing about this is normal for me until I make it a new normal," Luchuk said. "These guys have made it an easy transition for me. So far it's been an exciting couple of games and am looking forward to what the future holds."
A Shocking Trade
Exciting is right for Luchuk. He's scored in every game since the trade and continues to show why he is the best overage player in the OHL this season. No wonder Barrie wanted him. Luchuk didn't even realize how interested they were in him.
"I knew there was a good possibility I would get traded from Windsor at some point this season. But at this point in time, I was not expecting it at all. It came as a complete shock. I hadn't really heard Barrie's name mentioned to me too much before that. It came as a huge shock. After I got over that initial shock, it got more and more exciting for me."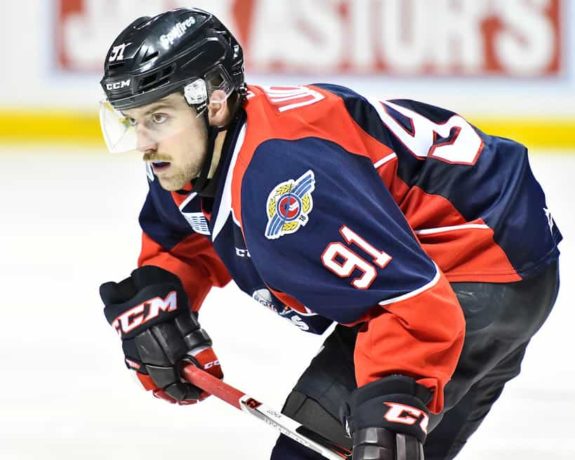 Luchuk joins a Colts squad chasing a championship this season. Why this season? It's highly unlikely Andrei Svechnikov comes back to juniors after this season once he becomes a top-two pick in the NHL Draft. What are Luchuk's first thoughts of his new linemate Svechnikov?
"It's how well he can make plays at high-speed," Luchuk said. "He's so dynamic with the puck. At any point in time he can beat a guy one-on-one. Special players can beat guys one-on-one and he's done that these first few games and all season and am looking forward to seeing that for the rest of the year."
What makes this impressive is that Luchuk just arrived in Barrie on Thursday. He's picked up right where he left off in Windsor. With the East more open than the West, the Colts have a shot to win their conference and play for a title. I don't think they're done yet on the trade market. Stay tuned.
Bouchard or Merkley?
Many experts coming into the season, myself included, had Ryan Merkley as the best defensive draft prospect in the OHL. After watching the London Knights play in Erie last Tuesday, my mind has changed. Enter Evan Bouchard.
Bouchard scored the game-winning goal in overtime and was the first star in a 3-2 Knights win. He was the best player on the ice that night on both sides. What stood out for me live? He's a complete defenseman.
While I still admit Merkley has the higher offensive upside of the two, Bouchard is better on the defensive end and is right there offensively. Bouchard can do everything you ask of him. He can quarterback the power play, kill penalties and can play in all situations. He is the more complete defensemen of the two.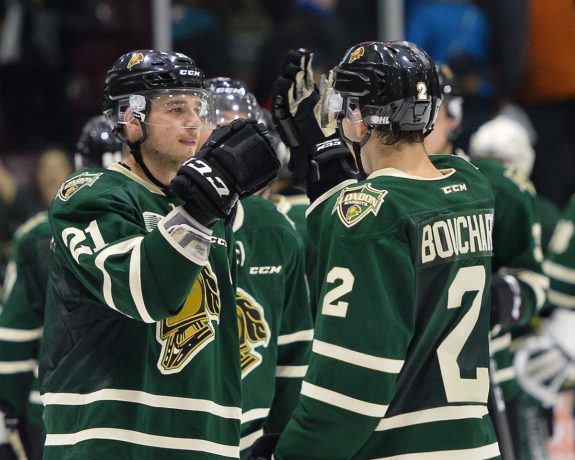 I'm Changing My Ranking
The gap in offense is not enough for me to take Merkley over Bouchard. When my next rankings come out, the top three OHL draft eligibles will read Svechnikov, Ryan McLeod, then Bouchard.
I got to ask Bouchard why someone should draft him if the team has a tough decision to make. He made his case short and to the point.
"I think I'm a great offensive defenseman who plays all points in the game. I think I'm a smart defenseman who makes great outlet passes (to start the rush.)
Bouchard won a Memorial Cup in his rookie season. He learned playing behind Victor Mete and Olli Juolevi in season two. Now he's the leader of the defense in his draft season. That's a pretty good way to learn his craft. Expect Bouchard to go in the first round this June.
What's Going on in Erie?
The Erie Otters finally broke through on Saturday night by securing a 3-0 win over North Bay. They had lost eight consecutive games when scoring the first goal. They even had leads of 2-0 and 3-0 before faltering late in the game.
Coach Chris Hartsburg shared his thoughts with us about faltering late in games and how frustrating it's been on the team.
"For us, we have success," Hartsburg said on Friday. "Then we start to deviate a little bit from what's making us successful. It's not our younger guys. I feel our younger guys have been fine through all this. It's guys that have been here before. It's old habits that start to creep in a little bit. It happens at inopportune times and that's what's costing us. Right now, it seems when something bad happens it's like a tornado hits. It's affecting the whole thing."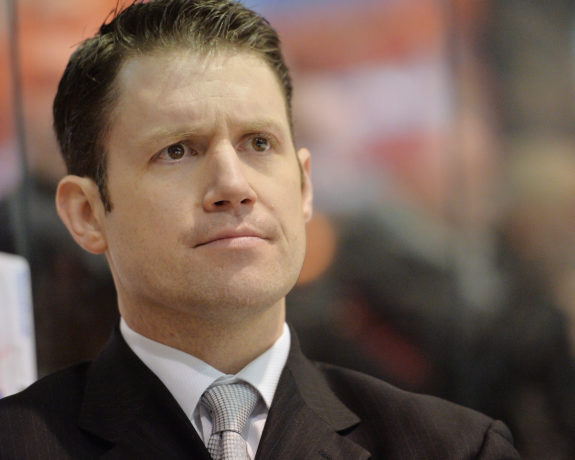 Hartsburg did continue on and say that they're in most games and felt they were close to breaking through. They did so on Saturday night and helped goalie Anand Oberoi earn his first career shutout.
I think once the trade deadline passes, things will calm down in Erie. There are rumors. There's what ifs. It's taking a toll on the Otters given their recent losing streak. There's a lot of uncertainty in the air. Once this passes, players can relax and focus on the rest of the season.
Hartsburg has done a good job in his first season despite the team's record. They lost a ton of talent. Yet they find themselves in most games most nights. That speaks to the identity they're trying to create. The Otters won't be down for long. Hartsburg has a bright future.
Ty Dellandrea Showing His Stuff
With the likes of Nicholas Caamano, Ryan Moore, Kole Sherwood and others gone, draft-eligible Ty Dellandrea now has center stage in Flint. Saturday night in Sarnia, he scored a hat trick and recorded five points in helping the Firebirds defeat the Sting.
Dellandrea now has 12-14-26 in 33 games. On a young team who struggles defensively, these are decent numbers. He centers the top with Maurizio Colella and Connor Roberts. This trio scored all five goals Saturday with Colella scoring his 12th and Roberts his 6th. With this core gaining experience and a top pick coming in next season, things in Flint are looking up in future seasons.
As for Dellandrea and his draft stock, he's playing big minutes and starting to show us why we'll hear his name most likely early on day two. He's got good size and is very smart with the puck. Although the Firebirds are out of the playoff race, Dellandrea will give you enough reason to tune in to watch.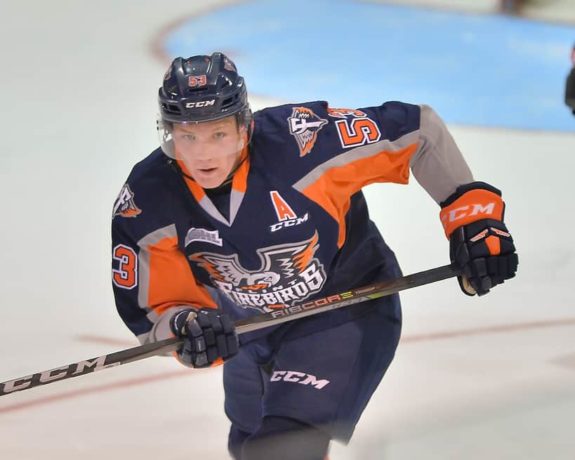 Justin Brazeau Leading the Troops
Quick, who's third in the OHL in goals? You'd likely think of someone with the Greyhounds, Sting, Knights or some other team. You gotta look in North Bay for the correct answer.
Justin Brazeau is enjoying an excellent start to his season. He has 24 goals and 37 points in 34 games for the Battalion. He attended Columbus Blue Jackets rookie and main camp this season.
Brazeau played for the Detroit Red Wings at the 2016 Traverse City prospects tournament. At 6-foot-5 and over 220 pounds, it's easy to see why he's enjoying success. With his combination of size and skill, he can make plays others can't thanks to his reach and physical play.
I would expect him to generate interest again next season whether it's in Columbus or somewhere else. He's just the latest example of someone who thrives under coach Stan Butler.
The Projected 2018 OHL Top Pick
We are now halfway through the OHL season. Some teams are already looking forward to next season. Who could go first overall in the OHL Draft?
In my mind, there's one name that stands out above them all. Meet Quinton Byfield.
Let's just put it this way. Byfield is 15 years old and already 6-foot-3 and 190 pounds. He's the prize waiting for the team who finishes last in the standings. He's already considered one of the top prospects in the 2020 draft.
This season for York Simcoe, he has 40 goals and 70 points in 24 games. He is a star in the making. The good news is he isn't the only one with high-end skill in the draft.
Other players to watch are Jamie Drysdale, Cole Perfetti (Michigan commit), Antonio Stranges (Michigan commit), Lleyton Moore and Dylan Peterson (Boston University commit.) Each bring playmaking and skill to the table.
Peterson most likely goes second behind Byfield, then we'll see what happens. Many consider this draft as one of the deeper drafts in recent memory.
We'll see you next week for another version of the OHL Sunday Seven. Thank you to Aaron Luchuk and Evan Bouchard for their time in speaking with us this week.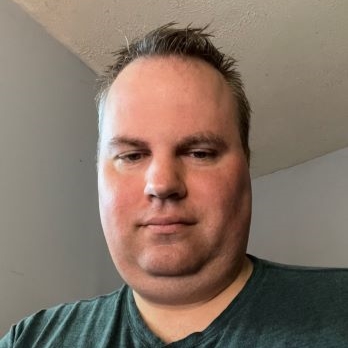 I am a fully credentialed writer who covers the Columbus Blue Jackets, Cleveland Monsters and Erie Otters as well as the Ontario Hockey League and NHL Draft. The 2022-23 season will mark nine seasons with the Hockey Writers. I am also the site's Credentials Manager. Please take note of the updated Twitter handle: @mark_scheig.