The William Nylander contract saga finally drew to a close today, but it will have repercussions for the Calgary Flames as Matthew Tkachuk's second contract looms.
Tkachuk has been the Flames' major breakout player this year, on pace for an 89-point season in the final year of his entry-level deal. His numbers will likely come down once his shooting percentage regresses to normal – he is shooting 21.1% through 25 games, well above his career average of 12.7%. Still, his 5-on-5 shooting percentage (7.7%) is in line with the last few seasons, with a below-baseline on-ice PDO of 98.3. In a nutshell, even if he slows down, 70+ points in his third season seems like a conservative estimate.
Tkachuk has been eligible to re-sign since July 1; in February, Pat Steinberg argued that "for numerous reasons, there's no reason for things to drag on much longer than that."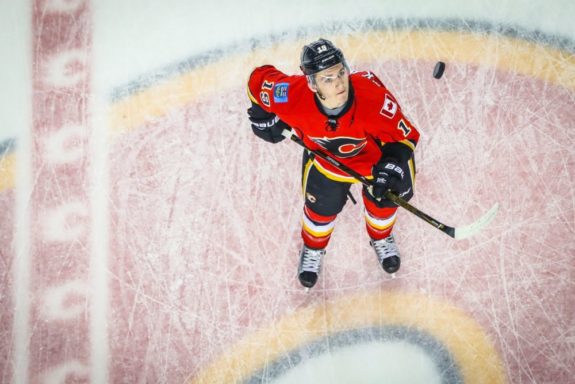 However, the Nylander negotiations have thrown a wrench into this. Although Flames fans love to make fun of Peter Chiarelli, they can also thank his unnecessary overpay of Leon Draisaitl for Tkachuk being part of this group. Indications are that Draisaitl and Nylander are part of a trend.
No Reason to Do a Bridge Deal with Tkachuk
A player agent told The Athletic's Pierre LeBrun that Tkachuk and the Vancouver Canucks' Brock Boeser's next deals would "probably [be] more of a bridge deal[s] . . .given some factors like shooting percentage abnormalities and styles of play" (from "LeBrun: William Nylander saga could be sign of more to come with future RFA contract talks"- The AthleticNHL – 11/26/18.)
A bridge deal was also floated for Nylander, but it would be a mistake for the Flames. Bridge deals are generally best for players like Sam Bennett or Mark Jankowski, with perhaps untapped potential but whose actual production has not justified a long deal. When they are used for obvious franchise cornerstones like Tkachuk, they tend to backfire in a big way for the team. With a player like Tkachuk, it almost always costs the team more in the long run.
Here are Tkachuk's comparables through 169 games, courtesy of hockey-reference.com. I have included possession stats for full context. These are players through 169 games, in their first to third seasons, 21 and younger, who posted at least 120 points and a Corsi For % of at least 57 per cent.
Erik Karlsson, Jakub Voracek and David Perron should be disregarded, as their second contracts were signed too long ago to be relevant. The key names, of course, are Aho, Draisaitl, Ehlers, Pastrnak, and, yes, Nylander. The final number for the Maple Leafs' winger was $6.9 million AAV for six years, but Tkachuk will ask well north of that, depending on his final numbers this year.
In this context, it is easier to see how the Draisaitl contract disrupted the market. As Lebrun reported, the Nylander holdout is merely the latest manifestation of a growing trend among second-contract stars: they want to be paid like stars as soon as they establish they are.
Among this group, Flames general manager Brad Treliving's dream deal is likely David Pastrnak's six-year, $6.66 million AAV deal, signed just under a month after Draisaitl's. Pastrnak broke out with a 70-point season in his fourth season; Tkachuk is on pace to do the same in his third. A discount doesn't seem justified by the numbers.
Will Tkachuk Be the Flames' Highest-Paid Player?
Treliving has a history of hard-line negotiations with his young stars. Most notably, last year, it took until just before the season opener to re-sign Johnny Gaudreau to a five-year deal with a team-friendly $6.75 million AAV. (The compromise the Flames made in that deal was that Gaudreau will hit unrestricted free agency after the 2021-22 season, when he will still be just 29 years old.) The season beforehand, it took until mid-August to sign Sean Monahan to a seven-year pact, also at a team-friendly $6.3 million.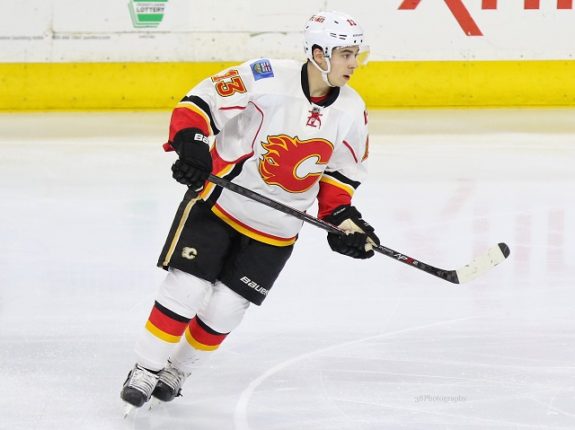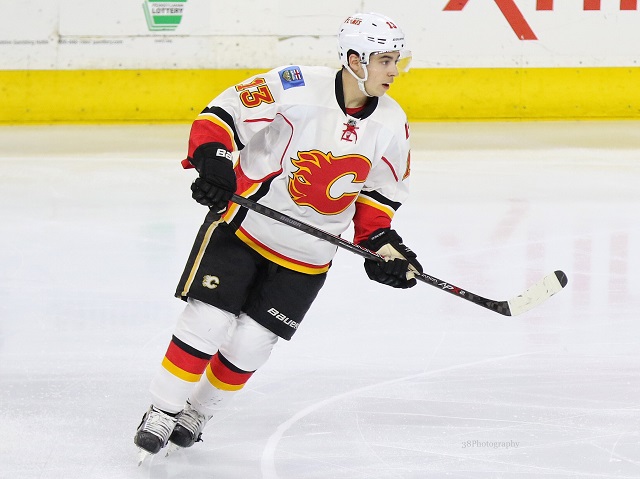 Thus far, Treliving has been able to structure his payroll so that no player has a higher cap hit than captain Mark Giordano ($6.75 million AAV.) However, Tkachuk may be an exception, and a tougher negotiation than any he has faced so far.
The Leafs' advantage this entire time with Nylander has been their depth: their offensively stacked team has proven in the first quarter of the season that they can live without Nylander and still be a contender. The Leafs have also had the possibility of flipping Nylander for a needed d-man, such as the Carolina Hurricanes' Brett Pesce (who has been a constant name in Nylander rumors.)
By contrast, Tkachuk has established himself as irreplaceable for the Flames. It is hard to see any player in the pipeline who could replace his two-way play and intangible "useful pest" quality. It may be problematic, but there doesn't seem to be any getting around his second contract. Flames fans have fun at the Oilers' and sometimes Leafs' expense, but their problems will soon be the Flames' as well.