A third of the way through the 2018-19 season and the Vancouver Canucks defense is performing pretty much as had been expected. Unfortunately for them, expectations were pretty low for the group with plenty of heart but just not enough talent and ability.
Thursday night's 4-3 loss at home to the Vegas Golden Knights was a perfect illustration. The Canucks stayed close, made a costly late mistake and ultimately were not good enough to earn some points against a top-tier opponent.
The Golden Knights came to town flying high on the strength of four consecutive victories in which they had scored 19 goals, including 14 in the previous two games. Holding the fast and skilled team to four goals and nearly pushing the game to overtime is a moral victory, but more moral victories won't keep the Canucks from falling further behind in the Pacific Division.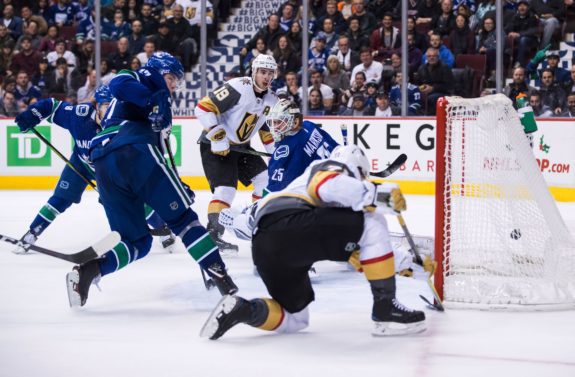 After a high-scoring start to the season that covered up some of their defensive deficiencies, the Canucks can't afford many more breakdowns if they are going to remain in the playoff race. As of Friday morning, they were four points behind the Dallas Stars for the final wild-card spot in the Western Conference.
Led by rookie sensation Elias Pettersson and heart-and-soul centerman Bo Horvat, the Canucks' entertaining, up-tempo style is creating problems for opponents and a sense of progress for the team's rebuilding program. This despite Vancouver's 11-14-3 record being worse than at the same point (14-10-4) as year's team, which finished with 73 points and 26th overall.
Although the Canucks rank 15th in average shots against per game (31.7), their minus-129 is 26th in shot attempts during five-on-five (the stat is calculated with a plus for a shot for and a minus for a shot against). Besides giving the opposition more shooting opportunities and scoring chances, this shows the Canucks are spending too much time in their own zone.
While the blame for the fifth worst goals-against average (3.50) in the NHL can be shared with the goalies and forwards, the harsh reality is Vancouver's quality of defensemen probably isn't good enough to take it to the postseason. After Alex Edler and Chris Tanev, would any of the other six blueliners on the active roster be a consistent top-four defenseman on an upper-tier team?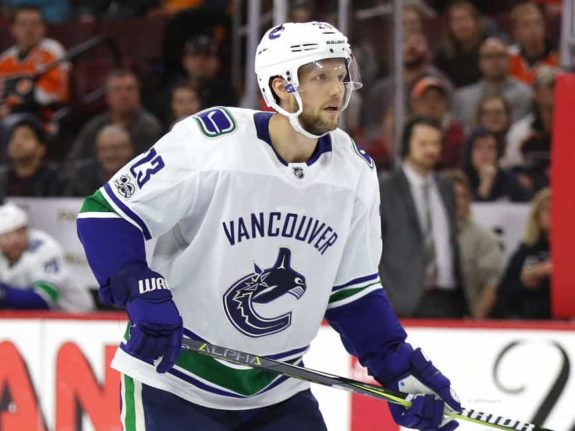 Ben Hutton Rewarded with a Bigger Role
Only Ben Hutton has made a strong case for that top-four spot after significantly improving his conditioning and production since last season. The 25-year-old has four goals and 10 points, including seven power-play points, in 26 games.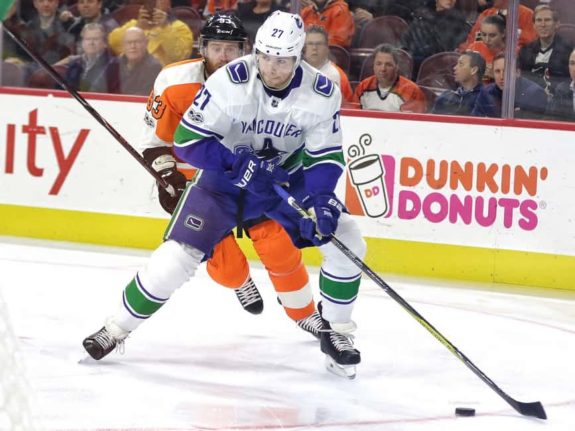 He's also a club-worst minus-14, which isn't entirely his fault, of course, considering the amount of ice time he gets (an average of 21:26 per game, second most on the team). For example, he made a nice play to break up a scoring chance before getting hung out to dry on William Karlsson's short-handed winning goal in the third period. Markus Granlund and Brendan Leipsic blew the zone on a turnover to Reilly Smith and Nikolay Goldobin couldn't get back in time to help Hutton on the sudden two-on-one.
"It stings a little bit more knowing we played a good game," Hutton told The Province (from "Canucks Post Game: Green lauds the effort, Hutton gets stung, Reeves' 'dirty' hit grilled" 11/30/2018). "There are going to be times when you don't play your best and still get two points, but tonight we played well for 60 minutes. We've just got to stick to the system because there's the sense that we're playing well.
"We're not playing terrible hockey and getting s***-kicked."
And this isn't to say Erik Gudbranson (out the past two games with a neck injury), Michael Del Zotto, Troy Stecher, Alex Biega and Derrick Pouliot (who was a healthy scratch Thursday night) have been terrible all season. Hardly. Individually they've had ill-timed mistakes and collectively they just aren't the ingredients for a playoff-caliber group of defensemen.
For Better or Worse, This Will Be the Cast on Defense
While the team correctly sticks with its rebuilding plans, don't expect any significant additions to upgrade the blue line this season. Olli Juolevi, the fifth overall draft pick in 2016, was off to a good start at AHL Utica with 13 points in 18 games. But he recently injured his knee, delaying his eventual NHL debut even further.
Vancouver's 2018 first-rounder Quinn Hughes, who has 15 points in 13 games for the University of Michigan, provides fans with long-term dreams of a shifty puck-moving defenseman. Maybe he signs an entry-level deal after the Wolverines' season is over and gets in a Canucks uniform in the spring. By then the Canucks might have dealt Tanev, who has another year at $4.5 million left on his contract, and/or Edler, who has a no-trade clause on a contract that expires after this season.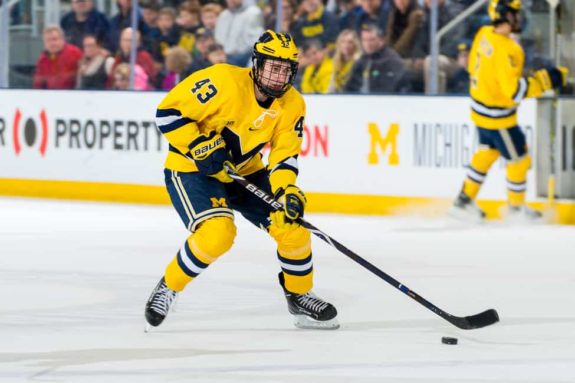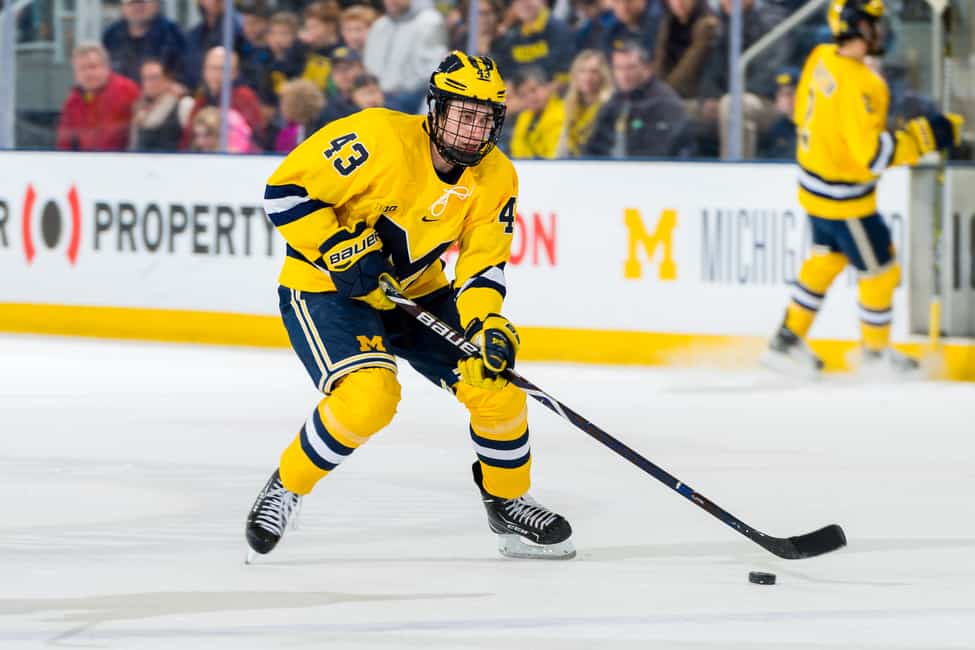 In the meantime the Canucks are walking a razor's edge between falling into the depths of draft lottery teams and sticking close to the playoff contenders as the intensity of games ramps up through the season.
Vancouver's four losses in one-goal games are tied for the second most in the league, behind the St. Louis Blues' five. The Canucks have given up the most third period goals in the league with 40, but they're hanging in many games with the ninth-most goals in the final frame (28). Give them some credit because they are providing young guns Pettersson, Horvat, Goldobin and Brock Boeser plenty of opportunities to attack with more desperation while trying to come from behind.
Just as Thursday when they came back from two goals down to tie the game at 3 before ultimately faltering against Vegas, it won't always get the desired result but it is fun to watch.