The 1990s involved some of the best NHL talents the league has ever seen. From Wayne Gretzky to Mario Lemieux, Mark Messier to Jaromir Jagr and  Martin Brodeur to Patrick Roy, there was no shortage of talent in the league. It was a time when some of today's NHL stars were barely walking, let alone skating.
It was a very different time for hockey, with fighters on every team, goaltenders playing the puck in the corners and back in the 90s, games could even finish in a tie. With all of the history from nearly two decades ago, there are a few players still active in the NHL who got their start back then. Patrick Marleau, Joe Thornton, Matt Cullen, Zdeno Chara and Roberto Luongo are the only active NHL players whose careers have stretched across three calendar decades, all of whom have had careers to remember.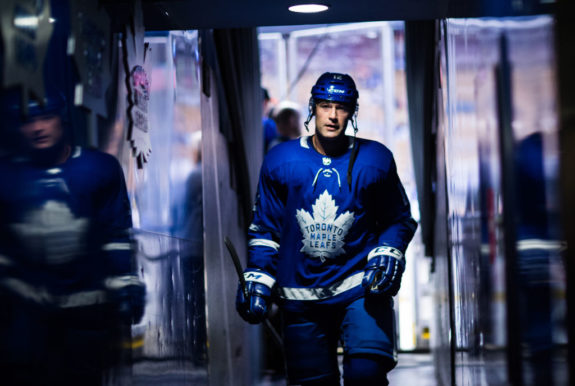 Their collective awards include an Art Ross trophy, a Hart Trophy, a Norris Trophy, a Mark Messier Leadership Award, a William M. Jennings Trophy, four First All-Star teams, nine Second All-Star seam nods, twenty All-Star games and most importantly, four Stanley Cups. Although three of those Cups go to one player. Altogether, the five players have over 8,500 games, 1,350 goals, 2,500 assists, 3,500 points and 475 wins. Alright, one of those statistics is just Luongo.
These five players have had extremely successful, storied careers and have the potential for more before they retire. Here's a look at the last five active NHL players who got their start in the 1990s.
Patrick "Mr. Shark" Marleau
First NHL Game: Oct 1, 1997
When looking at Patrick Marleau's career, his nickname says it all. Marleau is in fact "Mr. Shark." He was drafted by the San Jose Sharks back in 1997 second overall, behind future teammate Joe Thornton. He went on to play 19 seasons with the organizations, including leading the team to the Stanley Cup final in 2015-16. Mr. Shark remains the Sharks' franchise leader in career games (1,493), goals (508), points (1,082),  powerplay goals (160), short-handed goals (17),  and game-winning goals (98). They like him down in San Jose.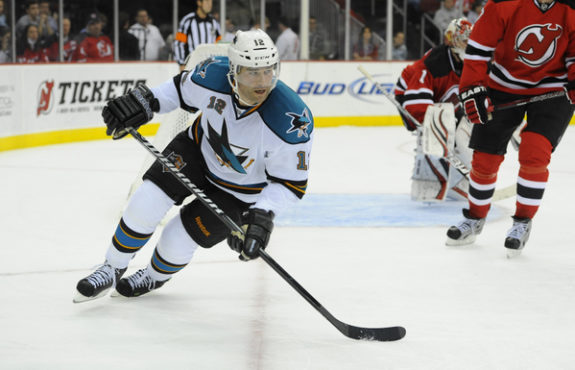 In his draft, Marleau was the youngest player selected at 17 years old, nine months and six days, with his birthday being the cutoff for eligibility that year. He made the jump straight to the NHL without playing a single minor-league game and made an impact right away. He scored 13 goals and 32 points, the lowest totals of his career other than the lockout-shortened season. His first goal at 18 years and 34 days of age was the second youngest of any NHL player since World War II.
Since his rookie year, Marleau has been a star in the league. Marleau has played in 1,601 games, collecting 541 goals and 603 assists for 1,144 points. In 2012-13, he joined Cy Denneny of the 1917-18 Ottawa Senators as the players to score multi-goal games to start a season. On the all-time lists, the 39-year-old is 31st in goals scored, which should rise before his time in the league is up.
Marleau's most impressive statistic though is his 1,601 games played. The Aneroid, Saskatchewan, native is just the 11th player to achieve 1,600 games, joining Gordie Howe, Mark Messier, Jaromir Jagr, Ron Francis, Mark Recchi, Chris Chelios, Dave Andreychuk, Scott Stevens, Larry Murphy, and Ray Bourque. He'll look to climb that list before his retirement. Of his 19 seasons, the winger has 10 full, 82-game seasons, including the last five seasons.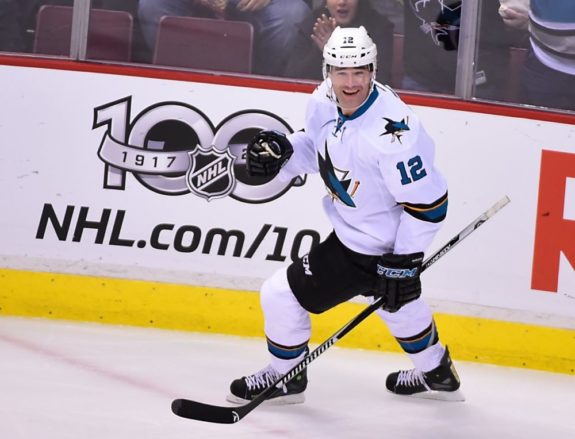 The three-time all star's leadership and skill isn't limited to the NHL either. He has two Olympic gold medals with Team Canada in 2010 and 2014. He also has gold medals from the 2003 World Championships and 2004 World Cup and a silver medal from the 2005 World Championships. He was invited to the 2006 Olympic development camp but didn't make the final team.
While he doesn't have any individual awards to his name, he has twice been nominated for the Lady Byng Memorial Trophy. In 2017, Marleau made the decision to sign with the Toronto Maple Leafs, joining the second NHL team of his career.
What's Left for Marleau?
The main thing missing from his career is why Marleau chose to leave the Sharks and sign with the Maple Leafs. The Stanley Cup is the main thing missing from his hockey resume. Marleau is not at the point in his career where he'll contend for many individual awards, but the Cup is still very much in his sights. The Maple Leafs have become one of the most dominant teams in the league behind Auston Matthews, Mitch Marner and John Tavares, and Marleau brings two decades of experience to that group that looks to contend this year and for years to come.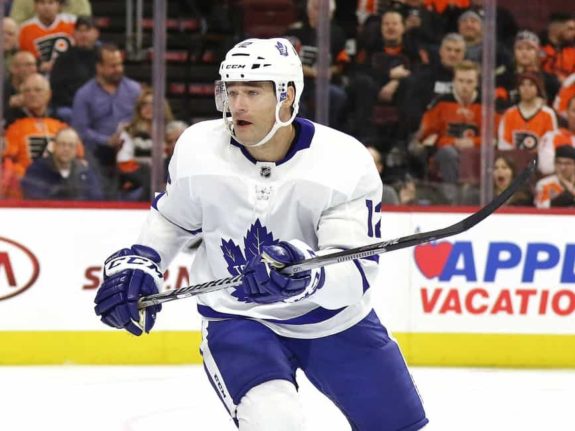 The other accolades left for Marleau are on the all-time lists. Sitting at 1601 games, Marleau could still shoot up those ahead of him. If he were to finish this season and play all of next year, the final year of his contract, he would be at 1,739 career games. That would put him place him third overall, and just 29 away from Gordie Howe's 1,767 record.
He could crack the top 50 in points, as he is just 26 points shy of Bobby Hull's 50th place 1,170 points. Finally, he should move up the list for goals scored. He's only 20 goals behind 25th-place Mike Modano. While he'll continue to re-write the record books before he's done, there's just one thing that Marleau wants to accomplish before his retirement and that's the Stanley Cup. With or without the Cup though, Marleau will one day be in the Hockey Hall of Fame.
"Jumbo" Joe Thornton
First NHL Game: Oct 8, 1997
When you talk about hockey in San Jose, Mr. Shark is first, but Joe Thornton is right behind him. In fact, the pair's careers have been intertwined throughout, starting on draft day. In the 1997 NHL Entry Draft, Thornton was taken first overall, just before Marleau. The two would later become teammates in San Jose. But before that, Thornton was the captain of the Boston Bruins.
Big things were expected of Jumbo Joe, even when he was playing in the OHL. Playing with the Sault Ste. Marie Greyhounds, Thornton was named CHL Rookie of the Year in 1995-96. He played for the Bruins for seven full seasons, captaining them from 2002-05. In 2002-03, Thornton joined impressive company, scoring 100 points and collecting 100 penalty minutes, becoming the third Bruin to do so after Bobby Orr and Ken Hodge.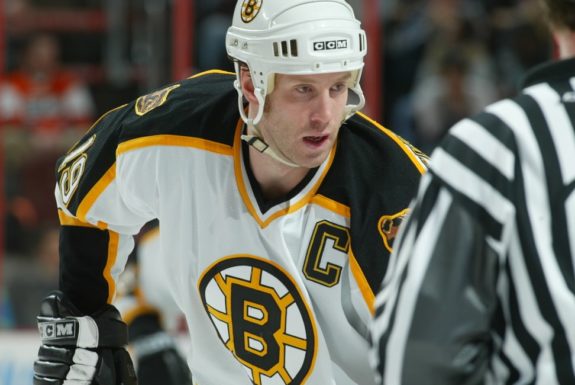 His most impressive season came in 2006-07 and one the Bruins fans still have nightmares about. After signing a three-year, $20-million contract three months before, the Bruins traded the face-of-the-franchise Thornton to the San Jose Sharks for Brad Stuart, Wayne Primeau and Marco Sturm. While the trade was lopsided enough, Thorton went on to have a career year, scoring 22 goals and adding 92 assists for 114 points. He won the Art Ross Trophy as the league's leading scorer and the Hart Memorial Trophy as league MVP. He became the first player to ever win the Art Ross Trophy having been traded in the year he won it.
The six-time all-star has been a passing machine in his career, ranking 11th all-time in assists with 1,035. In the 2006-07 season, he became the third player in history to have back-to-back 90 assist seasons. The next season he had 67 assists, becoming the third player to lead in the statistic for three consecutive seasons. The assists keep coming for him as well. In 2015-16, he became the seventh player ever to record a 60-assist season on the Sharks way to the Stanley Cup final. He is San Jose's franchise leader in assists with 745.
On top of his assists, Thornton has played in 1,510 games (19th all-time) and collected 400 goals and 1,435 points (16th all-time). He is one of seven players in the history of the NHL to have 400 goals, 1,000 assists and play in 1,500 games including Jaromir Jagr, Mark Messier, Gordie Howe, Ron Francis, Steve Yzerman and Ray Bourque. He keeps impressive company.
Internationally, Thornton's resume is just as impressive. In 1997, he made the U20 Team Canada for the World Junior Championship, collecting a gold medal. He also won gold at the 2004 World Cup, 2010 Winter Olympics, 2016 World Cup and added a silver at the 2005 World Championships, where he was the tournament MVP. He was invited to Team Canada's camp for the 2014 Olympics but stayed home due to his son having an illness.
What's Left for Thornton?
Jumbo Joe has the individual awards, the all-time stats and the international success to make him a first-ballot Hall of Famer. What he lacks though is the same as Marleau, the Stanely Cup. It seems like San Jose's window is starting to close, but they are still contenders for the Cup for at least this season and next. The team is stacked with Logan Couture, Joe Pavelski, Brent Burns and Erik Karlsson, and should make a playoff run this spring.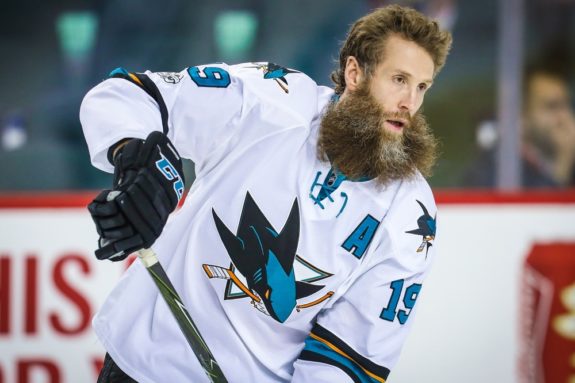 Once again just like Marleau, other than the Cup, Thornton will continue to re-write history in the NHL record books. He's 28 assists away from eighth-place Steve Yzerman, but it will remain to be seen how high the 39-year-old can get. He's currently signed to a one-year, $5-million deal. If he plays all of the remaining games this year, he'll be at 1,575 games played, bringing him from 19th to 12th. Finally, for points, Thornton seems to be slowing down. He would need another 22 points to catch 15th place Teemu Selanne, but it is possible.
Matt Cullen
First NHL Game: Oct 28, 1997
He may not be a star like the other players on this list, but he does have three things that most of them don't have. Three Stanley Cups. Cullen has always been more of a depth player, a role player and then a veteran presence, but it's worked for him. Over his 21-year career, the centre has collected 261 goals, 454 assists and 715 points through 1,463 games.
Cullen was drafted by the Anaheim Ducks in the 1996 NHL Entry Draft. He was taken in the second round, 35th overall. Since that date, Cullen has played for the Ducks, Florida Panthers, Carolina Hurricanes (twice), New York Rangers, Ottawa Senators, Minnesota Wild (twice), Nashville Predators and the Pittsburgh Penguins (twice).
He's not going to be in the all-time points lists, but Cullen has produced in his career when it matters. His first Stanley Cup came in the 2005-06 season with the Hurricanes. In that season, Cullen had a career year, scoring 25 goals and adding 24 assists. In the playoffs, he collected four goals and 18 points, including two assists in the Game 7 final to defeat the Edmonton Oilers and win the organization's first Cup.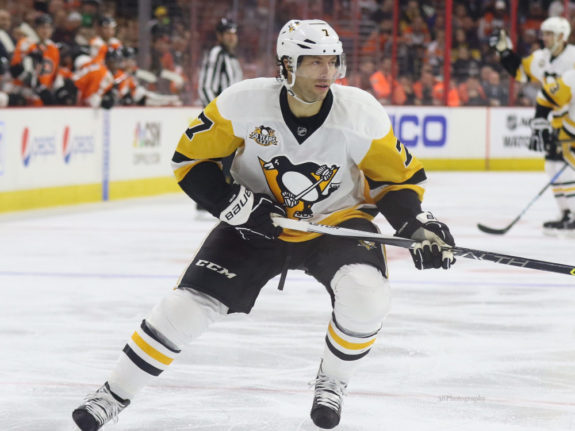 Fast-forward ten years, to Cullen getting signed by the Pittsburgh Penguins. He had back-to-back 30 points seasons, and the Penguins had back-to-back Stanley Cups. In the 2015-16 season, he had 16 goals and 32 points, along with a 55.7 faceoff percentage. He added four goals, including two game-winners, in the playoffs. In 2016-17, he had 13 goals and 18 assists followed by two goals and nine points for a second straight Stanley Cup.
Cullen also played on Team USA four times at the World Championships, winning one bronze in 2004 and played in the World Junior Championship in 1996.
What's Left for Cullen?
This is likely Cullen's last NHL season at 42-years-old as he's signed to a one-year, $650,000 deal, and unless he has a shocking end to this year, the goals, assists and points milestones are done for Cullen. However, he should hit 1,500 games, only 37 games away. Only 19 NHL players have hit that number, and Cullen could be the 20th, passing Mike Modano at the same time who will be forever stuck at 1,499 games.
Cullen can be happy with the career he's had winning the most prized trophy in hockey three times though, playing international hockey having one of the longest careers in NHL history.
Zdeno "Big Z" Chara
First NHL Game: Nov 19, 1997
The lone defenseman on this list, Zdeno Chara is well-known by every forward in the NHL. Ever since he was drafted back in 1996 in the third round 56th overall by the New York Islanders, the 6-foot-9, 250-pound Chara has made his presence known on the ice. Chara has 1,441 games in his career, to go along with 198 goals, 434 assists and 632 points. Even more impressive is his plus-243 career plus/minus.
He's most known for his time with the Bruins, where he's currently in his 13th season with the B's. How he got there though is still talked about today. The first move is from the Islanders, the team that drafted him, to the Ottawa Senators. This trade is still one of the best in Senators history. The Senators sent the ageing Alexi Yashin to the Isles in exchange for Chara, Bill Muckalt and the 2nd overall pick that turned into eventual captain Jason Spezza.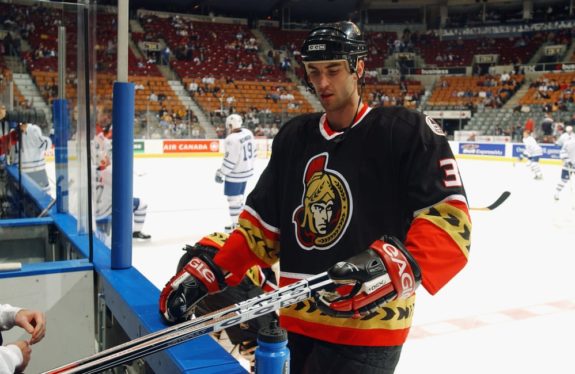 Despite Chara's point totals rising every year with the Senators, the team decided they couldn't afford both Chara and Wade Redden, letting Chara walk into free agency. The Bruins picked up the star defender, made him captain and never looked back. The pick up is still regarded as one of the best free agency signings of all time.
After joining the Bruins, Chara won the James Norris Memorial Trophy as the leagues best defenseman in 2008-09, the Mark Messier NHL Leadership Award in 2010-11. Also in that year, Big Z and the Bruins hoisted the Stanley Cup. The win was a big moment not just for the Bruins, but European hockey as well. Chara was only the second European born-and-trained captain ever to lift the Cup, the first being Nicklas Lidstrom of the Detroit Red Wings. Also, he became the first captain to win the Cup coming from behind the Iron Curtain (Czechoslovakia).
The six-time all-star is still the all-time record-holder of the hardest shot in the NHL, shooting a 175.1 km/h (108.8 mph) in the 2012 All-Star Skills Competition. On the all-time lists, Chara is 29th in games played, ninth out of defenders all-time. He's 33rd in points by a defenseman in history. On top of his Norris Trophy win, he's been a finalist six times.
In International play, Chara has a lengthy resume. He is a three-time Olympian, participating in the 2006, 2010 and 2014 Games for Team Slovakia, has seven visits to the World Championships and two trips to the World Cup. He has three silver medals, two from the World Championships in 2000 and 2012 and one from the World Cup in 2016 for Team Europe.
What's Left for Chara?
The tallest player in league history may not have much left in the tank, but he's not done yet. He's only two goals away from 200 in his career, likely the last milestone he will realistically hit. On the all-time lists though, he could rise. He's only 23 games away from Matt Cullen at 25th. For defenders, he's 16 games away from seventh place Glen Wesley. As for points by a defender, he's just seven points outs of the top 30, which should be hit before the season is done this year.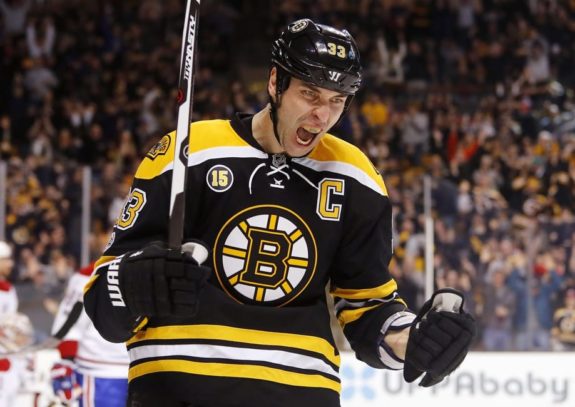 With a Stanely Cup, a Norris Trophy and six more nominations for that award, Chara has solidified his spot in the Hockey Hall of Fame. The Bruins are still a contender and could push for the Cup, but Chara's role on the team now is to train the next wave of defenders on the team to prepare them for a time without Chara in the NHL.
Roberto "Strombone" Luongo
First NHL Game: Nov 28, 1999
Last but not least, the lone goaltender on the list, Roberto Luongo. Luongo's entry into the NHL was a very big deal. In the 1997 NHL Entry Draft, the Islanders selected the Montreal, Quebec, native fourth overall, the highest selection of a goalie in history. Although he was passed just three years later when the Islanders selected Rick DiPietro first overall.
Luongo played just one season with New York before being traded to the Florida Panthers along with Olli Jokinen for Mark Parrish and Oleg Kvasha. The trade ended up being a huge steal for the Panthers. He played five seasons with the Panthers, before not being able to come to a deal before free agency in 2006 and getting traded yet again, this time to the Vancouver Canucks along with Lukas Krajicek and a sixth-round pick (Sergei Shirokov) for Todd Bertuzzi, Bryan Allen and Alex Auld.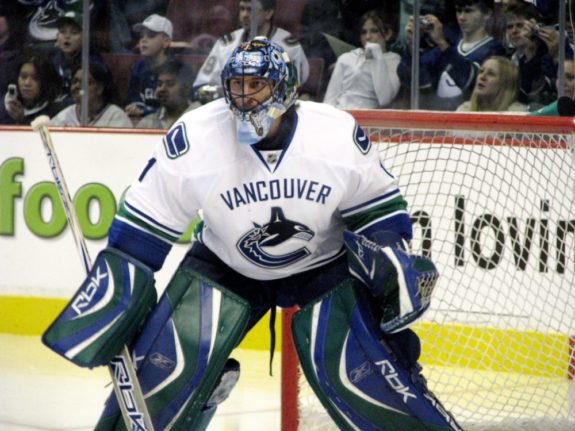 The trade worked out well for Luongo, who finished second in both the Hart Trophy and the Vezina Trophy as best goaltender voting after winning 47 games in his first season. His seven seasons in Vancouver included a run to the Stanley Cup final in 2010-11, falling to the Bruins. He was traded back to the Panthers in 2014 along with Steven Anthony for Jakob Markstrom and Shawn Matthias.
For the Panthers, Luongo is the franchise leader in games played by a goalie (538), wins (216), and shutouts (37). With the Canucks, he is the leader in wins (252) and shutouts (38). On the all-time lists, he is third in games played (1,010), fourth in wins (475) and ninth in shutouts (76). In the 2010-11 season, Luongo and teammate Cory Schneider shared the William M. Jennings Trophy as the team with the fewest goals against.
One of the most interesting aspects of Luongo's career was the fact that he was named the 12th captain of the Canucks in 2008. The move was actually against league rules, as goaltenders are not allowed to be captains, so they didn't put the "C" on his jersey, but it was made publically known that Luongo was the captain. Luongo is one of seven goalies to be captain and the first since 1947-48, where Bill Durnan of the Montreal Canadiens was the team captain.
For International play, Luongo continues to impress. He played for Team Canada in the 1995 U17 World Junior Championships, he won a bronze medal. He participated in the World Junior Championships in 1998 and 1999, winning a silver medal in '99. He's a three-time Olympian, winning two gold medals, a four-time goalie in the World Championships winning two golds and a silver and played in the 2004 World Cup, winning another gold.
What's Left for Luongo?
Just like Marleau and Thornton, Luongo lacks a Stanley Cup despite all three playing in the Stanley Cup finals. It doesn't look like the five-time all-star will get it this year though, as the Panthers are currently last in the Atlantic Division. There's lots of hockey left though and even if it doesn't happen this season, the 38-year-old could try again. With the Cup or without, Luongo will be a Hall of Famer based on his all-time stats and international play.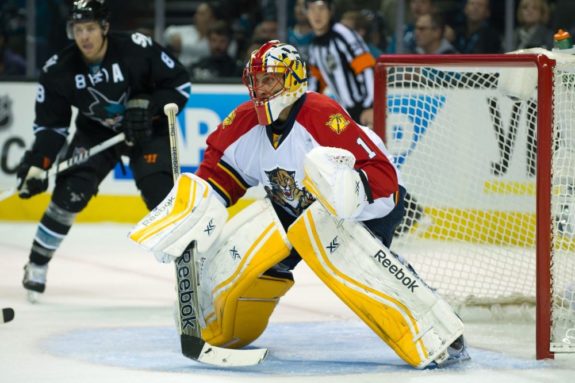 While his all-time stats are already impressive, Luongo should continue to climb this season. In games played, he needs another 19 games to reach the second-place Patrick Roy at 1,029. He won't be able to reach Martin Brodeur's 1,266 for number one at this point though. In wins, Luongo needs nine more to catch third-place Ed Belfour's 484, but Roy (551) and Brodeur (691) are safe. Finally, shutouts might still be possible for the goalie to shoot up the board. Five shutouts will tie Alex Connell, Tiny Thompson and Dominik Hasek (81) and six will get him to fifth place and Jacques Plante's 82 shutouts.
Statistics as of Nov 30, 2018 from NHL.com.
Starting out as an Ottawa Senators contributor for The Hockey Writers, Josh is now an editor and at-large contributor, focusing on prospects, the NHL Draft, hockey history, and breaking news stories.