The Toronto Maple Leafs have continued the trend they started last season with giving out professional tryout contracts to players who are struggling to stay in the NHL. So far, the Leafs have signed Brandon Prust, Raman Hrabarenka and Jeff Glass to PTO contracts. Prust has the best chance of making the team out of the three, but can he earn a contract with the Leafs?
A Look at Last Season's PTO Contracts
If last season is any indicator, then Prust is going to have a massive challenge in earning a contract with the Leafs. Last season, the Leafs signed four players to PTOs: Brad Boyes, Devin Setoguchi, Curtis Glencross and Mark Fraser. Only Brad Boyes was offered a contract by the end of the preseason, which was only for one year at $700,000.
Boyes played well for the Leafs last season, putting up 24 points in 60 games, which was impressive considering his lack of ice-time.
Ultimately, the Leafs decided to not renew Boyes' contract and he is currently still without an NHL contract.
Looking at last season provides some perspective when considering PTOs for this season. Last season, the Leafs were heading for a poor season just by looking at the roster and they had to fill a few more spots on the roster. The Leafs are comparatively far better this season with a wealth of young talent trying to steal spots on an already full roster.
If Boyes was the only one to receive a contract when the Leafs had spots to fill, then what hope does Prust have?
Is Brandon Prust Worth Signing?
Over the course of training camp and the preseason, Prust will need to prove to Leafs' management that they need him on the team. There are two ways in which he can prove himself.
The first is that, at 32-years-old, Prust can give a veteran presence and possibly become part of the leadership for the team.
The second way he can prove himself is by improving the physicality of the Leafs. Last season, they were pushed around far too often, so having another player to help toughen up the Leafs wouldn't be a such a bad idea.
Lou Lamoriello tells PTS that he sat down with Brandon Prust this summer before extending him a PTO with #Leafs. "There's no risk involved."

— Chris Johnston (@reporterchris) August 22, 2016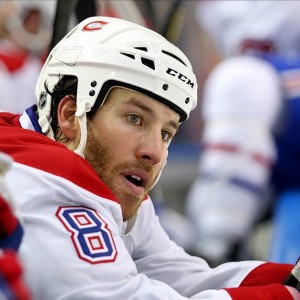 When looking at the type of contract that the Leafs could offer Prust, it's very likely that it would be similar to what Boyes received last season. A cheap one-year deal would make sense for both parties, since Prust is trying to prove he deserves to stay in the NHL and the Leafs are giving him an opportunity to succeed at a low cost.
Ultimately, it comes down to whether or not Prust can play at the NHL level and play better than the Leafs' AHL players. With that in mind, it's very unlikely that Prust is still with the Leafs by the time the regular season starts. Prust is well past his prime and has started to decline quickly.
This past season, the Vancouver Canucks waived Prust and sent him down to the minors. He only played nine games before deciding to end his season due to a nagging ankle injury. This will also be a factor in the Leafs giving Prust a contract since that ankle injury initially occurred at the beginning of the season and continued to bother him throughout the year.
It's best if Prust is just at the Leafs training camp to help fill spots left vacant by players attending the 2016 World Cup of Hockey. The Leafs have a number of young players who would be better suited to compete for roster spots instead of Prust.
Toronto Maple Leafs contributor for The Hockey Writers.
I've been a fan of the Toronto Maple Leafs since I was a kid and have always had an interest in writing. At The Hockey Writers, I get to enjoy both of my passions as well as writing about small convoluted details in player contracts and stats.