Tampa Bay Lightning forward Ryan Callahan is still recovering from right hip surgery but expects to return to the team by mid-November, reported the Tampa Bay Times' Joe Smith on Tuesday.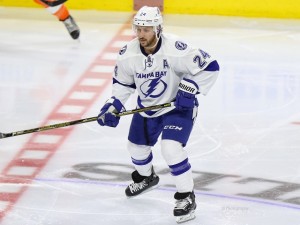 Callahan underwent surgery to repair a torn labrum in his right hip on June 21. When news about the surgery broke, his recovery time was estimated at five months. Callahan had previously been named to Team USA's roster for the World Cup tournament, but the operation meant he could not participate. On July 20, USA Hockey announced New Jersey Devils forward Kyle Palmieri would replace Callahan at the tournament.
Callahan, a native of Rochester, New York, has represented his country at the Olympics in 2010 and 2014 and says that missing out on playing at the World Cup is not easy.
"It's really tough," Callahan said. "It's definitely disappointing that I'm going to miss that. Anytime you get to represent your country, it's something special. And to be in the World Cup is something I've never experienced before."
Despite his anticipated recovery time, Callahan plans to start skating next week when the team begins informal workouts before training camp opens on Sept. 22.