Restricted free agent defenseman Rasmus Ristolainen does not expect to sign a contract extension with the Buffalo Sabres before the World Cup, according to Sami Hoffrén of the Finnish sports site Urheilusanomat.
Rasmus Ristolainen doesn't expect to re-sign with the Sabres before World Cup: "Haven't heard anything in a while."

— Sami Hoffrén (@shoffren) August 30, 2016
The 21-year-old blueliner's three-year entry-level contract expired earlier this offseason and he remains part of a small group of RFAs without a new contract at this point in the summer– a list that most notably includes Johnny Gaudreau (Calgary Flames), Nikita Kucherov (Tampa Bay Lightning) and Jacob Trouba (Winnipeg Jets).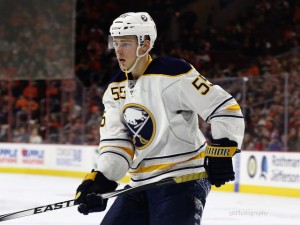 Ristolainen will be playing for Team Finland at the eight-team international tournament which will take place from Sept. 17 to Oct. 1 in Toronto. The NHL season begins on Oct. 12, with the Sabres set to start play on Oct. 13 against the Montreal Canadiens.
The narrow timeframe between the end of the World Cup and the start of the regular season will put the Sabres in a challenging position if the club is unable to re-sign Ristolainen before the tournament begins. Earlier this summer, head coach Dan Bylsma said he anticipates fewer playing minutes for the talented defenseman. In the 2015-16 season, Ristolainen led all Sabres players in ice time with 25:16, but Bylsma said he believes that he was playing too much.
With over two weeks to go before the World Cup begins, there is still time for the Sabres to re-sign Ristolainen before he heads to the Air Canada Centre to represent his country. For Sabres fans concerned about Ristolainen at this point in the offseason, Bylsma's comments show he is in the team's plans for the future.
Steven is a lawyer and writer with a passion for the game of hockey. He's the Lead Writer covering the Tampa Bay Lightning with THW. He's also been press credentialed through the Lightning since 2016. His work has been published at The Fourth Period, LightningInsider.com, Bolt Prospects, The Sports Daily Network, U.S. College Hockey Online and College Hockey News. He's had radio appearances on TSN 690 in Montreal, Lightning Power Play Live and multiple podcasts to give insight and analysis on the team. He can be reached on Twitter @StevenDiOssi and by email at sdiossi@gmail.com.