Dominic Moore has signed a one-year, $900,000 contract with the Boston Bruins, the team announced on Tuesday.
Dominic Moore will get a bonus of $100 000 if the #bruins are a playoff team and if he plays a minimum of 42 games. Base salary is $900 000.

— Renaud Lavoie (@renlavoietva) August 30, 2016
Moore, 36, has played the past three seasons with the New York Rangers and helped the team to the 2014 Stanley Cup Final. In 2015-16, he registered six goals and 15 points in 80 regular season games before adding a goal in five playoff games.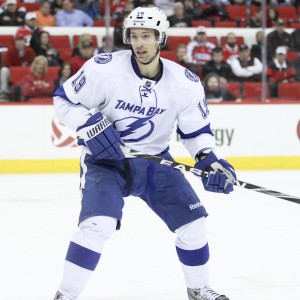 Moore received the Bill Masterton Trophy Memorial Trophy after the 2013-14 season with the Rangers for his return to the NHL after sitting out the entire 2012-13 season to take care of his wife as she fought terminal cancer.
The New York Rangers drafted Moore 95th overall at the 2000 NHL Entry Draft after he completed his first of four seasons at Harvard University. Moore ranks 11th on the Crimson's all-time leading scorers list after scoring 64 goals and 147 points during his collegiate hockey career.
At the NHL level, the 6′, 192-pound forward has played in 765 regular season games for nine different teams and tallied 89 goals and 245 points. During the 2010-11 season with the Tampa Bay Lightning, Moore posted a career-high 18 goals and was part of a Lightning team that lost to the Bruins in seven games in the 2011 Eastern Conference Final. The Bruins would go on to defeat the Vancouver Canucks to win the Stanley Cup.
Steven is a lawyer and writer with a passion for the game of hockey. He's the Lead Writer covering the Tampa Bay Lightning with THW. He's also been press credentialed through the Lightning since 2016. His work has been published at The Fourth Period, LightningInsider.com, Bolt Prospects, The Sports Daily Network, U.S. College Hockey Online and College Hockey News. He's had radio appearances on TSN 690 in Montreal, Lightning Power Play Live and multiple podcasts to give insight and analysis on the team. He can be reached on Twitter @StevenDiOssi and by email at sdiossi@gmail.com.