Sidney Crosby sits on top of the league right now with 42 goals. In his decade playing with the Pittsburgh Penguins, he has only managed to hit the 50-goal mark one time. The first and only time in his career he has scored 50 goals was, like this season, a time when the Penguins were playing as defending Stanley Cup champions. Will he be able to accomplish the feat again before the regular season draws to a close?
Time Is Running Out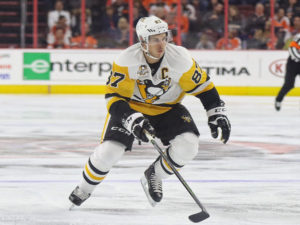 The Penguins have seven games left in the regular season. Crosby currently has 42 goals in 69 games, which means he's scoring an average of about .609 goals per game. At this rate, he'll score four in the next seven games, getting him to 46 — just four shy of that exalted 50-goal mark. To clear the hurdle, he'd have to score an average of over one goal per game for every single one of the matches the Penguins have left in the regular season.
Of course, that's not impossible. Another hat trick would certainly help inch him towards the total (he notched his 10th career one last week). But as the team seems to be buckling around him, he might be hard-pressed to come up with the support he needs to keep up that elite scoring rate.
A Growing List of Injuries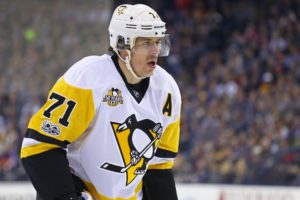 The Penguins just can't seem to keep a top line healthy. The Bryan Rust-Crosby-Conor Sheary line only had Rust back for a few games before Sheary left with an injury in the first period of the Penguins' Monday night matchup against the Philadelphia Flyers. Before that, the Jake Guentzel-Crosby-Sheary line was broken up when a bad hit sent Guentzel to the injured list with a concussion. The Penguins just can't hold on to the speedy wingers who have helped Crosby reach new scoring heights this season.
Add to that another missing forward in Evgeni Malkin, as well as a top defender gone with the loss of Kris Letang, and Crosby has a serious problem — those two players are key to the Penguins' power play, where Crosby has scored one-third of his goals this season. With both Crosby's top line and power play unit gone, the Penguins are missing some serious firepower that could help Crosby rack up the goals he needs to hit the 50-goal mark.
Can He Do It?
The answer is probably not. A goal per game is a high rate to expect from Crosby when the Penguins are floundering to provide him with support. It's not impossible, though. He does currently have five goals in his last five games, the rate he would need to maintain. It will be interesting to watch if he can push towards the 50-goal mark, and hang on to his scoring lead, as the regular season winds to a close and the Penguins' injured reserve list remains dauntingly long.