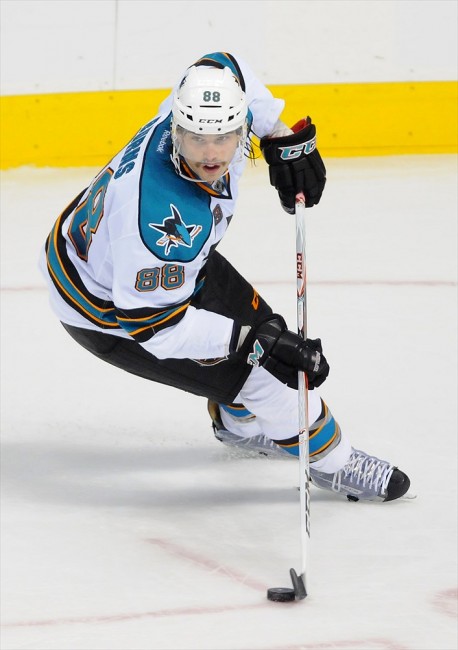 Midway through the 2012-2013 season San Jose Sharks head coach Tod McLellan made what seemed to be a desperation move when he sent Brent Burns from the blueline to right wing.  After all Burns had not played forward at all since 2009, and he had just signed a 5 year, $28.8 million in the summer of 2012 to become one of the Sharks top four defensemen.
The move was initially lambasted by critics who saw a sputtering Sharks attack looking for a quick fix, and likened the move to that of numerous past moves of defensemen to forwards that failed miserable. Burns was able to overturn this criticism rather quickly though by putting up 20 points in 23 games as a forward and even earned a promotion from the third line to the first line.
This type of contribution was incredibly valuable to the Sharks as they fought to finish in sixth place in the Western Conference, and led to McLellan deciding that the move would become a permanent one beginning with the 2013-2014 season.  Which brings the question: what can we reasonably expect from Burns during the 2013-2014 season?
Gritty Play
When Burns came into the role of forward he was expected to be a third line grinder, as he has the hands of a defenseman but possesses a 6'5″ 230 lb. frame that is a nuisance in front of the net and in the corners for any defense. This profile fit exactly into what Burns did, as he took upon the role of doing the hard work that allowed Joe Thornton and Logan Couture to display their offensive skills without fear of being mauled in the corners.
Coming into the 2013-2014 season there is no reason to believe that Burns will suddenly attempt to become a dangler, and this serves well for a Sharks team that is stacked with them.  With early indications being that Burns will play with Thornton and Tomas Hertl this gritty style of play will likely help each player to gain a larger role with the puck, and in turn increase their offensive production. This role of doing the dirty role to help teammates will be supremely valuable throughout the course of the season and will likely lead to whoever he is paired with having career years statistically, but could invariably lead to a lower scoring pace from Burns.  Which brings us to our next point.
Less Scoring Production
With defenses having had a full off-season to prepare for what Brent Burns is going to bring to the table there is no doubt that they will be better prepared to counter his gritty style.  Teams will look to have their biggest defensemen out on the ice when Burns is playing to counter his big body, and will likely take out some of the scoring threat he brings to the table in doing so. The Vancouver Canucks and Los Angeles Kings showed during the 2013 playoffs that this strategy will work, as they held Burns to a mere 11 points in 4 playoff games by matching his physicality with big bodied defensemen.
Even with all thirty teams being likely to counteract Burns style of play by throwing it right back in his face it is likely that he will record a 50-60 point season.  This is in large part because of the fact that he is almost a sure bet to be spending time on the power play unit and will playing with Joe Thornton regularly so scoring chances will find their way to Burns.  Just do not expect anywhere near the 71 point total Burns was on pace for during his stint as a forward last season, as he simply does not have the offensive skill to accumulate this total without being hand fed most scoring opportunities.
Conclusion
Heading into the 2013-2014 season there is significant reason for optimism regarding the continued success of Brent Burns as a full time forward, but also some reason for concern.  Expectations are very high for Burns after the near point per game production that he put up over the last half of the 2012-2013 season, and fans will be likely be disappointed by any regression in this category.  Unfortunately for people expecting that output the facts are that Burns is not a natural born scorer, but will provide 50-60 points while serving as the type of gritty forward that opens up opportunities for his more offensively gifted linemates.
The NHL regular season schedule was released on Friday. Check out our partners at TiqIQ for the best deals on San Jose Sharks tickets for all 2013-14 games.
Tyler grew up playing hockey in the Raleigh, North Carolina, area, and attended the University of North Carolina. Now, Tyler lives in Brooklyn, types in the third person, and can be found watching sports at all times of the day.