So as it goes, after 82 games, the San Jose Sharks have made the post season and once again will take on the St. Louis Blues.
Ask old school Sharks fans about playing the Blues in the playoffs and they will bring you back over a decade to the 1999-2000 NHL season. The eighth seeded Sharks against the first seeded Blues and the feeling of sitting at home watching Game 7, on the edge of our seats for the final buzzer to go off. They might even start telling the story of Owen Nolan's red line goal.
Over the course of 7 games, the Sharks dealt with the likes of Chris Pronger, Tyson Nash, Jamal Mayers, Pavol Demitra (RIP) and even current Shark, Michal Handzus. The Sharks eventually went on to beat the Blues on April 25, 2000 in St. Louis winning the series 4-3.
But that was a long time ago. Times have changed. Players and coaches have come gone. This years Blues team features Chris Stewart, T.J. Oshie, David Backes, and veterans Jamie Langenbrunner and Jason Arnott. Not only is this years Blues team stacked with talent, but Ken Hitchcock stands behind the bench this season.
Yes, the Sharks have also gone through some player and coaching changes, losing Ron Wilson and Darryl Sutter behind the bench. And from the 1999-00 season, Patrick Marleau is the only current member of the Sharks to have played in that series.
And the Sharks are no stranger to Ken Hitchcock. Even if they have only faced him once before in playoffs while he was coaching the Dallas Stars (1997-98), the Sharks also haven't won against Hitchcock in the playoffs either. Granted Hitch himself hasn't enjoyed the most stellar playoff career, winning the Stanley Cup once in his 16 year coaching career, 12 of those making the playoffs.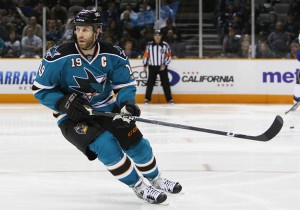 Despite being ranked second in the league on the power play at 21.1%, the Sharks were 1 for 15 against the Blues this season. One converted power  play out of fifteen chances. One lousy goal made its way to the back of the net. Sure, that doesn't exactly help when the Blues have an 85.5% penalty kill. Nor does it help when you have three thirty goal scorers on your team, but can only manage 3 goals for, while allowing 11 goals.
Since the Sharks came into the league, they have faced the Blues three times, winning two out of three. The last time the Sharks faced the Blues in post season was the 2003-04 season, winning the series 4-1.
So the question on everyone's mind is can the Sharks beat the Blues in the playoffs?