If you're just now learning about Jimmy Vesey and the tumult he's inspired, here's the quick-and-dirty on him: He's the 2016 Hobey Baker Award winner (given to the top NCAA ice hockey player) who was drafted by the Nashville Predators in the third round of the 2012 draft. Not long after he was drafted, he informed the team that he wouldn't be signing and returned to college. Fast forward four years and he's now eligible for free agency and an entry-level contract worth a maximum of $925 thousand. He can sign for as long as two years. This coming Friday is the earliest we'll learn of any team signing him.
Who Is in on Vesey?
Practically all NHL teams have made it known that they are interested in signing Vesey. However, Vesey holds the cards here. Because he waited to become a free agent, he now has his choice of where he will begin his NHL career. After recently declining an offer from the Detroit Red Wings, it is assumed that the remaining teams on his short list are the Maple Leafs, Devils, Rangers, Islanders, Penguins and his hometown Bruins in the East. Out west, the only team left in consideration seems to be the Blackhawks. And many (including myself) are counting them out since he's indicated (at least to Detroit) that he wants to play closer to home. So, logically, where can we expect him to land?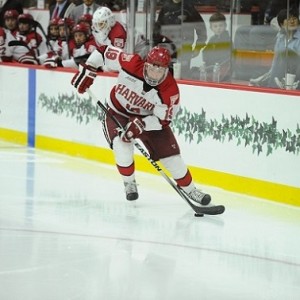 The Islanders were reported to have been wooing Vesey as late as Wednesday evening. They were apparently promoting the idea that Vesey would look good on a line next to their star center, John Tavares. It would be hard to argue with that statement. However, using that same logic, Vesey might be more inclined to play for a team with a host of stars. That is if he can cut Boston out of the race for his signature.
Sports media talking heads around the 'burgh are indicating that even though Matt Cullen was recently re-signed to a one-year, $1,000,000 contract, there's still a bit of cap space available to sign Vesey if he chose to go there. Count Pittsburgh in! If the Pens were to use the same promotional strategy as the Islanders, they can make a ton of headway in the negotiations. At best, a promise to at least be "tried out" on a line with Sidney Crosby would be enticing. At worst, he could play alongside Evgeni Malkin's new role on the third line – potentially offering significant scoring potential in a bottom-six role. Not bad.
Why Should It Happen?
There's plenty of reasons why a Penguins and Jimmy Vesey pact makes sense. The potential ice time with Pittsburgh's stars bodes well for his future as well. Like it or not, he's stuck with that entry-level contract for the next two seasons. Why not maximize the potential return on that by playing with players who are among the best offensively in the league. If Vesey's as good as advertised, he could make an immediate impact on either Crosby's or Malkin's line while making a ton of headway toward that big payday that would inevitably be on the way.
Money aside, he's a young player. With young players comes an immense amount of learning along with varying degrees of success and failure. I can think of no other player in the league as good at self-identifying than Sidney Crosby. Wouldn't it be something if he were able to mentor the young Vesey and help him grow into an NHL star? Speaking of learning, there's no better way to learn how to win a Stanley Cup than by doing it alongside Cup champions. Both Crosby and Malkin are champions twice over.
The decision is an easy one. There's but one road that Vesey can embark upon in order to grow into a complete NHL player while remaining close to home. There's but one way that Vesey can be offered the best environment for both his financial future and for winning a Stanley Cup. And for Jimmy Vesey, that road runs through Pittsburgh.
Penguins hockey enthusiast, journalist, poet and rec league roller hockey player.