After Don Sweeney and company were unable to fix Boston's defensive problems over the off-season, it became apparent that the Bruins were going to need some very good goaltending from Tuukka Rask if they wanted to push their way back into the postseason. So far, the Finnish netminder has surpassed expectations, giving the Bruins one of the best goaltending starts to the season in recent memory.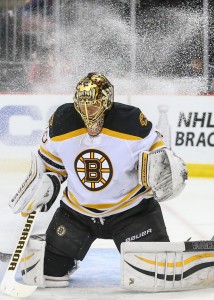 Rask So Far
Looking down the stat line, it's easy to see that Rask is the key to success for the Bruins. With the Finn in net, the B's are a perfect 5-0-0. He's currently boasting a .961 save percentage and 1.20 goals against average. Those numbers aren't misleading; Rask has been extremely consistent. He's given up 1 or fewer goals in four of his five starts while averaging 29.4 saves per game. Considering he's done this in front of a questionable defensive corps, it's not a stretch to say that Rask has been the NHL's best goaltender thus far.
The question for Boston, of course, is whether or not he can keep it up. While it would be nice, nobody is expecting Rask to perform at this level all season. Giving up just over a goal per game is just about impossible in the NHL. However, if he can keep winning games, then there's no reason that this team can't work its way back into the postseason.
Fatigue a Reason to Worry?
In the past, Rask has struggled at the tail end of the season. While barely falling short of the playoffs for two consecutive years, the netminder's statistics have dropped off in the final games of the season, when the team needed him most. Many people had pinned the lack of year-end success on fatigue, noting that Claude Julien had rolled with Rask consistently to finish the season, and the goaltender grew tired.
Fatigue hasn't been a factor so far, considering Rask has missed four of Boston's nine games for mysterious reasons (Julien cited "general soreness"). However, as the season rolls on, it'll be interesting to see how much Boston has to rely on him, especially considering his backup has been shaky.
Without Rask, the Bruins have lost all four of their games, and have given up 18 goals. In fact, Boston goaltenders gave up more goals in their first two games without their starter than Rask gave up through five games this season.
Granted, the Bruins haven't really been able to test backup goaltender Anton Khudobin too much, as he's only appeared in one game because of an injury, but he didn't look too hot in that lone appearance. It's too small of a sample size to judge his overall condition, but the Bruins will need their backup to be better so that they can rest Rask throughout the season.
The Keys to Success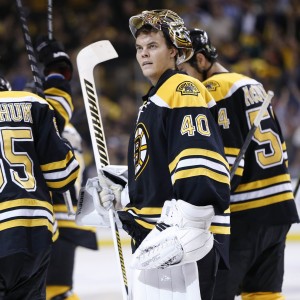 Ultimately, much of Boston's success this season will be dictated by two factors in the blue paint:
For starters, Rask needs to continue playing at his highest level. Through five games, it appears he has returned to form, and if he can keep bailing out Boston's lacklustre defense, the Bruins will be all right (especially if they can find a way to upgrade the defense before the trade deadline).
Second, the B's need whoever sits behind Rask to be effective, so that they can rest their starting netminder and keep him from getting fatigued again this season.
After all, the definition of insanity is doing the same thing over and over again, and expecting a different result.