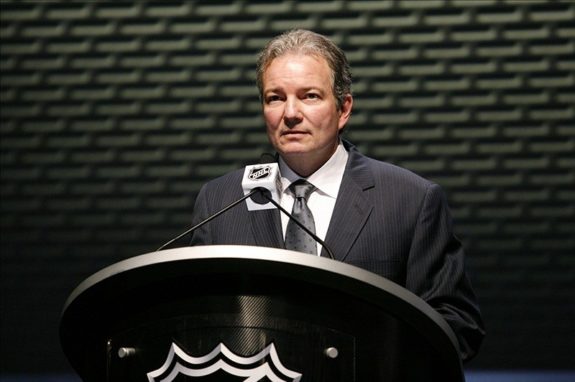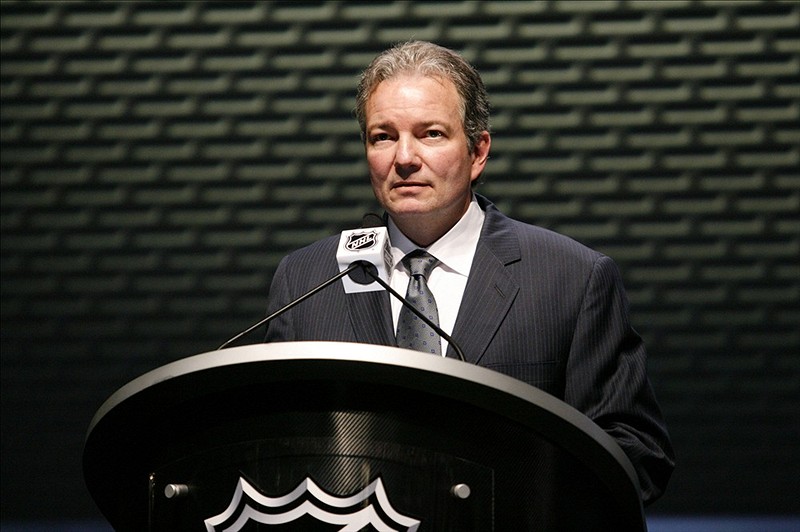 When reflecting upon the Pittsburgh Penguins' playoff short-comings, we've blamed Dan Bylsma, Sidney Crosby, Evgeni Malkin, Kris Letang and anyone else we could think of besides Ray Shero. Why hasn't Shero taken more heat for the Pens' Eastern Conference Finals debacle against the Boston Bruins? Despite Shero engineering the Pens' 2013 roster, Bylsma was seen most at fault.
Learning from the Past
At Shero's end of season press conference, he was hammered with questions about the organization's future. Shero is the first to admit that the Pens failed to meet everyone's expectations after their disappointing defeat to the Bruins. Despite the public outcry for immediate changes, Shero is basically returning the same roster for the 2013-2014 season.
"Now as a manager, I believe, when you look back its part of learning and getting better. [It's] learning from that loss in that third round, learning from that experience for our players, and applying that going forward." -Ray Shero
We all want Shero to make the right decisions for the franchise moving forward, but the Pens are still lacking in many of the same areas as they were after their embarrassing loss to the Philadelphia Flyers in the 2012 post-season. This is three straight playoff seasons with a three game losing streak. This is two straight post-seasons where the Pens failed to compete against the team they were ousted by in the playoffs.
"My goal and focus is moving forward. Learning from the past, trying to apply that moving forward, to make sure we're a team that our city is proud of, and a competitive, entertaining hockey team that can compete for the Stanley Cup and put ourselves in that position every year. That's going to be our goal moving forward." -Ray Shero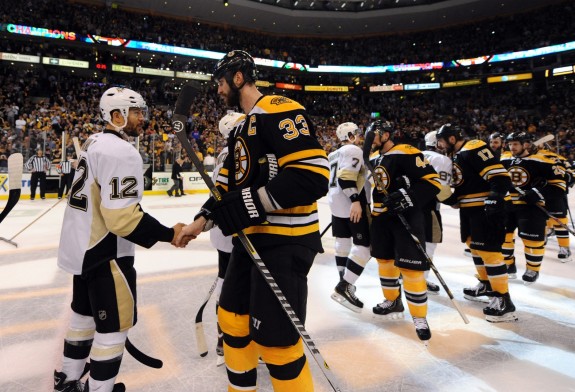 The Pens have shown some improvement, but still have a lot to learn from the playoffs moving forward. When the team has been struck by adversity in the playoffs, all hell breaks loose. This adversity is going to continue to return until the Pens can prove they can overcome it. They've proven the last two post-seasons, with the same core of players and same coaching staff, they're unable to comeback once they trail in a playoff series. Yet Shero, the man behind it all, is going to take another stab at things with the same group of coaches and players in the upcoming season.
Penguins' Coach
"My vision moving forward and evaluating our team, our coaches, [and] the direction I want to go with this franchise, I really believe we have a great head coach in Dan Bylsma. I believe he is the coach to lead us forward. I have faith in his ability, and faith in his ability to lead us forward." -Ray Shero
Bylsma, the coach who Shero puts all of his belief in, hasn't been able to accomplish acceptable playoff success since he coached an entire season behind the Pens' bench from start to finish. Examining the Pens' playoff exits since their 2009 Cup, I believe Michel Therrien had just as much to do with the Pens winning that Cup as did Bylsma. By the players disliking Therrien and his ruthless coaching style, bringing in Bylsma did wonders for the team. The players were able to have fun and enjoy hockey. Bylsma opened up the offensive flood gates, lit a fire under the Pens, and his difference in coaching philosophy carried the team to glory. Presently, the team needs some of that Therrien discipline instilled back in them because Bylsma is having a difficult time getting his message across when changes need to be made.
"It's not a buddy, buddy system. I have a responsibility to ownership, our fans, my family to do what I think is right for the team. I really believe in my evaluation of this team moving forward that I have a very good coach." -Ray Shero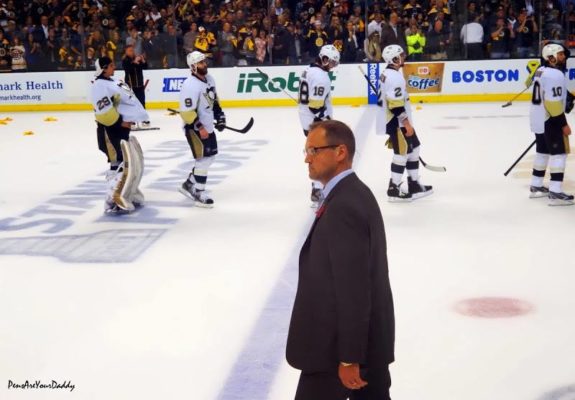 Bylsma coaches an innovative system, but it is no secret that his adjustments, or lack thereof, have been questioned. This is the second straight playoff season that Bylsma has been slow to adjust. When I see that Shero is questioning his own coach's adjustments, I can't help but wonder why Shero didn't make a point to resolve this issue before the off-season was upon us.
"In terms of the adjustments, I've talked to our coaches about this, and somewhat importantly too,  I've talked to our players about this in terms of adjustments: what did they see, what did they feel, because realistically they're the ones [who] have got to go out and have belief in what they're doing." -Ray Shero
Shero reasonably pointed out at his press conference that the team played great in Game 1 but couldn't score. This is the reason why they stuck with the same game plan in Game 2. After Game 2 was chalked up as a complete disaster, the Pens adjusted and turned in their best performance of the series in Game 3.
The explanation all makes sense, but why did the Pens have to wait until after Game 2 and before Game 3 to make adjustments? There should've been "in-game" adjustments made in Game 2. Rather than making adjustments after or before a game, does Shero employ a head coach who can't make in-game adjustments during crunch time? I'm puzzled that Shero questioned the adjustments after the series, but still kept Bylsma as his bench manager.
Penguins' Trades
"The players we brought in I believe at the trade deadline, I really believe added what we thought they were going to add in terms of on ice, off ice." -Ray Shero
The two acquired players who were supposed to have the biggest impact on the Pens were also the two who were the most in question at season's end. Shero wanted Jarome Iginla and Brenden Morrow. For a team that likes to play a north and south, speed game, these aren't players who add speed to your roster. I realize that Shero was trying to add grit and leadership to the team with these two veterans, but their services were not beneficial.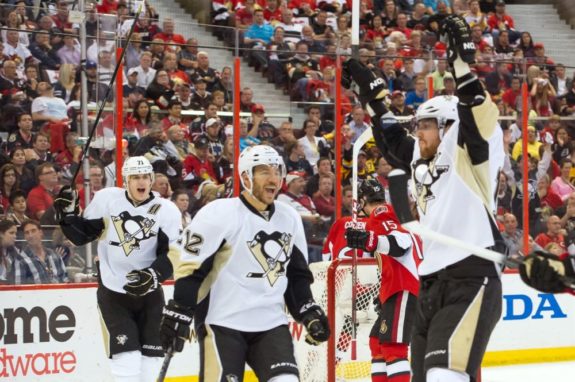 Shero may believe his acquisitions added something to the Pens, but I know the media and fans expected much more from these players. The crying about Iginla playing left wing is so misguided. To nicely put it, Iginla was ineffective. Losing one-on-one battles in the corner, back-checking poorly, and being slow has nothing to do with Iginla playing left wing.
Morrow had a very hot finish to the regular season, but was invisible at times in the playoffs. Morrow wasn't expected to score as much as Iginla, and did provide a physical checking game, but not on a consistent basis throughout the playoffs. He needed to have a bigger impact.
Both players were expected to be leaders in the Pens' locker-room but neither player was viewed as such according to Penguins' insider and Tribune Review Columnist, Rob Rossi. According to Rossi in a Pittsburgh Magazine article written by Sean Conboy, Iginla and Morrow resisted leadership roles and were playing for another contract more than trying to lead the Pens to a Stanley Cup. Rossi calls this, Shero's "great miscalculation."
Change in Philosophy
The Pens needed shutdown defenseman at the deadline. They need shutdown defensemen as of today. For the past few seasons, Shero has been trying to add more offensive scoring talent. When the Pens are the highest scoring hockey club in the league and have defensive liabilities, why is Shero seeking offensive players? He should be trying to find shutdown defensemen.
I realize that the Pens only scored two goals against the Bruins, and you may think they need more scoring. Their lack of scoring was due to the coaching staff not changing the Pens' offensive strategy and the fact that the Pens' roster wasn't constructed for the type of hard-nosed play needed to defeat the Bruins. The Pens needed to crash the Bruins' net, screen Tuukka Rask, and simplify their offensive strategy. When a team can't score, they must get as many bodies and pucks to the net. Instead, the Pens searched for the perfect play to register a goal because Shero constructed a team with this mindset.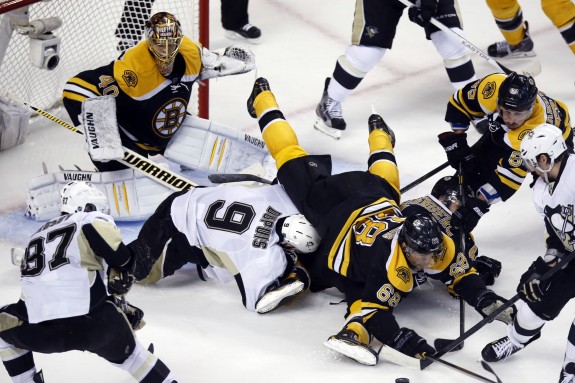 In Shero We Trust
Shero has been a great general manager. I couldn't even come close to doing the job that he performs on a daily basis. He arrived in Pittsburgh seven years ago and turned this team into a Stanley Cup contending organization in three years. However, I believe he needs to closely investigate what is working and what is not, because I'm not convinced the Pens will have learned from their experiences this season when the playoffs hit next year. Next year the pressure will be even greater given the fact that Bylsma is returning with the same team for another season. Shero is the man behind all of these critical decisions. I hope he gets it right because the Pens' fans expect more than regular season success.  As the saying goes in Pittsburgh, "In Shero We Trust." Do you?
"You got to trust the fact that I probably have a little more information. Doesn't mean every decision is right that I make. We go through this and over the last seven years, I'd like some do-overs." -Ray Shero