The 2013 NHL free agent crop is generally considered to be thin and lacking a lot of big name, top end talent.
With the salary cap going down next season, and the number of teams that will be scrambling to get under it, much of the talk has centred around the trade market and what big names may be available to move or even be bought out.
That isn't to say there aren't valuable assets still available on the open market and here are a few that could make significant impacts with a new club in 2013-14.
This list could look different in a few weeks depending on potential compliance buyouts, but as of now here are the top targets come July 5.
1. Nathan Horton, RW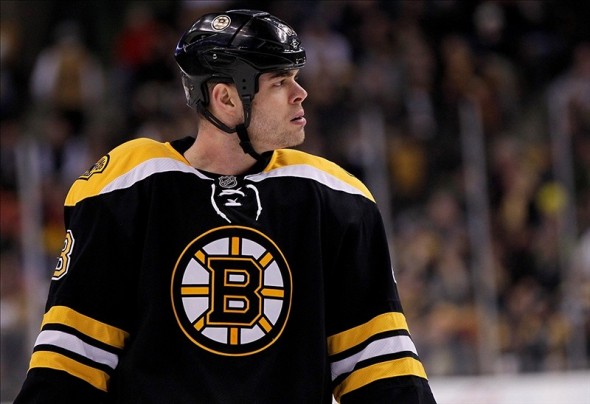 The best player available in the free agent market this year, Horton's value may increase if he wins a Stanley Cup.
A prototypical power forward, with size and offensive skill and just enough of an edge will make Horton a hot commodity.
His injury history may be a concern to some, but not enough to prevent him from landing a big deal.
Potential Suitors: Montreal, Edmonton, Columbus, San Jose, New York Rangers
2. Valtteri Filppula, C/W
With the long term re-signing of Pavel Datsyuk, there may not be room for Filppula. The Wings loss is someone else's gain as he is a valuable top six forward with skill. He is also versatile and play wing or centre.
He had cap hit of 3 million with Detroit and that number should increase for his new club in 2013-14.
Potential Suitors: Buffalo, Florida, Ottawa, Calgary, Columbus, New York Rangers
3. David Clarkson, RW
A rare combination of size, grit, toughness, character and scoring ability, Clarkson will have a number of suitors this offseason.
A 30 goal scorer who averages over 100 penalty minutes is not a common player on most teams.
Just as apt to score a goal in the blue paint as he is to drop the gloves, Clarkson is set to cash in this July.
Potential Suitors: Montreal, Nashville, St. Louis, Edmonton, Toronto
4. Mike Ribeiro, C
A top two offensive centre, there has been talk that the Capitals had wanted to re-sign Ribeiro, but with the salary cap going down, it just might not be in the budget.
A playmaker with slick hands, Ribeiro could add instant offence to a team in need. He averages close to a point per game and can be lethal on the power play.
Potential Suitors: Washington, Buffalo, Anaheim, Florida, Toronto, Columbus
5. Stephen Weiss, C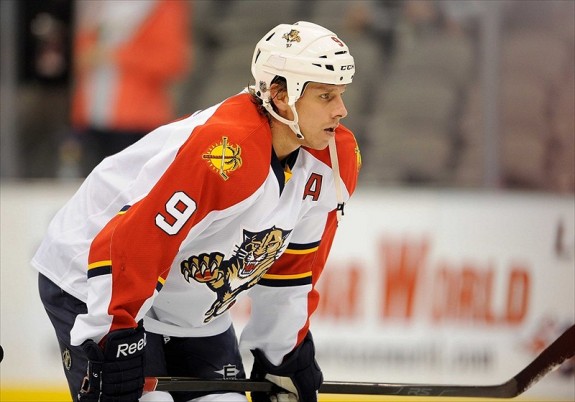 Rumours have been swirling that his rights could be traded this month, in a situation similar to Mark Streit and the Philadelphia Flyers. Until that happens the Panthers will have to decide whether they can afford to re-sign him or allow him to walk to free agency.
A good second line centre, Weiss will command a lot of interest. There is no shortage of teams that need a solid #2 option that can provide offence and is reliable in all three zones.
Potential Suitors: Florida, Toronto, Vancouver, Calgary, St. Louis
6. Mike Smith, G
The top goaltender available this summer, if Smith decides not to stay in Phoenix, he could command big money this offseason.
Most of the goaltender talk has been in the trade market and where names like Roberto Luongo, Ryan Miller and Jonathan Bernier will go.
A bonafide No.1 netminder in his own right, Smith won't be just someone's consolation prize this summer.
Potential Suitors: Phoenix, Edmonton, Calgary, Philadelphia
7. Patrik Elias, LW
At 37 years old, Elias will still be in high demand if he hits the open market. The Devils will do everything they can to get him signed, and it would be odd to see him in any other jersey.
He was arguably the Devils best player over the last couple of seasons and would have at least a few good years left. Especially with a contending team, he could be a final missing piece.
Potential Suitors: New Jersey, New York Rangers, Detroit, St. Louis, Ottawa
8. Pascal Dupuis, LW
Scored the most goals of any free agent-to-be, and odds are he'll re-sign in Pittsburgh. Most feel he'll take a hometown discount to continue riding shotgun with Sidney Crosby.
Should that not happen there will be many teams interested in the services of the speedy 34 year old.
Potential Suitors: Pittsburgh, Ottawa, Dallas, New York Rangers
9. Jarome Iginla, RW
One of the top goal scorers and leaders of all time, there will be a number of teams banking on the fact that the 35 year old has some left in the tank.
It will be interesting to see where Iginla signs and for how much, and if he'll take a considerable pay cut to stay somewhere like Pittsburgh for a chance to win again next year.
Potential Suitors: Pittsburgh, Dallas, Vancouver, Los Angeles
10. Bryan Bickell, LW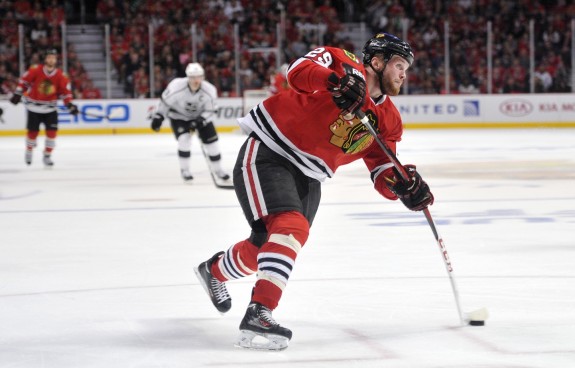 Due a big raise from the $600,000 he's making now, Bickell will be much sought after if he hits the open market. He has made it clear he wants to stay in Chicago, but he'd likely have to take a hometown discount to do so as the Hawks will be up against the cap again.
Having a coming out party this playoffs, he's been playing on the top line with Toews and Kane and hasn't looked out of place. A big body who can skate with decent hands and a good shot. He may be the emerging power forward many teams are looking for.
Potential Suitors: Chicago, Montreal, Edmonton, Vancouver
11. Derek Roy, C
Undersized but brings speed and offence, Roy is expected to head to market following his rental in Vancouver.
Similar to Weiss, could be an option for a team looking for a good #2 centre and provide valuable secondary scoring. Roy also brings energy and grit and can be versatile within a lineup.
Potential Suitors: Toronto, New Jersey, St. Louis, Ottawa, Calgary, Columbus
12. Daniel Briere, C
The Flyers just announced this week that Briere will be bought out by the team and will be a free agent come July 5. Briere might not be the 6.5 million dollar player the Flyers signed, but he still has plenty of value.
Even with diminished production, Briere can be a valuable top six forward for someone and contribute secondary scoring and be a power play presence.
Potential Suitors: Toronto, Phoenix, Florida, New York Islanders, Buffalo, St. Louis
13. Niklas Backstrom, G
Another player who may or may not hit the market, there is a chance he re-signs in Minnesota and there's also a chance he becomes a free agent.
At 35 years old and coming off injury, Backstrom certainly isn't the goaltender he used to be, but he is certainly still an upgrade for many teams.
Potential Suitors: Minnesota, New York Islanders, Phoenix, Calgary
14. Ron Hainsey, D
One of the few top four defencemen available in free agency, it appears as though Hainsey will not be staying in Winnipeg.
At 4.5 million he previously commanded significant money, but he logs over 20 minutes per night, is an excellent penalty killer and makes a good first pass out of the zone.
Potential Suitors: Winnipeg, Colorado, Edmonton, Detroit
15. Damien Brunner, RW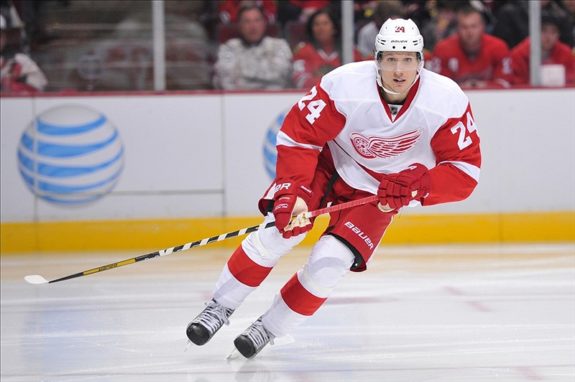 Made a considerable impact in his first season in North America, Brunner fit in seamlessly in Detroit and was a valuable contributor in the top six and showed he can play with elite level talent.
Detroit will look to re-sign him, but Brunner won't have to worry about going back to Europe not getting an offer as he will have a number of teams try and acquire him as he can inject offence and be a factor on the power play.
Potential Suitors: Detroit, New York Rangers, Vancouver, Buffalo
HONOURABLE MENTION: Rob Scuderi D, Tyler Bozak C, Matt Cullen C, Ryan Clowe LW, Brendan Morrow RW, Michael Ryder RW, Mason Raymond RW. 
_______________________________________
   Follow Carl on twitter @maloney3383 and Google+ for more articles.  
Carl covers the Edmonton Oilers for THW as well as providing additional prospect coverage. Follow him on twitter @carlTHW, connect on Facebook or contact at carl.maloney@hotmail.com for questions, comments or if you're interested in him writing for you.