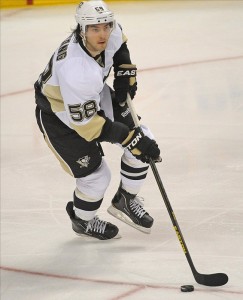 The Pittsburgh Penguins have added puck-moving defensemen to their roster regularly for the past two plus seasons. These puck-moving specialists include: Zbynek Michalek, Alex Goligoski, and Jordan Leopold. There has been a continued effort to bring in the same type of defenseman year after year. We have seen defensemen with this type of skill set come and go while the Pens have displayed little playoff success.
This isn't to say the Pens don't need blue-liners who can move the puck. Guys like Kris Letang and Paul Martin, who are great at making tape-to-tape passes, are necessities for every NHL team. These types of players are needed to generate offense and smoothly breakout of the defensive end.
The Pens have a surplus of defensemen who are considered to be great puck movers at the NHL and AHL levels. What the Pens lack is a pair of defenseman who they can depend upon to keep the puck out of their own net when things aren't running fluidly at the offensive end. When the Pens last contended for a Stanley Cup, Head Coach Dan Bylsma could throw out Rob Scuderi and Hal Gill to shutdown guys like Alex Ovechkin or Pavel Datsyuk.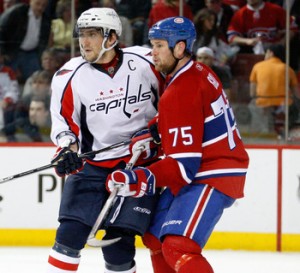 Wednesday night, an array of penalties saw the Pens out of sink and unable to shut down guys like James van Riemsdyk and Mikhail Grabovski. The Pens are going to have nights like they had against the Toronto Maple Leafs. They won't be able to dominate puck possession every game.
"It was a 50/50 game," said Coach Bylsma. "There wasn't enough execution with the puck and managing of the puck to play where we needed to play."
The Pens need to learn how to consistently win low scoring contests if they cannot possess the puck for the majority of the game. They need to do so by playing sound defensively and in position at the defensive end. Defense should undoubtedly be the biggest concern for the Penguins.
THW"s Mike Colligan wrote a great piece highlighting Brooks Orpik, Paul Martin, and what the Pens coaching staff wants from their defensemen. Bylsma and his staff constantly stress stretch passes to get the puck moving north into an opponent's defensive zone.
With this being a focal point of the coaching staff, Colligan stated, "It's also why I don't think Hal Gill will ever make a return to Pittsburgh." This statement is difficult to argue looking at the defensemen the Pens' have signed, traded for, or added to their roster over the past two or three seasons. These defensemen have great puck-moving abilities and Gill is not seen as a player who moves the puck well.
As much as the Pens want to possess the puck and do possess the puck, they won't always have puck possession as we saw in their game against the Maple Leafs. When this happens, they need a pair of defensemen who are going to shutdown an opponent's top scoring unit.
Their philosophy seems to be focused completely on generating offense at both ends of the rink. There will come a time when the Pens will need to buckle down and play well-positioned defense. Against the Leafs, and over the past few seasons, there has been no defensive pairing who has settled into the shutdown role.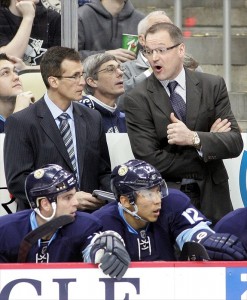 "You can look at the goal in the third period," said Bylsma. "It's D-zone coverage. It's a battle situation. The time and space they had below the top of the circle. The guys were wide open in the back door area and it's tough for our goaltender to handle."
With these defensive zone struggles occurring often, the Penguins seem to remain firm in their philosophy. This off-season they were heavily pursuing Zack Parise and Ryan Suter. Neither one of these players was ever considered an in-your-face or hard-nosed player who plays shutdown defense. These two players are uniquely talented, but they aren't what the Pens need to succeed.
Hopefully, in the near future, the Penguins will pursue a few shutdown defensemen who don't score goals but prevent goals. They need to tweak their philosophy a bit and take a more defensive stance if they want to succeed in the post-season.
The recipe for a Stanley Cup ring is out there. Shot-blocking and shutdown defense are boring but have proven to win Stanley Cups. The Penguins' obsession with puck-moving defensemen is worrisome considering their past playoff disappointments. The playoffs are gritty, tough, and every inch of ice is fought for by each team.
If the Penguins' front office would consider bringing in a defenseman who has the qualities of a guy like Hal Gill, this could make a huge difference especially come playoff time. It is no secret that Gill is not the greatest puck mover but he has shown his value by keeping pucks out of his own team's net. This might be the missing piece that the Pens need to win a Cup.
Justin Glock has covered the Pittsburgh Penguins for The Hockey Writers since 2011. As a lead writer, his Penguins knowledge traces back over two decades. For any requests, please feel free to contact Justin via email: JGlock10@gmail.com.