We are quite excited to tell you about a new partnership with DraftKings.com If you like Fantasy hockey – you're going to love these guys.
Overview: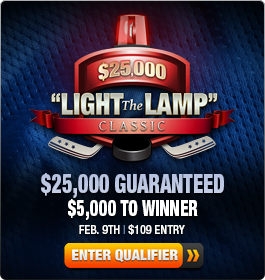 DraftKings started in April 2012 and quickly established itself as a leader in the daily fantasy industry.  The website, launched by former VistaPrint executives, established itself as a force to be reckoned with by offering extraordinarily aggressive promotions with the biggest payouts on the web.  Canadian Sam Greenwood took down the biggest one-day event in fantasy history with a single entry into the DraftKings Main Event on December 23rd.  He walked away with a cool $100,000. DraftKings is continuing to rollout great prizes for hockey with their $25,000 Light the Lamp tournament on February 9th. You can qualify now for the Light the Lamp Tournament for only $12.00.
So What is Daily Fantasy?
Playing daily fantasy on DraftKings is similar to season-long fantasy in that you accumulate points based on how the players you draft perform in real life.  There are, however, a number of key differences.  Daily fantasy allows you to draft a new team every time you wish to play.  For example, when drafting an NHL team, the players could be completely different when you play tonight versus next Friday.  Each player has a cost value, and your goal is to draft the best fantasy team possible while staying under the universal $50,000 cap. Once the games start, DraftKings has easy-to-follow live scoring so you can easily follow your players, watch your team accrue points, and see where you land by contests' end. If you win, you're paid out—it's that simple.
Games Offered:
For the NHL season, DraftKings will offer a variety of games that will cater to any specific fantasy craving.
GPPs (Guaranteed Prize Pools):  This is the type of contest that has made DraftKings notorious.  There will be huge GPPs—which means the prize pool is guaranteed no matter how many people enter—to celebrate the start of the NHL season.  DraftKings has a huge GPP scheduled for Feb. 9th, which you can qualify for now.

Sit-N-Gos:  A staple of the poker industry, sit-n-gos are smaller contests that run only if they are filled.  These include a variety of heads-up contests, or contests where you can compete against a smaller field for a better chance at payouts.  High roller sit-n-gos can garner entry fees for as much as $530, while smaller games can be $1 heads-up, with everything available in-between.

Double-Ups:  Double-ups are excellent for users looking to double their entry fee without a ton of risk.  In these contests, half the field doubles their entry, while half walks away with nothing.  Double-ups are some of the most popular contests on the site, and we recommend beginners try these out to get acclimated.

Steps:  For the best and most detailed explanation of Steps Tournaments we direct you to DraftKings' excellent landing page

, but in short Steps Tournaments allow you to enter for a tiny fee with the opportunity to move up and cash out with up to $1,000.  Winning on the lower steps gains an entry to a higher step, and as you move up you can win more money.  NHL Steps is live now.

Single Entry vs. Multi Entry:  There are advantages and disadvantages to both single entry and multi entry contests, and DraftKings offers an assortment of both.  Single entry contests can be better for those just starting out. Check out the $5 Single Entry game now.
Features:
The DraftKings developmental team obviously spends a lot of time listening to customers, as their site is loaded with features. Let's start with the Lobby, which is easy to navigate with its clean feel and readily available filters.  If you're looking for only Double-Ups, you can simply select that filter or any other contest type.  You can also browse by sport, contest size, and entry fee. 
There are also helpful tabs across the top of the lobby that make the overall experience a pleasant one.  The Help tab answers any questions you have about game play, payouts, rules, or legality.  The My Account tab allows you to track everything from your deposit history, to the status of your deposit bonus, to your editable personal information.  The real prize is the My Contests tab, which helps you monitor your contests live in the Gamecenter.
Gamecenter:
DraftKings newest feature, their Gamecenter, is an industry game-changer.  For a very detailed look at all the bells and whistles check out the DraftKings blog.  You can easily track how your players are doing, and compare your team to your opponents in just a click.  The Gamecenter allows users to make DraftKings their only stop when monitoring how their team is doing.
Conclusion:
Overall, DraftKings is a uniquely enjoyable experience.  It's a site that is growing at an incredible rate, allowing them to expand the size of their prize pools and the number of features on the site.  Hockey fans who don't want the grind of playing fantasy in a season-long league need to give this a shot.
You can play right now for only $1!  
Simply a hockey writer who is a jack of all trades. No question is too big or too small and in fantasy hockey there is no such thing as a stupid question. Now a proud, accredited member of the FSWA. I am also a New Jersey Devils lead writer, prospects writer, humorist, and so much more. You can find me on Twitter at @ChrisWasselDFS