When it comes to talented youth playing in the NHL one word comes to mind: plentiful. Every team in the league seems to have a budding superstar who is on the verge of becoming a household name despite barely being old enough to have a beer at the local bar.
Nowhere is this more prevalent than at the defensive position. What use to be a slow and methodical process of bringing defensive prospects along has suddenly evolved into the exact opposite. Defensemen who are still in their teens are finding their way onto the ice and excelling.
Below is a list of the top five defensemen under the age of 25. I based my judgments not only on their recent body of work but on their potential and the skill set that they have to offer. Rookies were not in the running (sorry Dougie Hamilton) and neither were those who are currently 25 (sorry to you too Kris Letang).
1. Alex Pietrangelo
Age: 23
Current Team: St. Louis Blues
2011-2012 Stats
51 Points     12 Goals      39 Assists    +16    24:43 TOI/G
It shouldn't come as a shock to anyone that Pietrangelo sits atop of the list. Not only did he tally 51 points (12 Goals, 39 Assists) this past season which was good enough for 5th amongst defensemen, but he anchored a Blues defense that led the league in goals against per game (1.89) and shots against per game (26.7).
The best thing about Pietrangelo is that he doesn't have a glaring weakness. He has good mobility for his size (6'3", 205 pounds), is excellent at springing the attack, can body up with the best of them and quarterbacks the PP like a veteran (26 PP points in 2011-2012).
It might be cliché to say but the sky's the limit for him. He just turned 23 on January 18th and is already considered one of the top 10 defensemen in the NHL. If he can continue to flourish under Hitchcock's system he'll battle the second defensemen on this list for the Norris Trophy for the next decade or so.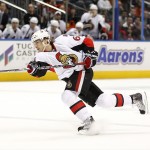 2. Erik Karlsson
Age: 22
Current Team: Ottawa Senators
2011-2012 Stats
78 Points     19 Goals      59 Assists    +16    25:19 TOI/G
When it comes to the offensive side of the puck Karlsson is head and shoulders above everyone else on this list. His 78 points this past season were 25 more than the next highest scoring defensemen and the 3rd most by a blue liner in the past fourteen seasons. It also won him the Norris Trophy.
The only thing holding him back from claiming the top spot is his inability to do the one thing that his position is named after, defend. Okay, that's going a little overboard but let's be realistic; it's hard to make an argument that he should be considered the best young defensemen when he played a whopping 45 of his 2,050 minutes of ice time on the PK. Something is obviously wrong if his own coach is unwilling to put him on the ice for the tough defensive minutes.
The good news is that the crux of Karlsson's defensive problems, his positioning and coverage, are things that can be corrected over time. If he can evolve into a halfway decent defender then there is no telling what this Swedes ceiling might be.
3. Drew Doughty
Age: 23
Current Team: LA Kings
2011-2012 Stats 
36 Points     10 Goals      26 Assists    -2     24:53 TOI/G
Drew Doughty is a curious case. While first making this list he was nowhere near my top 5. Not because of his abnormally poor 2011-2012 season, I just couldn't believe that he was still just 23 years old.
Unlike everyone else on this list Doughty made the jump to the NHL when he was just 18 and already has four full seasons under his belt. That experience has worked for and against Doughty when it comes to this list.
It's benefited him because we know what he is capable of. His 2009-2010 seasons where he tallied 59 points (16 goals, 43 assists) was nothing short of phenomenal for a 19-20 year old kid. Ever since he was drafted he was considered to be a cant miss prospect, but no one expected that production at such a young age.
That experience has hurt him because we have seen how low he can go. If it weren't for the 2011-2012 playoffs, where he managed 16 points in 20 games, there would have been a lot of questions regarding the massive $56 million contract he received that past September. That regular season he looked nothing like the smooth skating, offensive dynamo the Kings had witnessed a few years prior.
Chances are that he'll return to his 2009-2010 self at some point in the near future but it's that ever present fear of inconsistency that puts him outside the top two spots for right now.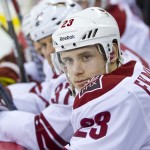 4. Oliver Ekman-Larsson
Age: 21
Current Team: Phoenix Coyotes
2011-2012 Stats  
32 Points     13 Goals      19 Assists    +0     22:06 TOI/G
It seems wrong to put Ekman-Larsson at number four on this list considering his incredible rise to prominence. After a decent rookie season in 2010-2011 he took a giant leap forward in 2011-2012, tallying 13 goals (5th amongst defensemen in the NHL) on just 147 shots.
The thing about Ekman-Larsson is that most of his value doesn't necessarily translate into the stat column. He excels at the most basic elements of the game, like positioning and decision making which happens to be something that young defensemen struggle with. That may not sound like much but it's a lost art form that another Swedish defenseman, Nicklas Lidstrom, made a hall of fame career out of.
When everything is said and done it's possible that Ekman-Larsson emerges as the best defensemen from this talented bunch. If that is the case he will do it with intelligence and one heck of a skating stride for a 6'2" defenseman.
5. Kevin Shattenkirk
Age: 23
Current Team: St. Louis Blues
2011-2012 Stats
43 Points     9 Goals       34 Assists    +20    21:36 TOI/G
Who knew that Shattenkirk would be the trophy player from a trade that involved a former first overall selection in Erik Johnson and a forward who tallied 28 goals in his second NHL season in Chris Stewart? Colorado definitely didn't.
It's easy for Shattenkirk to get caught in Pietrangelo's shadow but when it comes to the offensive side of the puck he is neck and neck with his Blues teammate. Since the start of the 2010-2011 season Shattenkirk has accrued 86 points in 153 games. Pietrangelo has amassed 94 points in 177 games. That means Shattenkirk has averaged .56 points per game over that span while Pietrangelo has averaged .53.
Where Shattenkirk slightly falls behind Pietrangelo is in the defensive department. He is slightly undersized for a defenseman at 5'11" which will always be a disadvantage. Luckily for him he has an abundance of hockey intelligence that should further his defensive capabilities and push him towards possible Norris selections.
Honorable Mention: P.K. Subban, Michael Del Zotto, Tyler Myers, John Carlson, Ryan McDonagh and Nick Leddy.
Adam is based out of White Bear Lake, MN and covers the Minnesota Wild for THW.