Few players had as busy a season as Montreal Canadians prospect Owen Beck. In the month of January alone, he played for Team Canada at the World Juniors, made his NHL debut and was traded in the Ontario Hockey League (OHL) to his hometown Peterborough Petes. Now at the Memorial Cup, he is ready to end what has been a busy year with a championship.
Making His NHL Debut
To say Beck's NHL debut was memorable is an understatement. While most usually play their first game either at the beginning or end of the season, the Canadians prospect jumped into the lineup on Jan. 28, 2023, against the Ottawa Senators after being an emergency call-up.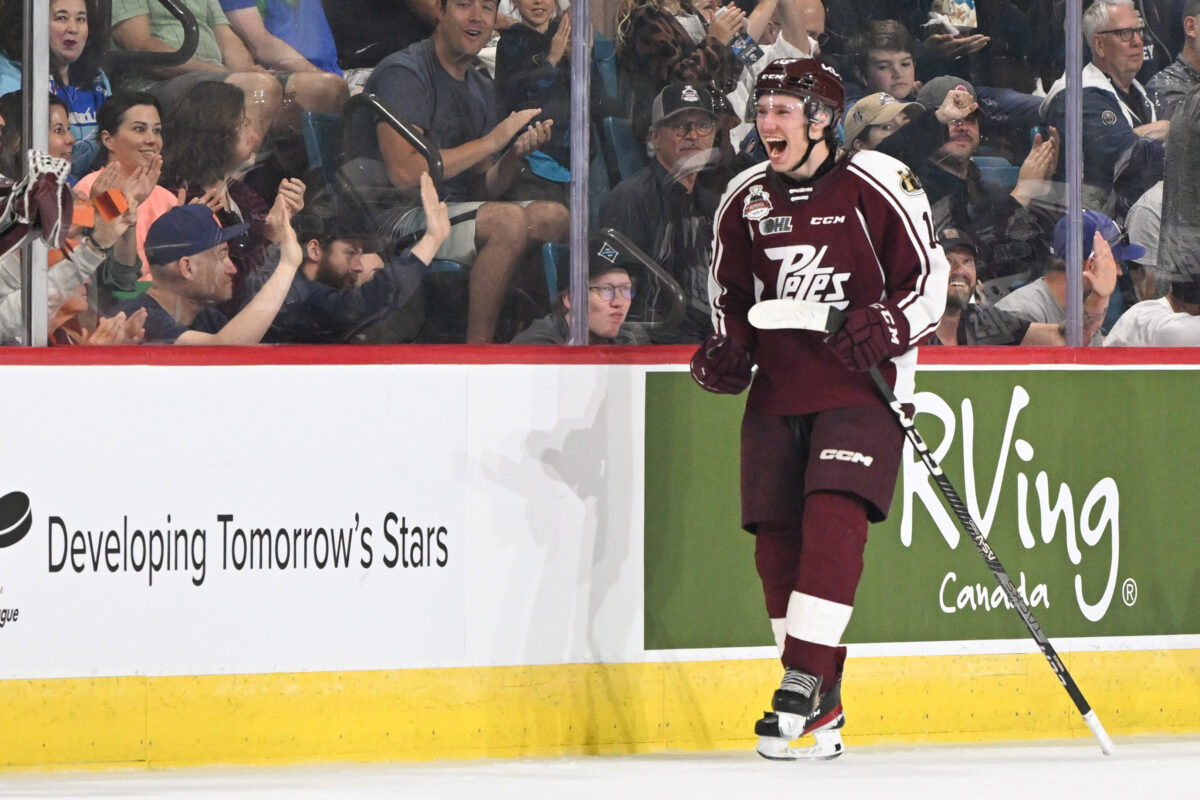 "Everything happens at a faster pace at the next level," said Beck. "Continuing to make quick decisions and quick reads and bring that back to Junior has helped slow the game down and helped my play offensively as well as on defence."
Related: Canadiens Prospect Beck a Cut Above Wright 
Beck played just under 10 minutes in his debut on Montreal's fourth line alongside Christian Dvorak and Jesse Ylonen. He also saw nine seconds of power-play time in the 5-0 loss to the Senators. While the end result may not have been what he had hoped for, the experience not only helped him throughout the season but it will play a role in his future development.
Representing Canada at the World Juniors
After being a late cut at Team Canada selection camp prior to the World Juniors, Beck was added to the roster late in the tournament. His opportunity came when Colton Dach suffered an injury that knocked him out of the tournament. While he was disappointed he didn't make the team from the start, he jumped at the opportunity to represent his county on home soil.
"I was extremely excited. Obviously was disappointed I didn't crack to roster initially, but when I got the call to go up there and help the team with Dach going down with an injury, I was more than happy to fill in that role and do what I could to help the team."
Beck played in three games during the tournament, including the final. While he didn't play a ton during the tournament, he left with a gold medal, which is all that matters. Looking back, it is a special memory he would remember for a long time.
"It is an extreme honour. It is something I grew up watching as a kid, seeing Canada win a lot of gold medals in the World Juniors. Being there, especially on home ice, was pretty crazy and an unreal experience."
Related: WJC 2023 Report: Beck Logical Replacement for Injured Dach
---
Latest News & Highlights
---
With the win, he became just the sixth Mississauga Steelheads player ever to win gold, joining teammate Ethan Del Mastro and Michael McLeod on the exclusive list. He also joined a long list of players Montreal has drafted that have won the tournament, including Carey Price, Cole Caufield and P.K. Subban. The win was also a good distraction, as he was on the move in the OHL just days later.
Life As a Pete
On Jan. 7, 2023, Beck was traded to his hometown team for two players and four draft picks. The Petes were loading up for a playoff run, having acquired his World Junior teammate Brennan Othmann a few months prior. While being traded is never easy, he was excited for the chance to play close to home.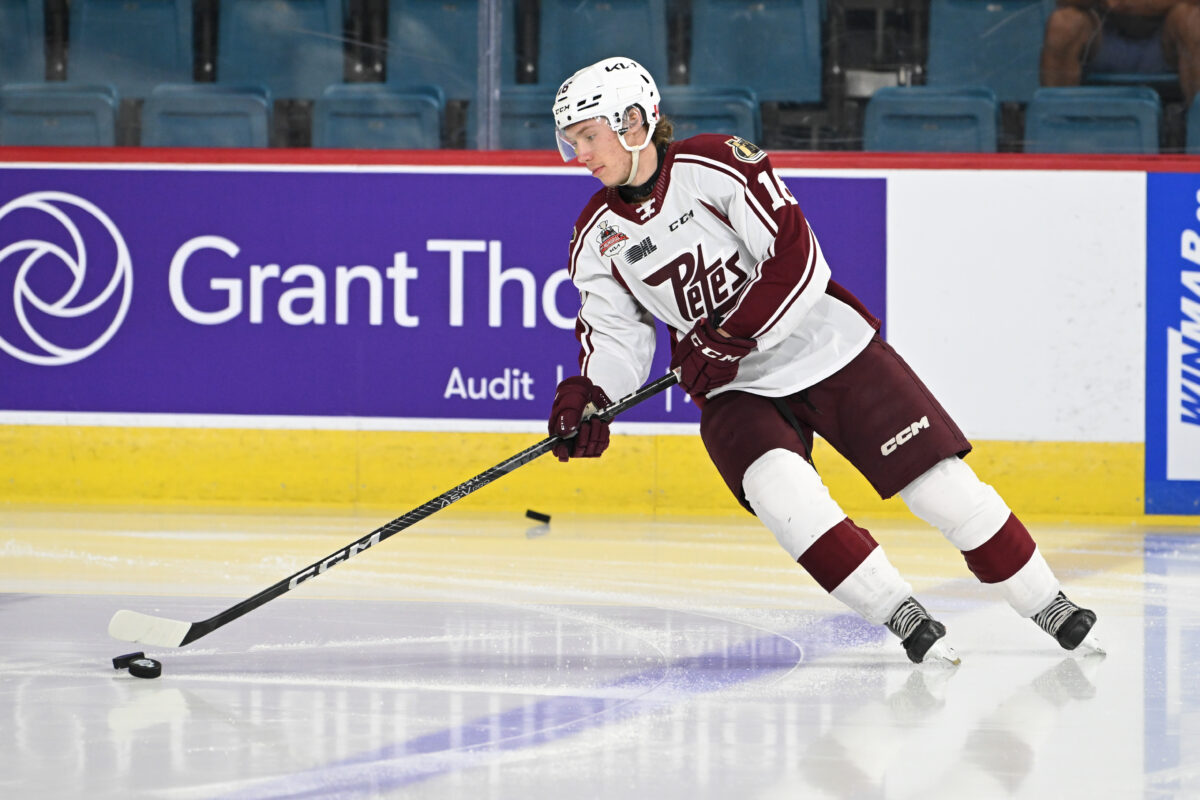 "We weren't sure what was going to happen at the deadline with Missasauga, but as we got closer and closer, I got a bit of an idea. When I found out I was going to my hometown team in Peterborough, I was pretty excited. I knew they had a good roster, and I could do a lot to help them get to where we are, and things seemed to have worked out from there based on where we are right now."
While the Petes had a good team, they finished 10th overall in the OHL standings and were not expected to make it past the second round. No one told them that as they kept winning and soon found themselves in the OHL Final. There, Beck and his teammates took down the powerhouse London Knights to book their spot in the Memorial Cup.
"It was extremely exciting. We were underdogs going into the playoffs, and we had a really strong run. We were super excited to have an opportunity in the Final. We knew London had a good team, and we were somewhat short bodies, but we pulled it together and were able to get that win. It was an experience not many knew how to process as it was so raw and in the moment, but everyone was so excited we accomplished that after all we went through in the regular season and postseason and along the difficult path we took to the Final."
Related: Canadiens' Owen Beck Takes Advantage of His Opportunities
At the end of the playoffs, Beck finished with eight goals and 16 points through 22 games. Where he really shined was in the faceoff dot, where he won 64.9 percent of his 419 faceoffs, which was an increase from the 58.6 percent win percentage he posted during the regular season. He and his teammates fought tooth and nail throughout the postseason and showed not just the OHL but the Canadian Hockey League (CHL) that they were a force heading into the Memorial Cup tournament.
Making An Impression at the Memorial Cup
It took Beck one game to make a lasting impression on the tournament as during the Petes' first game against the Seattle Thunderbirds, he went end to end, scoring one of, if not the best, goal of the tournament. At the time, it was also a big goal for the team as it put Peterborough up 2-1 near the end of the second period. While they later fell to Seattle, it was a special moment from the tournament and one that had social media buzzing.
"It was pretty cool. You come in here obviously trying to do whatever you can to win, so to score a goal on the biggest stage of junior hockey within the CHL is pretty exciting. Don't turn it over that close to our net. I knew I had a guy on my back, and I had to get around a couple of guys in our own zone to get some open ice. I was looking for options if I needed it, but I was just trying to use my speed to create some space for myself up the ice."
Another special moment would come in their round-robin win against the Québec Remparts to keep them alive in the tournament. The win meant they would play the Kamloops Blazers in the tie-breaker, but more importantly, play at least one more game as a group. As Beck explained, the win meant a lot to the group and showed that they can compete with anyone.
"It meant a lot. We were having a bit of a tough time to start the tournament, but when we needed to, we pulled it together and played our game finally, and it worked out for us. We knew we had to be really opportunistic and bear down on our chances, and that is what we did."
Related: Canadiens Need Owen Beck Right Now 
While the Petes defeated the Blazers in the tie-breaker, their season came to a close in the semi-finals against Seattle. In what was possibly his final CHL game, he recorded a primary assist on the only goal Peterbourgh scored while recording two shots on the net. While he only recorded one point, he was impressive throughout the game, showing that he is ready to make the jump to the NHL next season.
A Whirlwind Season Comes to a Close
Beck created plenty of memories during the 2022-23 season. In total, he played in 91 games with four different teams and was part of two championship teams. He is an exciting prospect that knows what it takes to win, and fans in Montreal should be excited to watch him play for their historic franchise in the future.
---
---