The Edmonton Oilers made their first trade of their offseason by acquiring prospect Jayden Grubbe from the New York Rangers in exchange for a fifth-round draft pick in the 2023 NHL Entry Draft. With a few more moves expected to be made between now and the start of next season, this one came as a bit of a surprise to fans.
Related: Oilers: 3 Potential Free Agent Destinations For Nick Bjugstad
The Oilers also signed Grubbe to a three-year, entry-level contract shortly after the deal was announced. They seem to have faith in him, so bringing him in and getting him locked up was key for the team. Hopefully, some time with the Bakersfield Condors will have him ready to produce at the NHL level.
The deal literally came out of nowhere, and while fans have been waiting for some sort of Oilers' news, this wasn't at all what they expected. The Oilers must see something that the Rangers didn't if they're willing to give up on him that easily.
Who Is Jayden Grubbe?
Grubbe is a 20-year-old center from Calgary, Alberta, Canada currently under contract with the Oilers, and most recently having played with the Red Deer Rebels of the Western Hockey League (WHL). He has been the captain of the Rebels for the past three seasons, most recently having over a point per game through 64 games this past season, scoring 18 goals and adding 49 assists for 67 points.
Grubbe played in Calgary for his youth hockey career, being named captain of the Calgary Bisons U15 AAA team where he put up 29 goals and 37 assists for 66 points through 35 games during the 2017-18 season. He played for the Calgary Buffaloes U18 AAA team during the 2018-19 season where he scored four goals and added 22 assists for 26 points, making the Rebels roster the season after.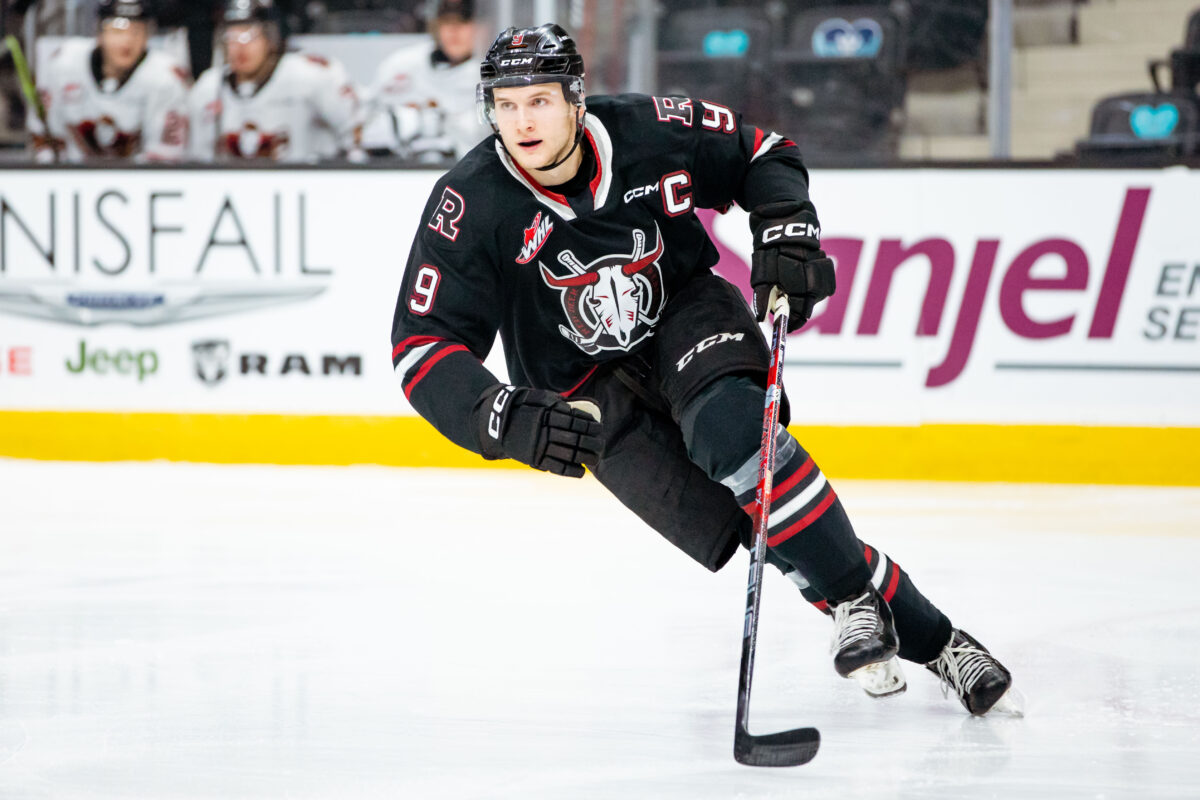 He is best known as a playmaker, and it showed in his stats during his time with the Rebels. Over four seasons he played 194 games, scoring 39 goals and adding 95 assists for 134 points, which comes out to a 0.69 points-per-game average. He gained a reputation as a two-way player that plays a sound game at both ends of the ice while producing a solid number of points. He is a leader on and off the ice, which is the type of person every team looks for.
"A reliable defensive player who excels in boxing out attackers and inhibiting cycle plays."

– DobberProspects (Jayden Grubbe Scouting Report – 2021)
What Does Grubbe's Future in Edmonton Look Like?
While Grubbe isn't expected to crack the Oilers' roster right out of camp this season, he has a good future set up for him with the Condors in the American Hockey League (AHL) and I would expect him to play a top-nine role right out of the gate. His defensive game will earn him more ice time when he gets his first taste of AHL hockey and he will quickly earn a reputation as a smart player who plays the game the right way.
---
Latest News & Highlights
---
The Oilers' stacked prospect pool only strengthened as they brought in Grubbe. He joins a strong group of names already in the Oilers' system including Raphael Lavoie, Xavier Bourgault, and Noah Philp. He will be a fun player to watch grow as he gets used to the professional level, and there are high hopes for his potential. I would compare Grubbe to Patrice Bergeron in the sense that they both play a defensive-first game and lead by example in a team-first manner.

I would guess Grubbe is at least two seasons away from having a chance to crack the Oilers' roster. Hopefully, they have a plan for him and they don't rush him into moving up the ranks and into an NHL position. He is a promising prospect with tons of upside, so there is reason for excitement.