In this edition of  Montreal Canadiens news and rumors, general manager Kent Hughes doesn't plan on trading Josh Anderson at the deadline, Cole Caufield has begun his recovery following shoulder surgery, and Carey Price will visit with players at the Quebec International Pee-Wee Tournament.
Plus, Nick Suzuki impresses at his second NHL All-Star Game and an insider links Jesse Puljujärvi to the Habs.
Hughes Doesn't Want to Move Anderson
In a recent edition of TSN Insider Trading, Darren Dreger said that while Anderson remains a hot commodity on the trade market, Hughes doesn't intend to move his power forward before the deadline unless a team presents him with an offer he has no choice but to consider.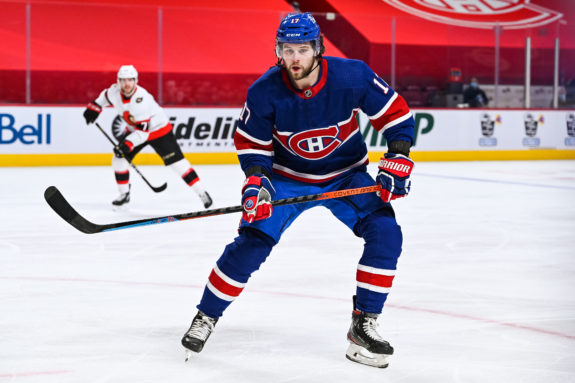 This is the same refrain that has been repeated multiple times over the past year since it became known that the Canadiens' GM fields a lot of calls from his colleagues inquiring about Anderson's availability. Montreal likes his team-friendly contract along with everything he brings to a roster during a rebuild. Hughes will likely receive a trade proposal he can't turn down at some point, but it probably won't be before Mar. 3.
Meanwhile, Habs' brass still doesn't know if they will be able to move Sean Monahan or Joel Edmundson ahead of this year's trade deadline. Both players are currently injured, and their status remains unclear. This creates quite a headache for Hughes and company as they attempt to add more future assets to the fold.
Caufield Has Surgery
Caufield reassured fans on Wednesday after undergoing season-ending shoulder surgery by posting a photo from his hospital bed indicating that he'll be back soon. All indications are that the procedure was a success and the Canadiens are expected to announce a timeline for his return to full health. He should be ready for training camp in September.
Related: Caufield Injury Spells Disaster for Canadiens and Fans to End 2022-23
---
Latest News & Highlights
---
The 22-year-old left the Habs as the team's leading scorer with 26 goals and was on pace for a 40-goal season. All the attention now turns to his next contract and the negotiations that will continue over the next weeks and months.
Price to Visit Quebec Pee-Wee Tournament
Players competing in this year's Quebec International Pee-Wee Tournament will be in for a treat as Price will be signing autographs at Centre Vidéotron on Feb. 18 as part of the festivities surrounding the 63rd edition of the event.
The Canadiens' netminder will be present alongside Hall of Famer Denis Savard. Chris Chelios, Pierre Turgeon, Billy Smith, Charline Labonté, Caroline Ouellette, and Kim St. Pierre are also among the invitees.
Habs Interested in Puljujärvi?
As part of his trade deadline countdown, Frank Seravalli mentioned Montreal as a potential destination for Puljujärvi who has been on the block for some time as the Edmonton Oilers navigate some salary cap issues and look to give the struggling former first-round pick a fresh start.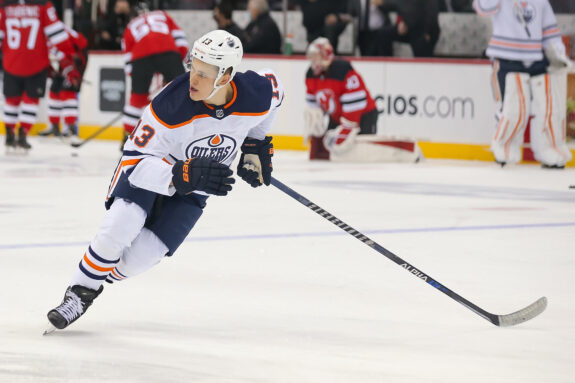 Seravalli believes that the Habs would be willing to take on the Finn's full $3 million salary this season for the right asset in return from Edmonton. He would be a good reclamation project for the Canadiens, exactly the low-risk, potentially high-reward move they are looking to make because there's not doubt that Puljujärvi has yet to hit his stride in the NHL so maybe Martin St. Louis and the Canadiens' revamped player development team can help unlock his potential just like they did with Kirby Dach.
Suzuki Shines During All-Star Weekend
It was a Florida weekend to remember for Suzuki during his second straight NHL All-Star Game appearance.
First, he won the inaugural Puck 'n Pitch event with an impressive birdie on the par-4 hole during the Skills Competition. During Saturday's 3-on-3 tournament, he scored a pair of goals, one assisted by Mitch Marner of the Toronto Maple Leafs and the other by David Pastarnak of the Boston Bruins. Who would have thought that the Original Six rivalry connection would be so strong? Suzuki and his Atlantic Division teammates were crowned All-Star Game champions for the first time with Matthew Tkachuk being named MVP.
Laval will host the AHL's All-Star Weekend on Feb. 5 and 6 at Place Bell. Anthony Richard and Alex Belzile will represent the Rocket in front of their home crowd.
What's Next for the Canadiens?
The Habs will return from their break this week before they host their traditional Super Bowl weekend matinee games on Saturday against Bo Horvat and the New York Islanders followed by a Sunday match-up against Connor McDavid and the Edmonton Oilers.
Off the ice, with less than four weeks to go before the trade deadline, Hughes will be busy on the phones trying to swing some deals to improve his team going forward and he'll be hoping for some good news out of the infirmary to make his job a little easier.