The '12 Days of Christmas' is a classic holiday song first published in its current form in 1908. In a nod to the classic carol, join The Hockey Writers as we count down the 12 Days of Hockeymas. Each day, we will provide you with a piece of hockey history as we eagerly await the start of the 2020-21 NHL season.
The Hockey Writers' Montreal Canadiens team is going to bring you all the 12 Days of Habsmas, today is Day 3 and this day is about "The Big Three" who anchored the Habs' defense corps during the franchise's dynasty years of the 1970s.
The Greatest Blue Line Trio in NHL History
Individually Guy Lapointe, Larry Robinson and Serge Savard were great players. Together, they were unstoppable. They were each incredibly skilled, fierce and the complete package. It was almost unfair that one team could have so much talent in their lineup, but that's how good the Canadiens were during that fruitful decade which included four Stanley Cup championships between 1976 and 1979.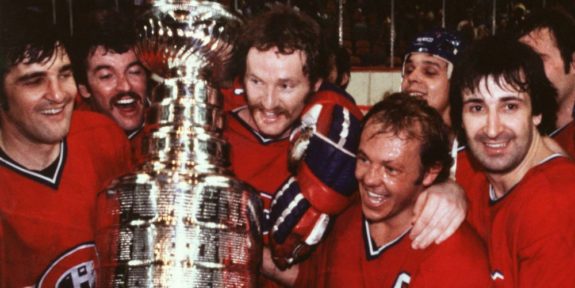 Recording 2,019 regular season points between them in their iconic careers to go with a combined 20 Stanley Cups, the three Hall-of-Famers still sit among the Top 5 in every major statistical category for Montreal defensemen. Savard's no. 18 was retired on November 18, 2006, Robinson's no. 19 on November 19, 2007, and Lapointe's no. 5 went to the rafters of the Bell Centre on November 8, 2014. Although it would have been even more appropriate if all three numbers were immortalized at the same time.
Related: Canadiens' 12 Days of Hockeymas: 4 Straight Cups in the 1970s
"My favorite memory is probably the last few minutes of every game. Larry, Serge and I were on the ice for the last three or four minutes of every game – one of us would be on the bench and the other two would be looking like, ok it's my turn to change, and the three of us would just trade with each other, Lapointe recalled. "When we would pull the goalie, the three of us were on the ice for the end all together. Serge would be there killing penalties with his big stick. I have great memories of those years together."
Serge Savard
Nicknamed "le Senateur" for his ability to read the play and control the game as well as the respect he commanded in the dressing room; Savard was the first of the Big Three to arrive in Montreal. He spent 14 of his 16 NHL seasons with the Canadiens and developed into a true leader.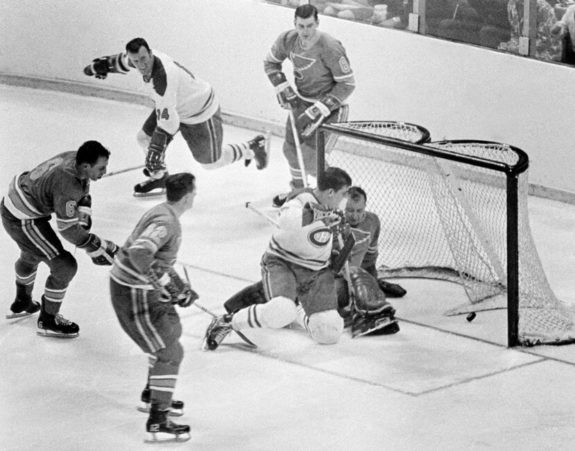 He was a dominant shutdown defenseman who had to change his style of play because of multiple serious injuries along the way. His offensive numbers may have been modest, but he was the player that Canadiens' head coach Scotty Bowman depended on when a game, playoff series, or the Stanley Cup was on the line.
"His hockey IQ was the reason he was so good," Bowman said. "He had very good vision. He played with the confidence to make the plays he made — it might look like a risky play, but he very seldom made a mistake."
Savard had his name engraved on the Stanley Cup eight times in 11 years and won the Conn Smythe Trophy in 1969. He was also awarded the Bill Masterton Trophy in 1979 and played in four NHL All-Star Games. He was the glue that held the Big Three together.
Larry Robinson
Robinson was a powerful presence on Montreal's backend. Known as "Big Bird", he was a tough, physical defenseman who also wasn't shy to put his offensive prowess on display.
Related: Canadiens 12 Days of Hockeymas: A Dynasty Is Born with 5 Straight Cups
"He was the rare player whose effect on a game was far greater than any statistical or concrete contribution he might make. When he came onto the ice, the attitude of the play seemed to change. Standing in back of him, I could feel it, I could see it change, growing more restrained, more respectful, as if it was waiting for him to see what he would do," Habs' goaltender Ken Dryden recalled of his former teammate. 
Robinson played 17 years with the Canadiens, winning the Norris Trophy twice as the league's best defenseman and the Stanley Cup on six occasions during that time. Robinson enjoyed his best season in 1976-77 when he scored 19 goals and 85 points to go along with an incredible plus-120 rating.
Guy Lapointe
Lapointe's jersey retirement ceremony in 2014 marked the reuniting of the Big Three in the rafters. Both Savard and Robinson gave speeches that night to honor their partner in crime.
Lapointe played the role of dynamic offensive force within the trio thanks to his speed, pinpoint passing, and powerful shot. As a result, he was one of the league's premier puck-moving defencemen during his 14 seasons with the Canadiens. He's also known for some of the famous pranks he played on his teammates.
"I had to check my shorts to make sure there was no hot stuff in them, I had to change my laces every morning because he cut my laces, one night, I go to drive off after practice and I turn my windshield wipers on and they were full of Vaseline, so I had to stop at the gas station to clean them off," Robinson described.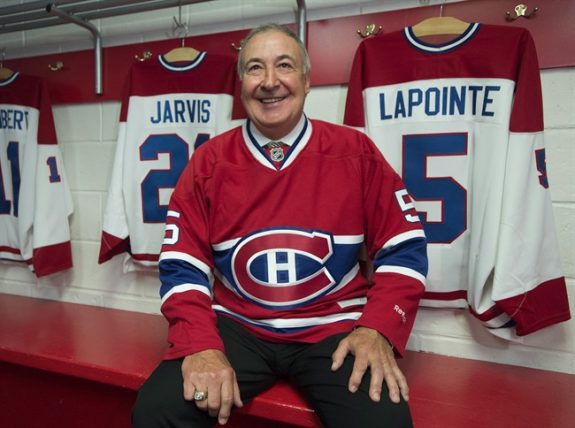 In 1970-71, he set a team record for goals by a rookie defenceman with 15 and his 29 markers in 1974-75 set the standard for goals in a season by a Habs' rearguard.
Earlier this month, one year after being diagnosed with oral cancer, Lapointe's son announced the great news that his father is now in remission.
The Big Three were the driving force behind arguably the greatest Canadiens' lineup ever assembled. They were as iconic as the legendary team they played on.