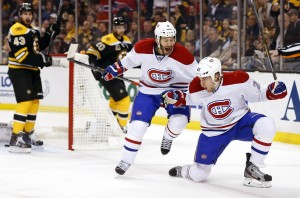 The Bruins' last win against the Montreal Canadiens came on Saturday, May 10 – Game 5 of the 2013-14 Eastern Conference Semifinals. Since then, the Canadiens have beaten the Bruins in six straight games.
Six.
On Sunday night, the Canadiens completed their regular season series sweep of the Bruins with a 3-1 win. It was Montreal's first regular season sweep of Boston since the 2007-08 season. It was also the first time in 70 years that they've done it in regulation.
Officially, this was the Bruins and Canadiens' last meeting of the regular season. This is a very good thing because if the Bruins play the Canadiens in the playoffs, it's over. Call it a sweep, if you must. The Bruins will not beat the Canadiens in the postseason. While the differences between the two teams are quite evident, it's curious as to why the Bruins are still unable to solve the Canadiens.
"You can't beat a team like that if you're not going to win your battles, which is what we should be good at," said Bruins coach Claude Julien. "When we kind of pushed our game on them in spurts, we were getting some success, but, you know, if you can't sustain it throughout the whole game then you're not going to get the results, and we got them in spurts tonight."
Things didn't start to go poorly for the Bruins until Dale Weise, left uncovered near Tuukka Rask's far post, tapped in the Canadiens first goal in the second period. From there, the Canadiens were off and running and the Bruins were left panting, struggling to keep up.
Though the Bruins outshot the Canadiens 35-34, the majority of the shots Carey Price faced were less than stellar. After a strong shift following Weise's goal, Zdeno Chara had a wide open lane and fired a shot directly into Price's chest with no deviation. The Bruins didn't test Price enough and the quality chances that the players in the black and gold sweaters had were blundered.
"I don't think we made Carey Price's night real hard," said Julien. "He didn't have to move much. He just stood there, stopped the shots, so those are areas that weren't good enough, and in order to beat this team that really gets up for us our best players have to be our best players and we didn't have that tonight."
The only goal that Price did allow was a leaky, lucky bounce that trickled in and shifted the momentum back to the Bruins for only a brief minute. But that was it. The Canadiens controlled the game for the fourth time this season, sixth time in the as many meetings.
"For the most part, it's that we are shooting ourselves in the foot," said Dennis Seidenberg. "A lot of little mistakes and they are very opportunistic once they get the chance they score and that's what happened today I guess to a certain extent and what happened in the past."
Rask, on the other hand, was a bright spot for the Bruins, keeping them in the game against a speedy Montreal team. Rask stopped 31 shots and had another wasted solid performance get chalked up as a loss. Rask's 3-13-3 record against Montreal is his worst by far against any team in the NHL.
"A lot of times we force plays and try to make cross-ice passes and then we get caught sleeping," said Rask. "They come out on two-on-ones, breakaways, three-on-ones, stuff like that cause they try to sneak behind us all the time. It's just being mentally aware of what's going on and just play our game. Carey is a pretty good goalie in there so he's gonna stop what he sees so you need those second hand opportunities and screens to get some goals. Today, we didn't do that, but if it's a playoff series, it's what we gotta do."
Because of the divisional realignment, a Bruins vs Canadiens playoff series becomes a strong possibility annually. While the Bruins have been playing good hockey, they can't beat the Canadiens. Seriously. Montreal is faster, mentally stronger, and has the uncanny ability to completely throw Boston off of their game. Until the Bruins learn how to control emotions, settle in, and play their game, the results will be similar.
If both teams make the playoffs (they will) and meet in any round (they probably will), it will be a truncated repeat of last season's heartbreaker for Bruins' fans in the sense that it won't take seven games.
"We'll take on anyone," said Torey Krug after the game. "We're not a team that shy's away from anybody. You know, at some point you're going to have to go through them, you know, maybe it happens, maybe it doesn't. But if we want to win the Stanley Cup, we're going to have to beat them, and we would welcome that challenge"
Maybe. Though the Bruins need to reevaluate their game plan if they want any chance to beat the Canadiens if they meet in the postseason.
Follow Mike on Twitter for more Bruins updates, news, and commentary.