There is no perfect metric or magic number which solidifies placement in the Hockey Hall of Fame. Just ask a player like Dave Andreychuk and his 640 goals. So while it may be unfair or premature at best, in the age we live in, one has to ask if Patrik Elias merits enshrinement in Toronto. Obviously Elias still has a few years left of playing hockey but his milestone 400th goal, coupled with already passing the 1,000 point threshold, has opened up the discussion.
Throughout his tenure with the New Jersey Devils, there are plenty of superlatives to ascribe to Elias. A loyal player. Play-maker. Finisher. A top line player on a pair of Stanley Cup winners and part of two more squads that reached the Final. Elias is all about team, playing both sides of the puck.
"I think his trademark is that he's an all-purpose player, an all-situation player. He has the highest hockey sense you can have, but he's a finisher too. You don't score 400 goals and not be considered a goal-scorer."

— Said Devils interim co-coach Lou Lamoriello speaking about Patrik Elias following their 4-1 victory against the Maple Leafs on Friday.
With any player, there's always the "what if" factor. As Martin Brodeur recently lamented upon his retirement, not having the multiple lockouts would've increased his win total by tenfold. The same applies to Elias and his numbers, where lockout years are concerned. Not only was Elias deprived of the entire 2004-05 campaign, after averaging 34 goals in the five previous seasons, he also suffered from contracting hepatitis while playing in Russia. Factor in the half season, caused by the 2012-13 lockout and that's quite a decent chunk of games.
On the all-time leader board, Elias and his 400 tallies rank 91. Point wise, Elias' 1,005, stands at 81 overall. From his 1994 NHL Entry Draft class, Elias only trails the recently retired Daniel Alfredsson and his 444 career markers. The same holds true for helpers, with Alfredsson topping Elias, 713 to 605. On points, again it is only Alfredsson besting Elias, 1,157 to 1,005. Also keep in mind that as of this writing, Alfredsson accrued those stats in 48 more games than Elias.
In the regular season, Elias has hit the 40-goal mark once and the 30-goal plateau on four occasions. His highest point total for a season is 96, in 2000-01. One could chalk some of that up to the era and the style of the team that he played for.
ICYMI: Watch Patrik Elias get career goal No. 400: http://t.co/Lz2niaEdcE

— New Jersey Devils (@NJDevils) February 7, 2015
Perhaps what vaults Elias over the top is his production in the Playoffs. Elias wasn't just gravy training his way to the Cup or tacking on frivolous goals, he came through, big time. Along with the two aforementioned Cups, Elias has 162 Playoff contests to his credit. Wrapped in those 162 matches, 45 goals, 80 assists and 125 points.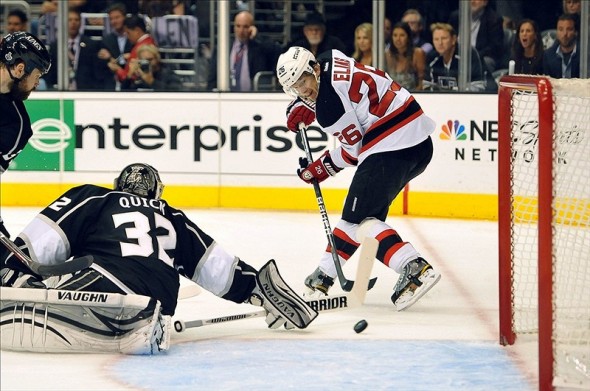 Most memorable of course came when Elias dished to "A-Line" teammate Jason Arnott, whose goal effectively ended the 2000 Stanley Cup Final, in the second overtime of Game Six, at the Dallas Stars. In the lead up to reaching that title, Elias placed the exclamation point on the Devils 3-1 Eastern Conference Final series against the Philadelphia Flyers, netting a goal in Game 7 at Philadelphia, to put New Jersey up 2-1 and for good. Across four Stanley Cup Final appearances, comprised of 26 contests, Elias accumulated 19 points.
At this point, there is no question that his number 26 will one day hang from the rafters at the Prudential Center. Until that time, the milestones and moments will add more fodder as to whether or not Elias attains hockey immortality.
Elias. 400 goals. pic.twitter.com/mFNb7wYOwE

— New Jersey Devils (@NJDevils) February 7, 2015
.