Habs Looking for Picks and Long Term Help
While the pressure to make the playoffs is slowly dissipating for the Montreal Canadiens, the pressure mounts on General Manager Marc Bergevin to start fixing what went wrong this season in preparation for next year. Some of the decisions are rather simple but others could be more drastic and may have to wait to the off-season, likely around draft day, to be consummated.
There is little doubt that the Habs are trying to unload some pending unrestricted free agents to contenders for picks and/or prospects. Tomas Fleischmann and Dale Weise are drawing some interest as both could help add some needed quality and experienced depth on teams hoping for a long playoff run. With the team having given him only five picks to play with last summer, there is little doubt that Vice President of player personnel and Director of Amateur Scouting Trevor Timmins should be busier at the upcoming draft in Buffalo this summer.
While rumours are just that and should always be taken with a grain of salt, reputable insiders have all been mentioning that Marc Bergevin is very active. They have reported that Lars Eller has been offered to other NHL teams and all agree that the return has to be substantial for Bergevin to pull the trigger. While it's not the first time that Eller's name is thrown around in rumours, these reports seem to have more substance and they come at a time when Eller is playing some of his best hockey of the season. This coincides with coach Michel Therrien's decision to move him back to the third line centre position, a role in which he is obviously a lot more comfortable than as a top-six winger.
Personally, I would find it mind-boggling to see Eller being traded and David Desharnais staying on the team, regardless of their place of birth. Prior to getting injured, Desharnais' play hasn't been up to par for several months now and in spite of a (rare) hot start to the season, he seems to have regressed in spite of being given all the chances in the world to succeed. Eller, on the other hand, is bigger, stronger and he is better suited for a third line role on a checking line with some offensive upside.
Headquarters in California
It sounds like the Canadiens' decision makers will be setting up their bunker in California, more specifically in San Jose, in preparation for the trade deadline day's activities. In the meantime however, Marc Bergevin, Senior vice president, hockey operations Rick Dudley, Assistant General Manager Larry Carrière and Director of Professional Scouting Vaughn Karpan were attending the game between the Edmonton Oilers and the Los Angeles Kings. Karpan had been watching the Manchester Monarchs, the Kings' AHL farm team, for the past few days.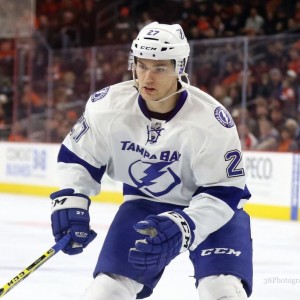 Considering that the Habs have had scouts and higher brass at Oilers games and at Chicago Blackhawks games lately, it is safe to assume that there have been discussions between those teams and Bergevin on potential trades. Also, prior to Jonathan Drouin's decision to stop playing, the Canadiens were following him in the American Hockey League as well. Add now you add the Kings and you have a nice group of teams, a good variety of potential trade partners for the deadline.
The Blackhawks (who have just acquired Andrew Ladd), the Kings and the Lightning share the common goal of improving their team for a playoff run, while the Oilers, much like the Canadiens, are looking at improving for next season. Chicago and Los Angeles are likely looking at the Canadiens' rental players, willing to trade away picks and/or prospects to do so, Tampa Bay's discussions are most likely about Drouin, so it would take much more than that going back their way. This puts them in a similar category of potential trade partners as the Oilers, where now and future are the focus point.
Let the speculations begin
My speculations are that since Jordan Eberle has displayed some great chemistry with rookie Connor McDavid, it is unlikely that Edmonton will want to part with him now, even if he was said to be available not long ago. This opens the door to speculations where the Canadiens could very well be interested in former 1st overall pick Nail Yakupov, who is also a former teammate of Alex Galchenyuk with the Sarnia Sting of the OHL.
Gut feeling here to watch out for Bryan Bickell from the Blackhawks. The Canadiens have been missing on the physical aspect since the trade of Brandon Prust and the fiasco of Zack Kassian and if the Hawks would be willing to keep some of Bickell's salary, it wouldn't be one bit surprising to see Bergevin attempting to bring him in.
No matter what happens from now until trade deadline, it promises to be exciting and fun to follow and there is a good chance that the team that we've seen this season will look somewhat different than the one that we'll see on Monday night against the Sharks in San Jose.
Born and raised in Sherbrooke, Qc, moved to Penticton, B.C. in 1992. Former Senior Writer at Allhabs.net. Bilingual. Also known as Habsterix, check out habsterix.com for more.