It's fairly clear Rafael Harvey-Pinard has found his home for next season. In the grander sense, he's making it hard for the Montreal Canadiens to play him anywhere else but in the NHL. However, specifically speaking, where should the rookie *sensation slot in, come the 2023-24 season?
Harvey-Pinard's Rookie Season to Remember
The asterisk applies only when you acknowledge Harvey-Pinard's 24.1% shooting percentage this season is unsustainable. Just like Nick Suzuki's has regressed after he was lighting it up early this season, Harvey-Pinard's will certainly drop over time. However, even if you look past the fact Harvey-Pinard has shot up the rookie-goal-scoring ranks in just 31 games, he brings a lot more to the table than just the offense he's delivered to the tune of his 13 goals and five assists so far.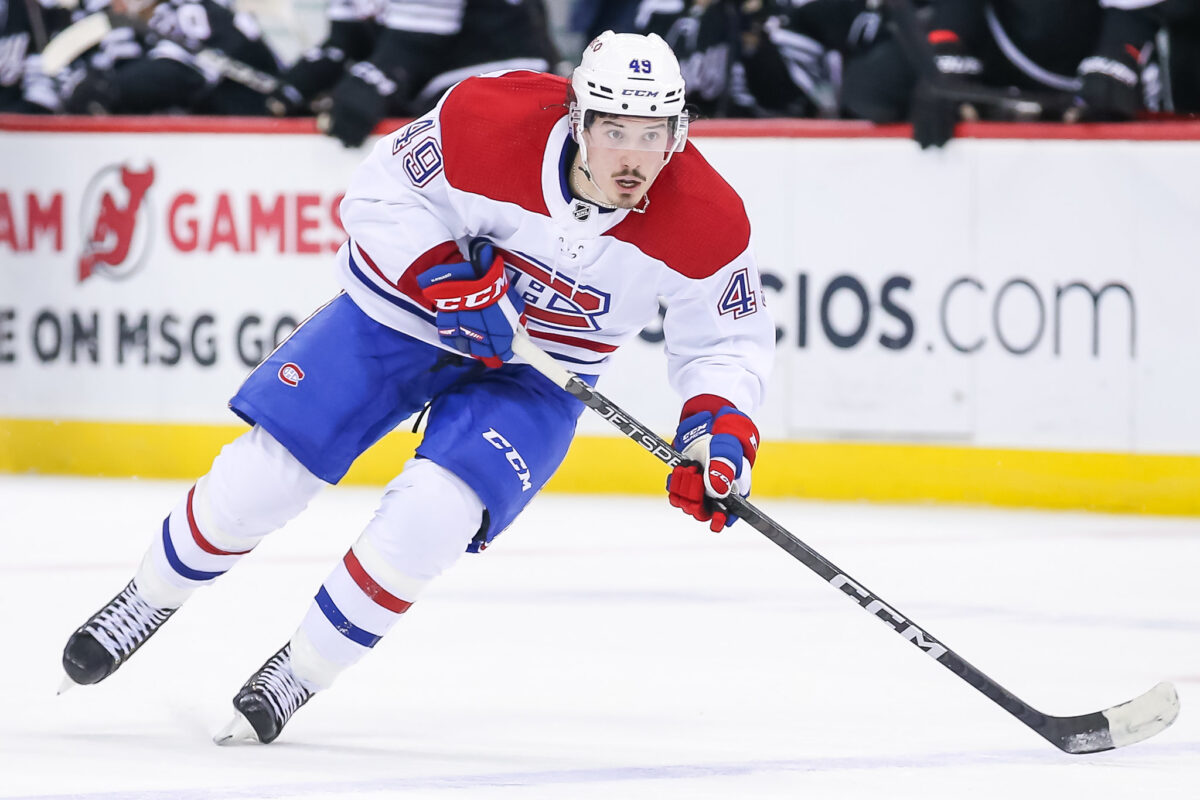 The first career hat trick he scored against the Columbus Blue Jackets on March 25 was fun and all and undeniably a direct result of regular ice time with Suzuki. However, it shouldn't be lost on anyone that Harvey-Pinard first found offensive success this season as a call-up (because of injuries) and fourth-line forward. For example, he scored two goals and three points against the Detroit Red Wings on Jan. 26, playing with Michael Pezzetta and Alex Belzile. It soon became clear he deserved more ice time.
Granted, the team's injury situation has accelerated Harvey-Pinard's progression up the lineup. With just about everyone healthy early in the season, Kirby Dach had found a home on the top line with Suzuki and Cole Caufield. When pivot Sean Monahan got injured, the timeline to play Dach, who had been acquired as a center, down the middle got fast tracked. He ran with it and his emergence as a legitimate No. 2 option down the middle has led to some positive side effects.
Domino Effect Down Canadiens Lineup
For example, re-signing Monahan, who's a pending unrestricted free agent, may be in the cards, especially if he's willing to re-sign a one-year, discount deal. However, it's definitely less of a necessity now, and, to be honest, from the get-go, re-signing him to anything other than a one-year deal was never going to make much sense anyway based on his age and injury history.
Related: Who's Likely Playing Their Last Season With the Canadiens in 2022-23?
---
Latest News & Highlights
---
Dach's success as the Canadiens' second-line center has also taken the sting out of the Canadiens going with winger Juraj Slafkovsky over Shane Wright (or fellow-center Logan Cooley) with the No. 1 pick at the 2022 NHL Entry Draft. Granted, there are no guarantees Wright pans out either, but logic dictated the Canadiens would pick the consensus top pick available (for all intents and purposes) in Wright, because they needed a second-line center, which is his projected developmental floor.
Now that the Canadiens have that supposed second-line center in Dach, Slafkovsky makes at least more sense. However, with regard to the Harvey-Pinard conundrum, Slafkovsky also makes sense as a long-term fit on that first line, with ideally someone put in that position to make room for Suzuki and Caufield to work their magic (and obviously chip in offensively too).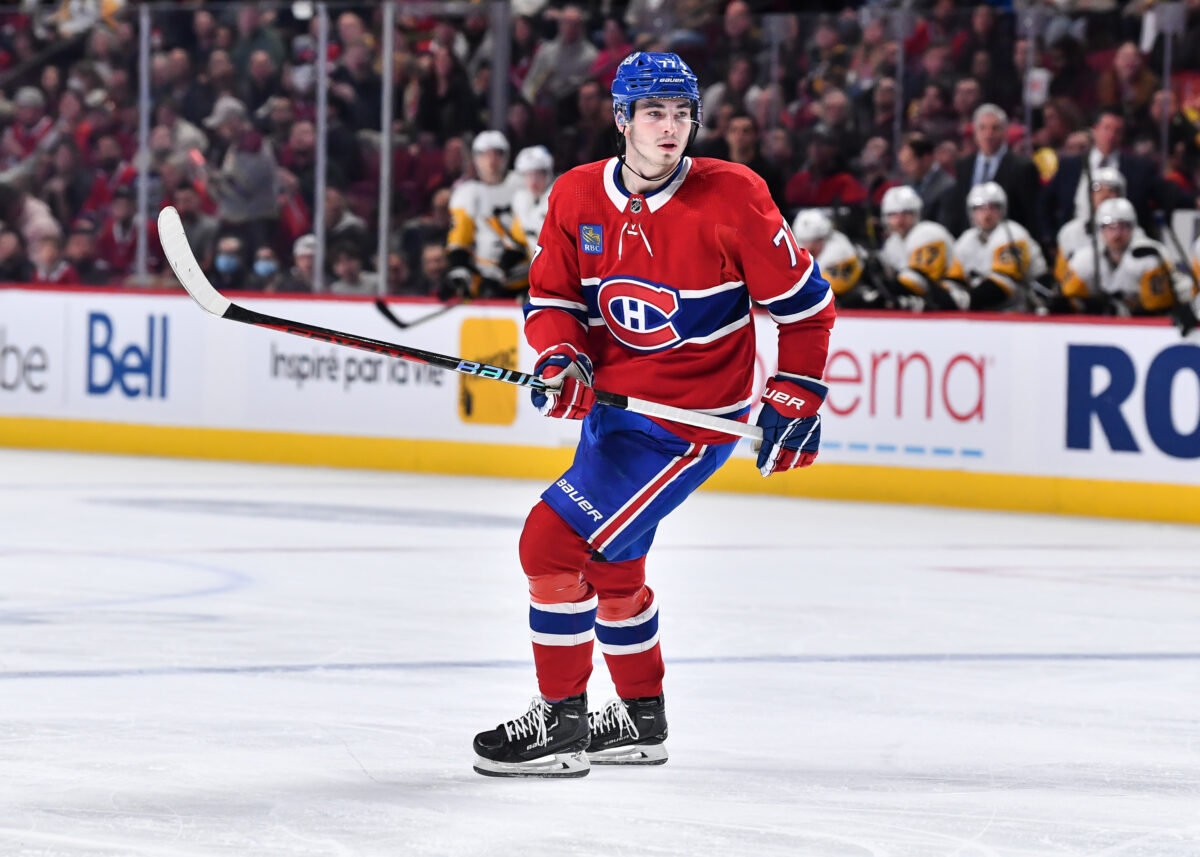 That's at least what Slafkovsky envisioned as why the Canadiens would pick him before the Draft (from "Canadiens Notebook: Slafkovsky put on a line with Suzuki and Caufield," Montreal Gazette, Oct. 4, 2022). At 6-foot-3, 238 pounds, Slafkovsky more so fits that profile than Harvey-Pinard (5-foot-9, 181 pounds) to put it lightly (no pun intended).
Playing the same position (left-wing) as the Canadiens' first, first-overall pick since 1980 won't exactly work wonders for anyone's aspirations to reach the mountaintop of the team's lineup. Slafkovsky will likely be given every opportunity to do the same at the expense of people below him on the team's depth chart, Harvey-Pinard included, even if the former fails to be the right fit in the end.
Harvey-Pinard vs. Slafkovsky
Now, there are of course no guarantees the Canadiens rush Slafkovsky into that spot next season, in which case Harvey-Pinard might make for a decent temporary placeholder. Remember, Brendan Gallagher, the inspiration for Harvey-Pinard's Lavallagher nickname based on their similar playing styles, helped form one of the NHL's top lines with Phillip Danault and Tomas Tatar a few seasons ago. While Danault is listed as 6-foot-1, 200 pounds, none of the three are what you would call big by any stretch (no pun intended here either).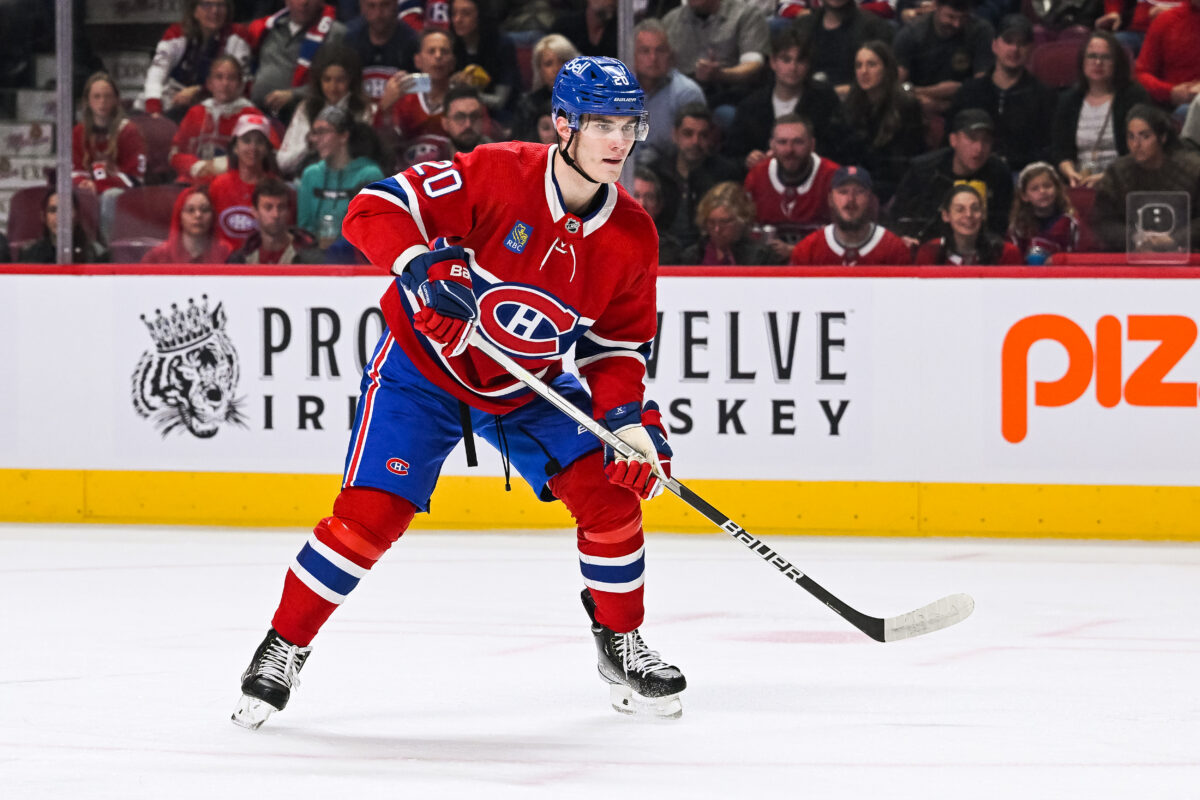 So, you don't necessarily need a behemoth for a line to work. However, general manager Kent Hughes seems to at least want to spread the size around, having said, "There's not a 5-foot-9 hockey player that scares me, but [a Canadiens team of] 22 of them would scare me (from "Stu Cowan: Canadiens GM Kent Hughes puts his plan into action," Montreal Gazette, July 8, 2022)."
Coincidentally, Harvey-Pinard is, again, 5-foot-9. Caufield if 5-foot-7. Suzuki, the giant of the three, is 5-foot-11 (albeit a very hard-to-move 5-foot-11). Hughes isn't building this team with an eye on skill over size, but a combination of the two, making a first unit comprising those three unlikely, saying nothing of the fact Caufield has been played primarily on the left-wing himself when healthy. All that taken into consideration, power-forward Josh Anderson remains a probable candidate to continue to slip in on the right side.
Meanwhile, safely assuming the 6-foot-4 Dach centers that second line, he's going to need at least one new winger. The since-departed Evgeny Dadonov was his most common left-winger (Mike Hoffman his most common right-winger). Maybe Hoffman, who hasn't been the greatest fit with the Canadiens, gets traded in the offseason opening up room for Denis Gurianov, who came back the other way for Dadonov, to take his spot instead. In any case, Harvey-Pinard has proven he can flourish in a top-six role. Dadonov's old spot could be it.
Harvey-Pinard Destined for Top-Six Role in 2023-24?
Sure, Slafkovsky will still be regarded as above Harvey-Pinard on the depth chart. Some may say that spot is his to lose. However, consider how slowly Slafkovsky's been brought along, to the point it's clear a top-six spot, whether it's on the Suzuki line or not, is more so his to earn.
There's a good argument to be made that Slafkovsky should immediately be put in a position to succeed. He obviously hasn't been yet. He hasn't exactly seen regular top-six ice time (playing most of his time with Christian Dvorak), but that's just the way the Canadiens are approaching his development at 18 years old (going on 19 in a few days) for better or worse. As such, maybe the 24-year-old Harvey-Pinard has more of an inside track, at least for the foreseeable future.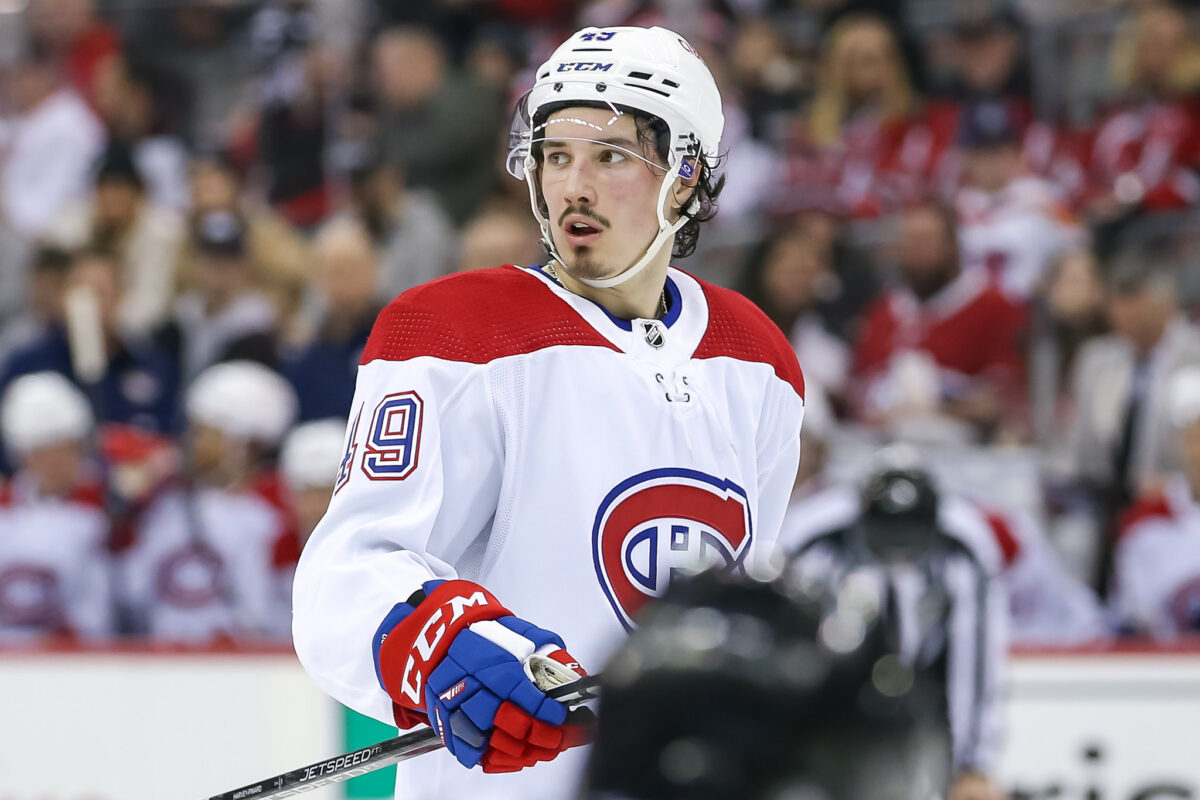 Truth be told, Harvey-Pinard is one player who can probably be deployed up and down the lineup and fit in, due to his playing style and tenacity. That he's in the position he now is, as a 5-foot-9 seventh-round pick (who was only drafted at 20 years old in 2019), is a testament to that tenacity. Time will tell how far that tenacity gets him, but, as evidenced by his play so far, the sky (or top line) is clearly the limit. A middle-six role is likely where he ends up… a second-line spot what he's earned up to now.