In this edition of Calgary Flames News & Rumors, Frank Seravalli of Daily Faceoff explained what made Darryl Sutter downplay Jakob Pelletier's NHL debut earlier in the season. In other news, Matthew Coronato recently signed his entry-level contract and is expected to make his NHL debut with the Flames this season. Last but not least, Troy Stecher let it be known recently that residents in Calgary should do a better job of cleaning up after their dogs in the streets.
Sutter's Infamous Pelletier Presser Came Out of Spite
As Flames fans will remember well, Pelletier had to wait plenty of time before making his NHL debut. After being called up in early January, he was banished to the press box for a number of games before finally getting his shot. While his debut turned out to be nothing special, it created quite the headlines afterward, as he seemingly got disrespected by his head coach for no reason.
"Jakob Pelletier. What number is he?" remarked Sutter when asked about the rookie's debut. "6:35, 13 shifts, averaged 30 seconds a shift. Got 43 seconds on the power play, played 5:52 (at even strength). Had one shot on goal, one hit.
"It's the NHL. He's 21 years old, got a long ways to go."
Seemingly taking away from what was a big night for the young prospect was viewed as very disrespectful to some, and reportedly didn't sit well in the locker room. While viewed as disrespectful, no one seemed to understand Sutter's logic in making the comments he chose to. Speaking on the Barnburner podcast on Tuesday (March 28), Seravalli explained why it went down the way it did.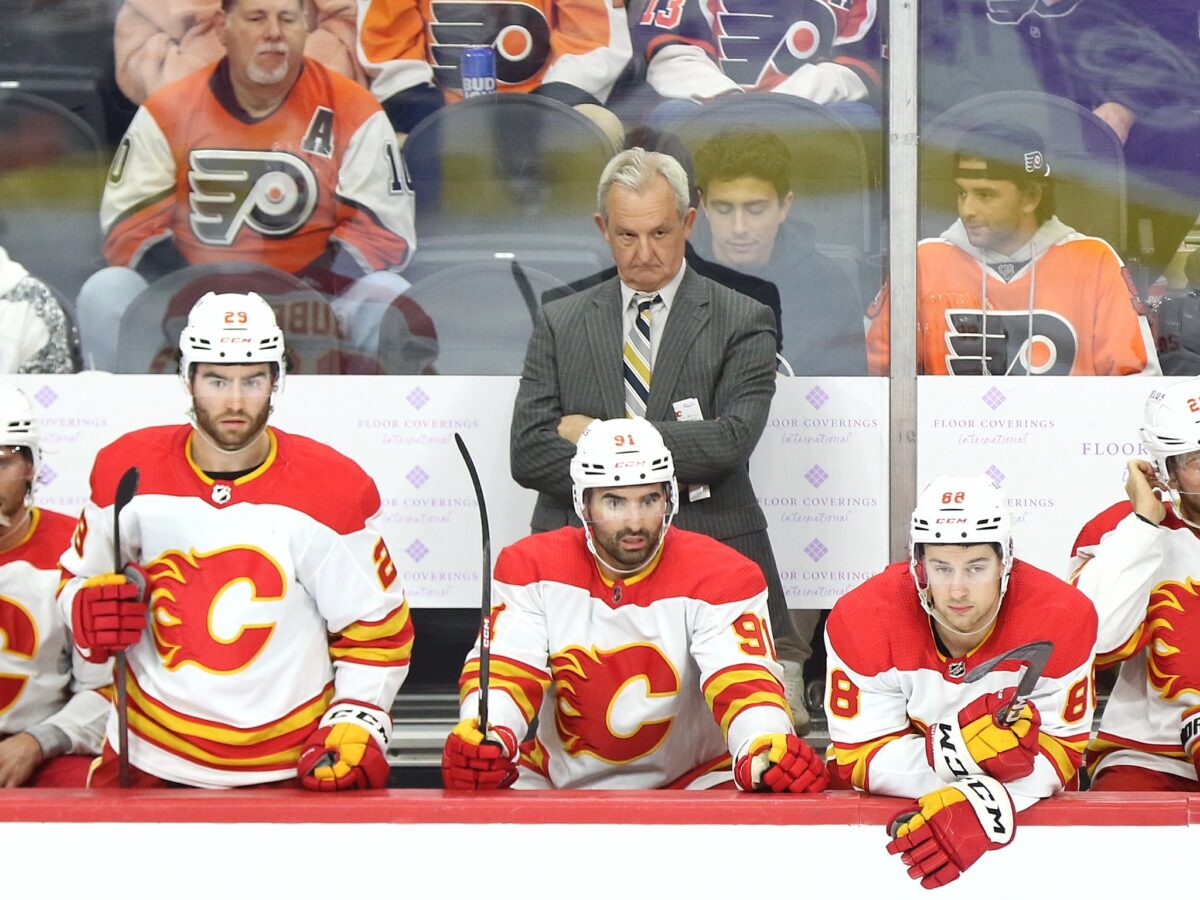 "They (Flames players) wanted to know if he was going to make his debut or not, and they wanted to get his parents in there to be able to see it, and Darryl wouldn't give them an answer. So finally it took another player to go upstairs and say 'what are we doing here? This kid's been hanging around, is he making his debut or not? And if he is, at least give him enough courtesy to say 'hey, you're in, let's get your parents in here to make sure they see your first NHL game.' Apparently, the story goes that after that happened and he finally said 'yes he's playing' that's the reaction that you then get. It's, you forced my hand to me playing this kid, this is how I'm going to handle it publicly. Just to let everyone know that this should have been my call."
Related: The Ugly: Listing Flames' Worst Signings Since 2020
---
Latest News & Highlights
---
If what is being said here is correct, it is yet another example of how stubborn Sutter can be, and goes to show why there have been plenty of rumblings of the Flames' locker room being discontent this season. With different stories seeming to come up each and every day painting the veteran bench boss in a negative light, you truly have to wonder whether or not he will be back for the 2023-24 season.
Coronato Signs with Flames
Shortly after he and his Harvard University teammates were ousted by Ohio State in a battle to make the Frozen Four, it was announced that Coronato and the Flames had agreed to a three-year, entry-level contract. The first-round pick (13th overall) in 2021 has since joined the team, and is expected to make his NHL debut sometime before the end of the 2022-23 season.
This was a huge signing for the Flames, as there was some concern that he may elect not to sign a deal and instead choose to enter the league as a free agent. Thankfully, that wasn't the case, and now they have the 20-year-old sniper locked up. While he does still have some room to grow in his game, he has shown plenty of promise at the collegiate level, having recorded 38 goals and 72 points in 68 games over two seasons with Harvard.
Stecher Calls Out Calgarians in Joking Manner
Having just recently been acquired in a trade with the Arizona Coyotes, Flames fans haven't gotten to know Stecher all that well yet. That said, plenty will be in agreement with one complaint he has had when it comes to the city, that being dog poop. The 28-year-old defenseman sent out a tweet days ago letting those with dogs know that just because there is snow on the ground doesn't mean they shouldn't clean up after their pets.
While this is a problem in many places, it does seem that some people forget that one big responsibility when it comes to being a pet owner during the winter months. Though he was clearly having some fun in this particular instance, this should serve as a good reminder to those out there with dogs to do their part when taking them for walks outside.
Looking Ahead for the Flames
With the Winnipeg Jets falling to the San Jose Sharks on Tuesday night, the Flames now find themselves just two points shy of a wild card position. They will look to continue closing in on it Friday night when they take on the Vancouver Canucks, before facing the Anaheim Ducks in their final game of the week on Sunday.