Heading into the 2022-23 season, Toronto Maple Leafs general manager Kyle Dubas made a big gamble in regards to his goaltending situation. Many were puzzled when he traded for Matt Murray and signed Ilya Samsonov as the Washington Capitals didn't tender him an offer. 
Samsonov came with some risks, but we're seeing the potential that he has shown early on in his career as he has rebounded in a big way. He had some highs and lows in his first three seasons with the Capitals and his movement in the crease was a little erratic, but Samsonov has appeared to have found some consistency in his play. He has found confidence but at the same time has given the Maple Leafs a starter that can potentially get the job done.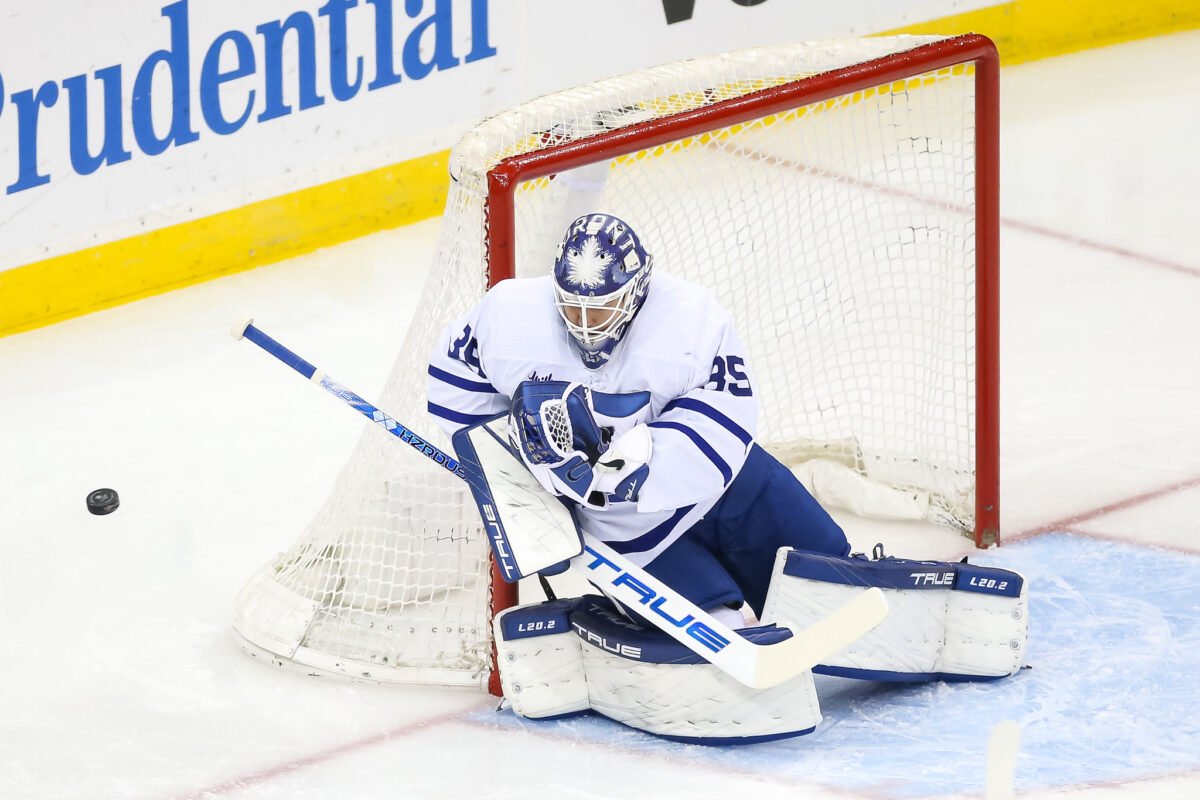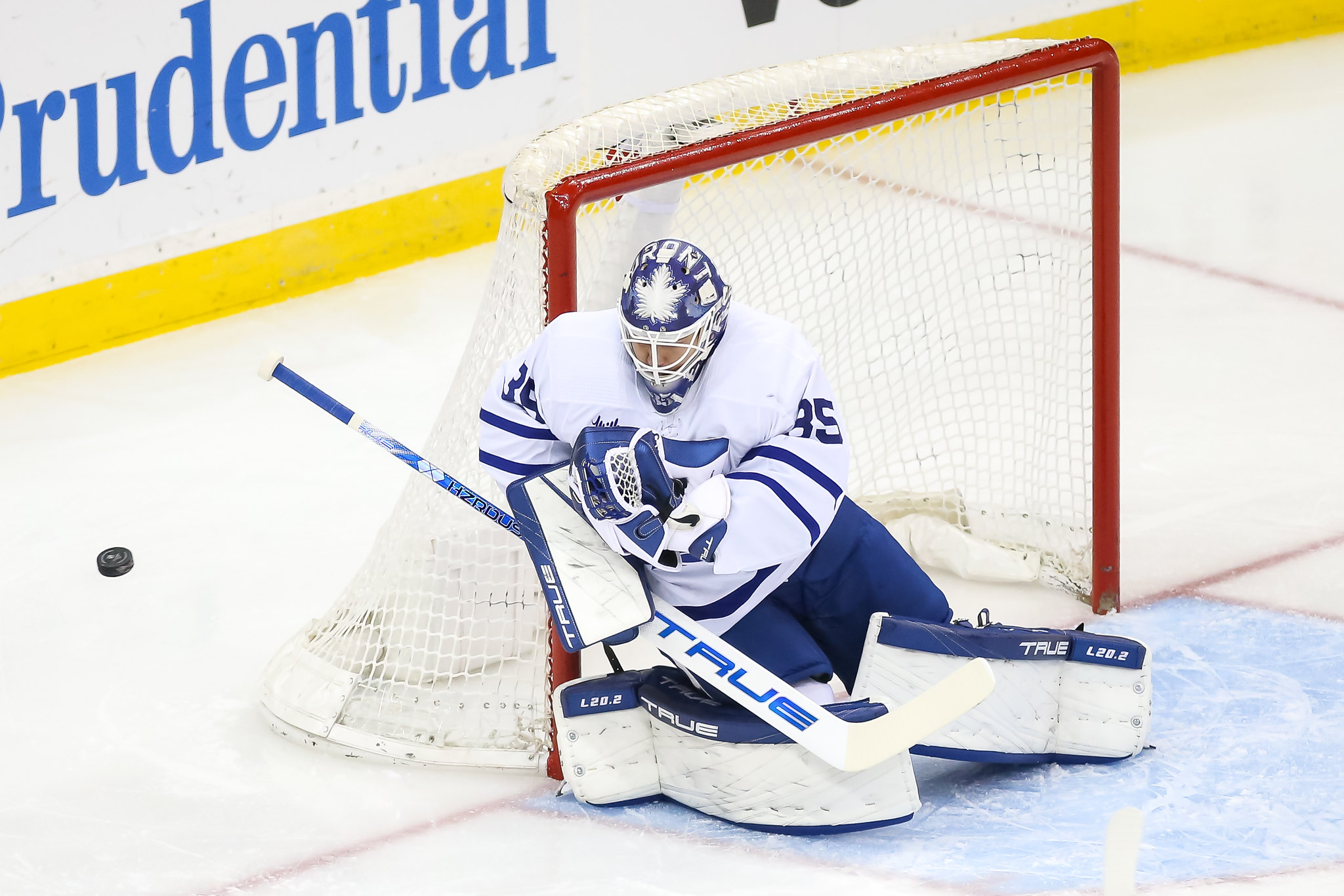 As he continues to have a strong season where he's betting on himself, it might be a good time to consider the thought that the Maple Leafs should make re-singing him a priority in the offseason. 
Samsonov Has Impressed This Season
After trying to find an answer in goal, the Maple Leafs may have found that with Samsonov. When he was signed, his numbers with the Capitals didn't jump off the page and his over-aggressive movement in the crease was a big concern. Many have said that the team downgraded their goaltending, however it's been the exact opposite. He is a big part of that as he has been a major bright spot for this team. 
Related: Predicting Maple Leafs Game 1 Lineup of Stanley Cup Playoffs
---
Latest News & Highlights
---
After posting a 2.81 goals against average and a .902 save percentage in his time with the Capitals, Samsonov has improved those numbers with the Maple Leafs. This season, his 2.46 GAA has him in the top-10 among goalies with a minimum of 25 games played and his .914 SV% ranks him 12th. Even looking at his underlying numbers, he's just as impressive. Here's a breakdown of where he ranks with goalies who have played 1,000 minutes at five-on-five. 
| | |
| --- | --- |
| Category | Number (rank) |
| SV% | .923 (12th) |
| GAA | 2.17 (8th) |
| GSAA (goals saved above average | 6.87 (16th) |
| HDSV% | .893 (1st) |
With those numbers and the fact that he has a dominant 24-9-3 record and a ridiculous 18-2-2 record on home ice. His numbers away aren't as strong, but he has shown to have some decent outings, even when the team in front of him didn't play well. The perfect example would be their 4-3 win against the New Jersey Devils. 
Samsonov wanted an opportunity to succeed. If his play with the Maple Leafs to this point is any indication, it's a great start. If he continues with his strong production into the postseason, then a new contract is definitely in his future.
What Would a Contract Look Like?
Samsonov is a restricted free agent at seasons end. According to Cap Friendly, his qualifying offer remains at $1.8 million in order to keep him. That definitely shouldn't be an issue for the Maple Leafs if they want to keep him around or even extend him. Given the season and importance that Samsonov has had to this point, he could look to capitalize on a deal with more value and term instead of a short-term deal.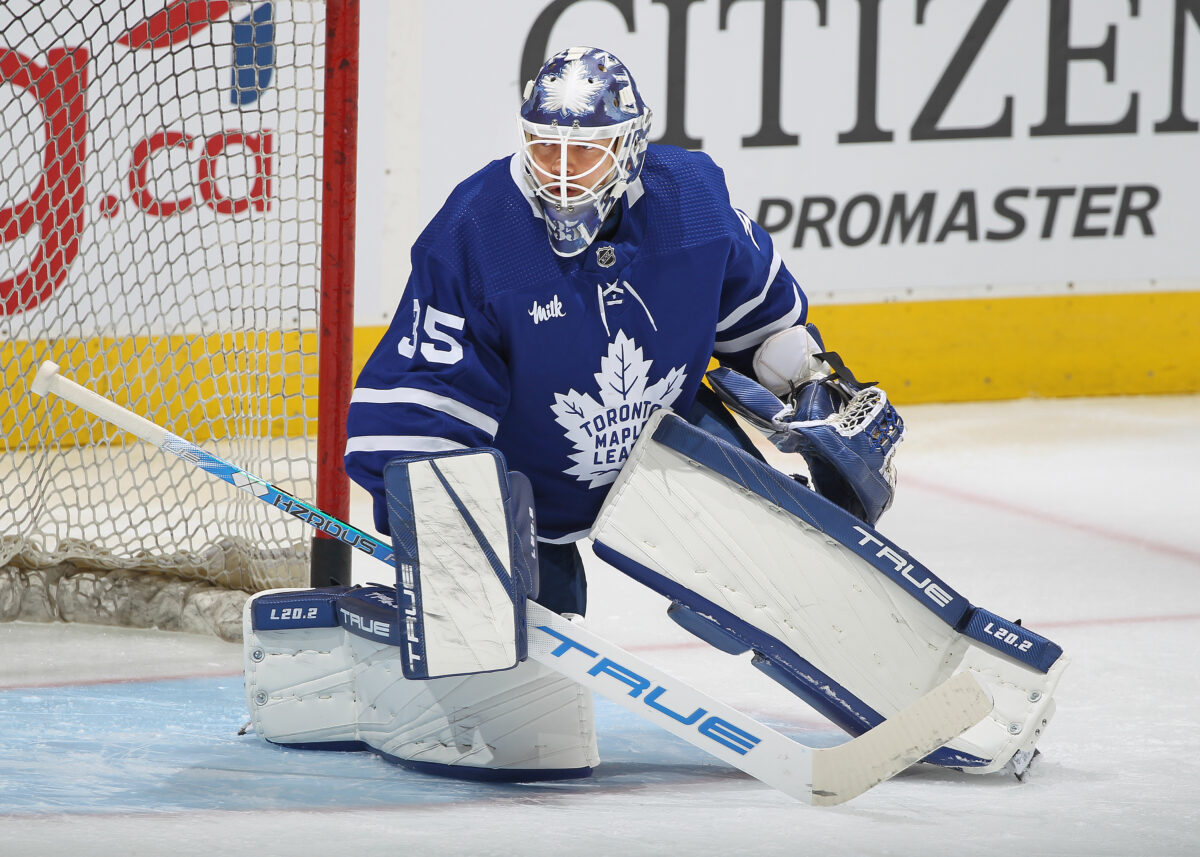 Rightfully so. Samsonov came into this season looking to prove his value and he has done just that. Here are a few examples of what he could possibly look to make in his next deal. 
| | | |
| --- | --- | --- |
| Player | AAV Before New Contract | New Contract (AAV) |
| Frederik Andersen (ANA to TOR) | $1,150,000 | 5 YR, $25M ($5M) |
| Jack Campbell (TOR to EDM) | $1,650,000 | 5 YR, $25M ($5M) |
| Ville Husso (STL to DET) | $750,000 | 3 YR, $14.25M ($4.75M) |
In regards to Samsonov's next potential deal, there are some similarities here when Frederik Andersen signed his contract after being acquired by the Maple Leafs back in 2016 and when Ville Husso signed his with the Detroit Red Wings in 2022. Andersen signed his contract at 26 years old with three seasons under his belt and Husso signed his at 27 with a smaller sample size with two seasons of experience. Samsonov is 26 now and has four seasons of NHL experience and although he has had mixed results, he has more of a sample to earn a contract length similar to that of Andersen, with Husso's three-year deal as an option. 
In regards to dollar value, both players signed their contract in between the $4.5- $5 million range of their AAV. With Samsonov playing like a number one goaltender, that kind of salary increase might be fair value for him. His numbers this season are more in line to what Andersen had before he signed his deal. Andersen had a .919 SV% with the Ducks, while Samsonov is at .914. Campbell signed his deal at 30, but struggled down the stretch last season with the Maple Leafs. Even though the Maple Leafs didn't sign him to that contract, it would make sense with Samsonov as he is showing better results and is younger. 
It's possible for the Maple Leafs to sign Samsonov to a five-year deal and get a few more productive seasons out of him. If they go that route, it would take him to around his early 30s where they will be getting four more seasons of his prime years. Which would be ideal.
If his play declines towards the end of the deal, they can re-evaluate their situation whether he's still their go-to guy in net or take a different approach. Even if they are hesitant to sign him to that five-year, or even a longer deal, they can always still play the short-term game with a multi-year deal at three or four years as that might be a less risky route to go. The same can go with the price as they can lower the value down to even above $4 million as that small sample could be a factor in the negotiations. 
Gives Prospects Time To Develop
While getting Samsonov signed would be a great thing stability wise for the team, it would also be great for some names to continue to develop in the system as well. For some time, the Maple Leafs have lacked depth at the goaltending position but now they have some potential names that could be a part of the future.
Joseph Woll has been a brick wall in the American Hockey League for the Toronto Marlies and has been given short stints in the NHL, going 6-2-0 with a 2.39 GAA and a .922 SV%. It wouldn't be surprising to see him as the team's back up next season. As fellow Maple Leafs writer Andrew Forbes says, there's the promise that Artur Akhtyamov and Dennis Hildeby have shown lately to look forward to. Both still need some time to continue to develop, but they can also be potential options to be starters or impact goalies down the line. 
Related: 5 Reasons Maple Leafs' Joseph Woll Should See More Game Action
With Samsonov having security, it gives the prospects time and even a mentor for them when they make the transition to the pro leagues in North America. 
No matter what you thought of the Samsonov signing before this season, he has lived up to his expectations to prove himself and every one else wrong. His numbers have shown that he deserves a new contract. Whether it's a long-term investment or a short multi-year deal, he has continued to impress with his play in the crease to earn a pay raise. 
Statistics from Natural Stat Trick, NHL and Hockey Reference.
---
Sign up for our regular 'Maple Leafs Newsletter' for all the latest.